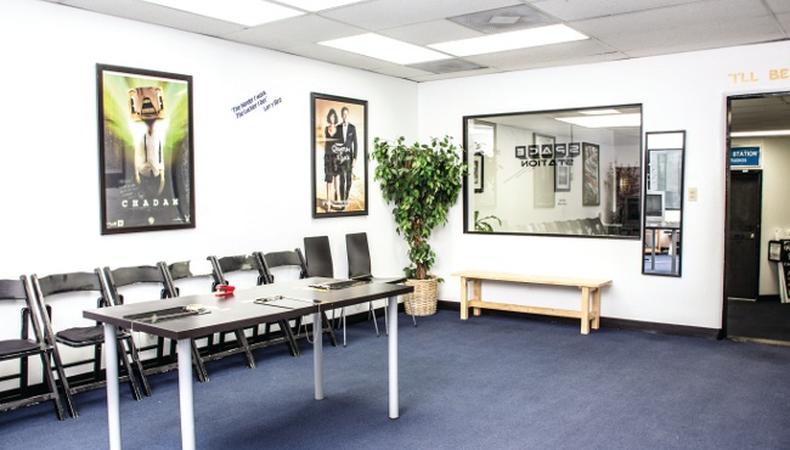 With inspirational quotes adorning the walls, plenty of seating, helpful signage, and a friendly face greeting them, actors may find Space Station Casting Studios surprisingly comfortable. Ben Rovner and Dan Velez, owners of the casting facility, have made it their mission to take away whatever stress they can from the typically intimidating process of auditioning. Currently located on Cahuenga Boulevard in Hollywood, the facility boasts multiple casting studios, two in-house casting offices, and an acting studio.
An actor himself, Rovner understands how stressful auditioning can be. When there's a room full of actors rehearsing and practicing, he says, "You start feeling that pressure, [thinking] I'm not as prepared as they are, or I'm too prepared, or this guy is doing something different than me." Casting director Velez also understands the pressure. "The creative process and acting itself is such a difficult, personal, and vulnerable process that the more comfortable, more familiar, the less stressful things are around you, the easier it will be for you to bring forth your best work," he says.
Their goal is to make the actor feel at ease the second he or she walks in. "It helps our clients get better performances out of the actors," Rovner says. "[If you walk in] and there's not someone there, you have that moment of, 'Oh my god, I don't know where to go. I'm uncomfortable. I don't want to walk into the wrong place, and make someone angry with me!' " They also try to limit the variables to give actors more control. "The fewer variables that exist, the more [actors] can just focus on that creative process," Velez says.
The facility's website provides thorough information, including pictures and parking details, to make the experience easier for actors. "Actors are constantly upset about the lack of control within this industry, but what they don't realize is that they give up areas they could potentially have full control over," says Velez. Researching details about the location and the project can give power back to actors and allow them to walk in better prepared and focused solely on their audition. "Our focus as a facility is to give everyone the best experience possible so the casting directors don't have to worry about it," Rovner says. "The casting directors' goal is to find a great actor for their project, not to have every actor leave with a big smile on their face—[but] our goal is that."
Actors who take classes at the facility have the opportunity to become familiar with the space, which makes it less scary when they come to audition. "The people who are taking the classes at night get this comfort with the facility and with coming here," says Velez. Additionally, because auditions are constantly happening, there's always a chance of running into a casting director while waiting. Sherrie Henderson, Velez's partner at Dream Big Casting, actually walked through the lobby and saw an actor waiting, asked the actor to come back and audition the next day, and then booked the actor.
While there is no official filtering or screening process to book space, Rovner encourages actors to share their feedback or concerns. "We don't want anyone to ever feel like they couldn't say something without fear of repercussion," says Rovner. The facility also welcomes suggestions on what it can do to improve and better serve actors, recently launching a service that provides actors with free audition taping. "If an actor needs a self-tape, they can book our space for free; we'll give them the camera and we'll upload it," he says.
Check out Ben Rovner's "Why Actors Need to Help One Another."