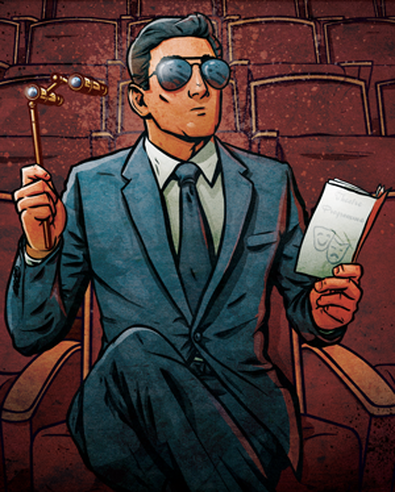 I hate to admit it, but the theater scene here in L.A. has got nothing on New York. If you want to see a play in Manhattan, you've got an insane number of choices. You can blow a hundred bucks on a Broadway show, or you can try the less expensive options found Off-Broadway. Beyond that, there are a ton of smaller productions all over the city. So let's face it. New York and theater go together like peaches and cream, peas in a pod, and birds of a feather.
Here in the land of sunshine, we're known more for our big Hollywood movies and TV shows. But I've got a news flash for you. The theater scene has been improving steadily over the last few years. When I moved out, it was all about desperate actors showcasing for industry attention. Now you can find innovative and challenging productions in the smallest of spaces.
The bulk of the theater community in L.A. is made up of waiver houses with fewer than a hundred seats. Many of these companies are thriving because they're putting up excellent work with limited funds. So take that, Broadway! You can keep your deadly production of "Spider-Man." We've got plenty of great theater right here. We're just less obnoxious about it.
Sadly, some actors believe that doing theater in a town that's all about film and TV is a waste of time. Well, that's just absurd. I would argue that an actor who doesn't appreciate the chance to perform in front of a live audience isn't a real actor.
It's also absurd when actors claim industry types such as agents and casting directors don't attend waiver theater. The actors who make those statements are usually the ones who were in a crappy show that got no attention.
To prove my point, I recently went to see plays at the Antaeus Company and Sacred Fools. These are small waiver houses with good reputations. Antaeus focuses on classical theater; Sacred Fools is more contemporary. During both visits, I ran into casting director friends during intermission. So what does that tell you? Industry interest in theater isn't based on size. It's about quality.
The only large spaces I frequent are the Mark Taper Forum and the Geffen Playhouse. Most of their shows feature established, sometimes famous actors, but the casts are usually rounded out with lesser-known talent. As a matter of fact, I once booked a client with almost no stage credits in a production at the Geffen because he was the funniest guy in the room.
L.A. does have a few Broadway-style theaters. Two examples would be the Ahmanson and the Pantages. I rarely go because they focus on visiting productions of shows like "War Horse" and "Million Dollar Quartet." So unless I've got a hankering for some New York leftovers, I prefer to keep it real by sticking with local productions.
Every now and then, I will venture out of town to respected theaters such as South Coast Repertory, La Mirada, Laguna Playhouse, and a few others. But that's a rare thing. You'll only find me driving an hour to one of those distant lands if an important client (or friend) is doing a show there. Other than that, I'm just too busy for such a "Lord of the Rings"–style journey.
So I guess the big question here is why guys like me even bother to attend theater when free time is such a rare commodity. Do I go because I love a good play? Or do I go because I'm looking for new clients? The answer is both. The theater scene in L.A. has been very good to me. It's provided hours of entertainment and new clients who ended up making me a lot of money. So what's not to like?