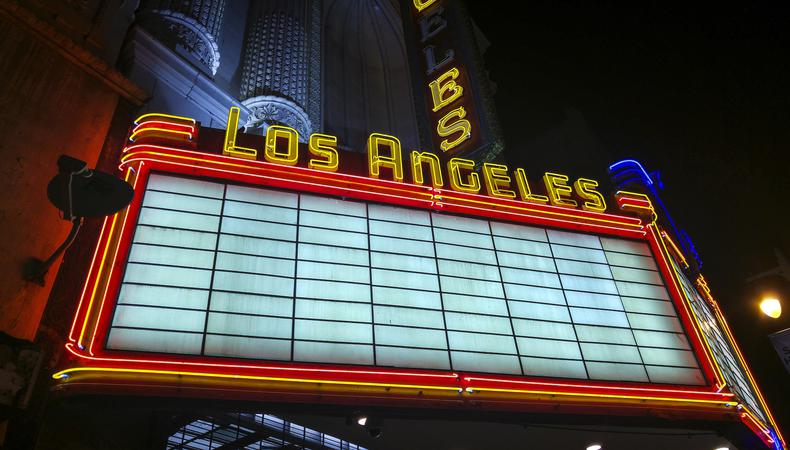 Many Black Americans know of Victor Hugo Green's "The Negro Motorist Green Book." The guidebook was used during the segregation era to inform Black travelers of areas where they could stop safely. Now, three Los Angeles actors are creating a similar guide—but for theaters.
"My grandmother used [the 'Green Book'] to cross the United States when she and my father and my uncle moved to California from Washington, D.C.," says actor Tiana Randall-Quant. "The purpose of this book is to mark safe places for marginalized people to go—especially Black and brown folks—in a racist country. It's a way to address racism…. It just hasn't been done in L.A. theaters."
Randall-Quant co-founded BLKLST with fellow actors A'raelle Flynn-Bolden and Celia Mandela Rivera with the aim of evaluating the almost 200 theater companies in L.A. to determine if they are truly as inclusive as they claim to be.
Following the murders of George Floyd and Breonna Taylor in 2020 and the subsequent protests, many L.A. theater companies released public messages in support of Black Lives Matter. But for these actors, who have worked in the city, the companies' statements didn't line up with their track records—or rather, lack of track records—when it came to diversity and inclusion.
"When they put out those statements of solidarity—of, 'We're with you. We want to work with you. We want to do better'—I was like, how? How would they even hold themselves accountable to that? Because they never have," says Rivera.
Rivera reached out to her network of Black theatermakers to talk about creating more accountability, and through their collective brainstorming, BLKLST was born.
On its website, BLKLST has a dossier of every theater and theater company in Los Angeles. It lists each one's Black Lives Matter statement and notes whether they've signed onto the Los Angeles Anti-Racist Theatre Standards; so far, 45 have signed. Also available are theaters' public equity, diversity, inclusion, and accessibility (EDIA) practices, including having a BIPOC majority of "artists, production [teams], staff, and [boards]…with attention paid to intersectional identities such as gender, sexual orientation, disability, and those who are formerly incarcerated/systems–impacted." The page also lists how much each theater's artistic director and managing director make, linking to their public 990 Forms.
The BLKLST Accountability Process
"Our work is centered around transparency," says Rivera. "BLKLST is just trying to normalize speaking and eliminating that fear of retaliation, eliminating that secrecy, because secrecy is such a crucial function of white supremacy."
Members of the organization will initially work as consultants with individual theaters to determine where the organization currently stands in terms of diversity, what improvements are needed, its capacity, and its timeline.
"We're aware that every theater has different resources; we're aware that every theater has different aspects that they need to work on," says Flynn-Bolden. She adds that, after each initial assessment, "we'll be reaching out again to them to see where they are with that progress and actually look for actionable steps that have been made—the proof of it."
BLKLST will also conduct quarterly evaluations of theater companies on the whole, releasing a public report card known as the BLKLST Report, which will track the progress those theaters have made toward putting their EDIA values into practice.
But what happens if some theaters don't sign on to the L.A. theater standards and commit to ongoing EDIA work? Says Rivera: "Ultimately, it's their decision. And if they don't want to, to us, it is saying that you don't value the safety and equity of BIPOC theatermakers, full stop."
BLKLST is also focused on reminding BIPOC actors that they are the ones in positions of power in the community, and that withholding labor is an act of resistance—because without their labor, the show cannot go on.
"Your business wouldn't exist, wouldn't function without me," says Flynn-Bolden. "So where is the power, really? That's one reason why I am so grateful to be with these beautiful ladies [of BLKLST], because there is a taking back of power. There's a taking back of agency that I'm feeling [and] the community is feeling."
BLKLST is currently operating on a volunteer basis, but it accepts donations, and received a fiscal sponsorship from Coin & Ghost for future grant writing.
"We're on our healing journey," says Rivera. "And this is what we've designed to help heal our community and to keep our community safe, and to strive for equitable practices.
Looking for remote work? Backstage has got you covered! Click here for auditions you can do from home!