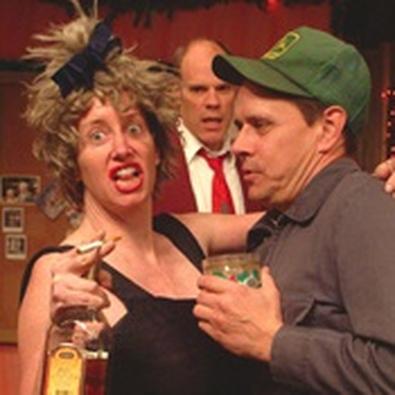 It's that time of year again. Sure, there's that whole presents thing, but more important, there is an abundance of seasonal holiday theatre shows -- many of which will open and close without notice. But some will deliver notable performances and original takes on traditional holiday fare and become local traditions.
"You need to have an alternative at Christmas other than The Nutcracker, A Christmas Carol, or things like that," said James Gray, creator of Fruit Cake Follies, an annual Los Angeles holiday show in its ninth year. This year's show has already sold out through its Dec. 22 closing date. It plays at the Cavern Club Theater in the basement of Casita Del Campo restaurant in Silverlake.
Gray, a former actor, launched the twisted comedy show as a showcase for his talented friends. "It's like a cross between, like, a Perry Como Christmas special and Pee Wee's Playhouse," Gray said. When he launched the show, he expected it to be a one-time run. But audiences begged him to do a performance the following holiday season. Soon, friends of friends of friends were attending, and Gray was surprised many people who didn't know the cast came each year to hear original carols such as "Santa Lost a Ho," "It's Christmas and We're Jewish," and "I've Got Something for Santa and He's Got a Big One for Me." Gray calls the improvisational show "way twisted" and said its popularity can be attributed to people's need to laugh during the holidays. "It's just fun, you know? And that's the main thing about a holiday show: You just want to have fun," he said. Follies often features guest stars, such as actor Jim J. Bullock and puppeteer Leslie Carrara-Rudolph, whose repertoire includes such characters as 5-year-old sugar addict Lolly the Sock Puppet.
There may be only one thing more universal than a twisted take on Christmas: people's mixed feelings about office holiday parties. Bob's Holiday Office Party, at the Lounge Theatre in Hollywood, capitalizes on that sentiment. Bob's creator Rob Elk, who co-writes the show with Joe Keyes each year, said it has become an annual tradition -- now in its 12th season. "I think there's something to say about [stamina]. That's why we've been able to get these people coming back year after year," Elk said. Like Follies, the show is perceived as an alternative to traditional Christmas shows, Elk said. It runs through Dec. 22 at the Lounge Theatre in Hollywood.
Each year the plot follows Bob, a small-town insurance agent, and the goofy characters -- the preacher's wife, farmers, and a closeted gay mayor -- that filter in and out of his office. The show is peppered with small-town humor and what Elk calls "red state - blue state" jokes. Elk said he tries to keep the show down to an hour and 20 minutes so it doesn't lag and so audiences keep coming back for more. He said its appeal can also be attributed to the setting, which entertains metropolitan audience members and Midwestern natives who seek out the show for its familiarity.
Tried and True
But successful holiday shows often aren't alternatives to tradition; some audiences want to hear the familiar stories. Each year, the Sierra Madre Playhouse in Sierra Madre, Calif., hosts a family-friendly Christmas play such as A Christmas Carol, The Sound of Music, or a new work -- such as this year's Narnia, playing through Dec. 23.
Ward Calaway, president of the board of directors for the Playhouse, said top-notch talent leads to packed houses. "We happen to have what I consider to be a particularly talented group of children," he said. "And the director for this show is a trained opera singer and has some really talented friends. So we've had some great shows." Calaway attributed a traditional holiday show's success to whether it can become a community staple. "People count on it," he said of the Sierra Madre's annual show.
Matthew Quinn, artistic director of Combined Art Form Entertainment, launched a new production of a Christmas classic this year in Los Angeles -- 1989's A Tuna Christmas -- with Groundlings alumni Mindy Sterling (Austin Powers) and Patrick Bristow (Ellen, Showgirls). The play, which runs through Jan. 6 at Theatre Asylum, has the formula for holiday success: It's a twisted comedy with plenty of small-town humor. Quinn said, "It's funny. It's looking at a timeless Texas, and it also has those holiday moments of goodwill to others and family and, you know, the small-town feeling of Christmas."
But ultimately, according to Gray, holiday shows are about improving people's moods. He said, "People come to the Follies, and they leave saying, 'You know, I came in a bad mood, and I really didn't want to come tonight, but now I'm in the holiday spirit.' And that's the thing we try to give everybody."
For more information about 'Fruit Cake Follies', visit www.fruitcakefollies.com; for 'Bob's Holiday Office Party', visit www.bobsofficeparty.com; for 'Narnia', visit www.sierramadreplayhouse.org; and for 'A Tuna Christmas' visit www.plays411.com/tunachristmas.
Nicole Kristal can be reached at [email protected].