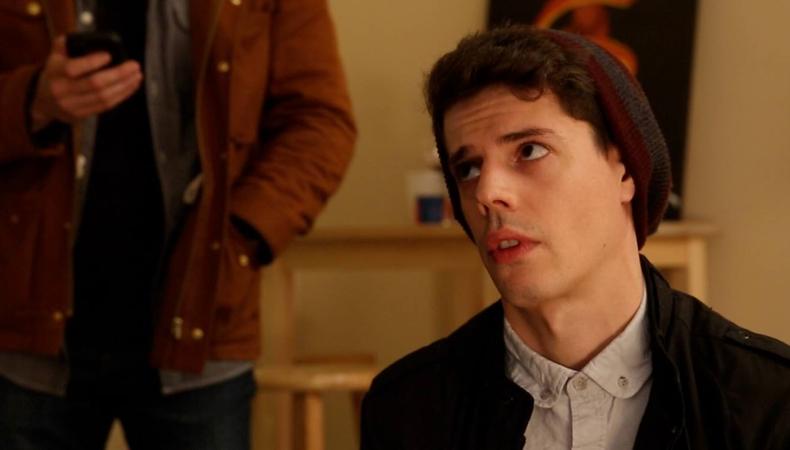 A Web series about the insecurities of young Angelenos caught the eye of Ben Affleck and Matt Damon, who tapped it for the finals of their HBO series "Project Greenlight."
Before being entered into the HBO competition, "Beanie Bros." was an episode of "Age of Insecurity," a Web series created by filmmaker Adriano Valentini. Now, it could help secure him a job directing a greenlit feature.
Valentini, a Canadian filmmaker, videographer and editor based in L.A., recently had a group Skype call from Damon and Affleck to break the news he'd made the final round. "That was pretty crazy. Matt Damon said I was a great writer, so that was better than making the top 10," Valentini told Backstage.
He's now taking a break from his Web series to complete the competition's final task—shooting a short scene. Still, Valentini said he didn't want "Age of Insecurity" to simply be a stepping stone.
"My goal with this series, first and foremost—even more than creating something of quality—has been about using it as a means to create relationships with people I want to work with," he said.
The Web series effectively straddles the moveable line between comedy and reality, exploring themes of identity, relationships, and the media. From deciding whom among a group of friends gets to wear a beanie out to the bar to reigniting a passion via Facebook, it's the small but nonetheless smartly scrutinized anxieties of modern life that create the series' drama.
"I try to zero in on specific things that I think can be made fun of, or that are relatable," said Valentini, who is originally from Ontario.
Before relocating to L.A., Valentini worked as a video journalist for the Globe and Mail and was accepted into the diversity writing program at the Writers Guild of Canada. After moving to L.A. in May 2013, Valentini wanted to avoid the pitfalls of idleness, so he made a commitment with his friends to shoot one piece of content a month. That was the dawn of "The Age of Insecurity."
"We decided that not only should this be a means to force us to create new content, but also to meet new people," he said. "So we made it a goal to write in a new character for each episode as well as experiment with the shooting style as we go, with the goal to bring on new crew members."
The series is still in production, and each episode is shot over the course of one to two days in Hollywood and West Hollywood. With no budget, Valentini has been working with whatever resources he has by assembling a skeleton crew from friends and through word of mouth. While he mostly relies on his contacts in the industry, Valentini also uses Mandy.com and craigslist when he's in a bind, or if he needs something specific.
To cast the series, Valentini used the same method as putting together his crew: drawing from a network of friends and reaching out to people naturally, as opposed to using casting services. That's because Valentini is a firm believer of networking and having an organic working relationships with his cast. "I take the time to really find the right people for the right role, and if I find someone who's amazing but doesn't quite fit that role, I make sure to find something to work on with them in the future," he said.
In addition to being singled out by Damon and Affleck, Valentini's series also won the 2014 HollyShorts Film Festival award for best Web series. Valentini credits his time working in so many areas of filmmaking—directing and writing to editing and producing—with helping create the series.
"Besides taking your time and learning from your mistakes, having a strong idea about how all these things work is vital, especially today when filmmakers have the tools at their disposal to do all these things on their own," he said.
Want more L.A. news? Sign up for our Backstage L.A. newsletter!