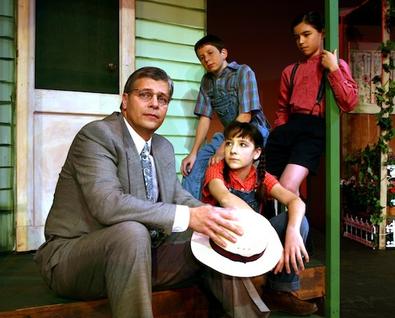 Phantom Projects Theatre Group is still on the hunt for young talent.
The Los Angeles-area youth theater company produces a four-show season at La Mirada Theatre for the Performing Arts in addition to staging local tours of its plays. While it employs adult actors, the bulk of its roles go to young performers.
"One thing we always do is find children to play children," said Steve Cisneros, who founded Phantom Projects in 1997 when he was 17. "And that's because when the audience is full of young people, they want to relate to that actor or actress. A 14-year-old kid in the audience sees a 14-year-old kid on stage, it's going to inspire them that much more."
The company recently staged "The Diary of Anne Frank" at La Mirada, where it has a residency, and will begin casting for its next show, "No Way to Treat a Lady," in early April. Despite the youthfulness of its casts, Cisneros said Phantom Projects operates like a professional company. "A lot of our actors are TV/film people—they're all working actors," he said, noting that mainstage performers receive about $175 for the three-performance run of a show.
"We're a training ground," he said. "A lot of our actors stay with us for many, many years."
Brian Kite, La Mirada Theatre's producing artistic director, said Phantom Projects, which receives grant funding, has helped the theater cultivate a younger audience.
"There's nothing like coming to the theater on a Phantom Projects night and seeing the place swarming with teenagers on their phones—and then seeing them put them away before the play," Kite said.
The company, he added, "fill in a great gap there for us. What I need now is a pre-teen company."