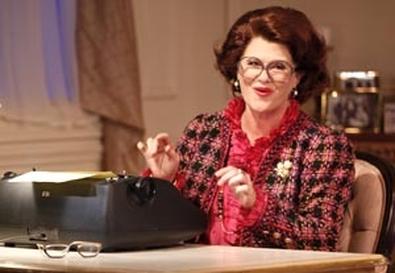 While it's undoubtedly true that the best way to learn something is to do it, I nevertheless urge all serious students of acting to hie themselves over to the Cherry Lane Theatre, where Judith Ivey is giving an inspiring master class in the subject as advice columnist Ann Landers (aka Eppie Lederer) in David Rambo's one-woman play "The Lady With All the Answers." Oh, and plain old theatergoers might want to check it out too. They're likely to have a fine time.
Ivey starts by getting the surface things right, aided by Paul Huntley's meticulous wig and Martin Pakledinaz's elegant, spot-on costumes, one for each act. Her body language is perfect for this gracious yet twinkling upper-class Jewish matron, and her Chicago-influenced Midwestern accent feels lived in and never slips. Watch her as the lights come up: She begins the play in silence, staring at her typewriter, first moving hesitantly toward it, then away, then a feint back, then further away. Even before she moves, she somehow conveys her character's essence. You know immediately you're in safe hands.
But Ivey's interested in more than outer verisimilitude. She mines Rambo's script for every ounce of subtext and can change the emotional temperature on stage instantly, whether with a glance, a shrug, or a vocal modulation. The play calls for Eppie to break the fourth wall: She acknowledges the presence of the audience (her "readers") in the handsome study of her Lake Shore Drive Chicago apartment—Neil Patel designs it impeccably and Nicole Pearce lights it subtly—going so far as to take opinion polls through a show of hands and even engaging in brief dialogue with audience members if they speak up, as some did at the performance I saw. Ivey creates a warm camaraderie with us while always remaining firmly, effortlessly in character.
Rambo's script is sturdily constructed, and he is adept at finding sufficient devices to substitute for the lack of dramatic conflict inherent in any one-person piece. Eppie is putting together a book of her columns, which naturally leads her to read some of them to us. There are strategically placed phone calls to and from family members (the one that ends the first act is perhaps a bit too strategic). And we are visiting Eppie at a time of crisis: a 1975 June day on which she has to write what she tells us is the most difficult column of her then 20-year career. The stakes are properly in place.
Where Rambo falters is in exposing Eppie's emotional core. Admittedly, he's hamstrung by the fact that she is a deeply private person who would never share her dirty laundry with the world. Indeed, she tells us so herself. But the play should at least suggest why the crisis has occurred in Eppie's life, and it never does. Fortunately, Ivey's performance is so human and specific that she almost compensates. Her detail is consistently telling, even in as simple an act as always removing her earring before putting the phone to her ear. But even she can't convey something that's just not on the page.
BJ Jones has directed seamlessly and no doubt helped to shape Ivey's indelible work. "The Lady With All the Answers" offers the pleasure and affords the privilege of watching a great actor at work.

Presented by and at the Cherry Lane Theatre, 38 Commerce St., NYC. Oct. 14–Dec. 20. Wed.–Sat., 8 p.m.; Wed. and Sat., 2 p.m.; Sun., 3 p.m. (No performance Thu., Nov. 26.) (212) 239-6200, (800) 432-7250, or www.telecharge.com.