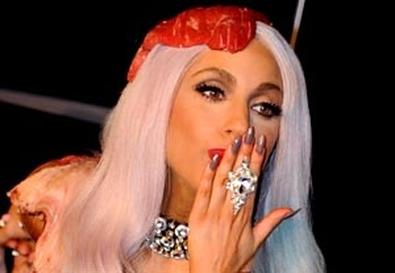 LOS ANGELES (Reuters) – Lady Gaga was crowned queen of the
MTV Video Music Awards
on Sunday, winning eight prizes including video of the year.
The flamboyant pop singer tied Norwegian rock group a-ha, the big winners of 1986, as the second most honored act on a single night. British rocker Peter Gabriel set the record of nine competitive wins in 1987 for his innovative video "Sledgehammer."
Most of Lady Gaga's Moonman statuettes were for her video "
Bad Romance
," a futuristic clip featuring plenty of skin-baring scenes and bizarre costumes.
"I was so nervous for tonight that I would let my fans down," she tearfully said as she accepted the final award for video of the year.
The 24-year-old New Yorker, as famous for her outré fashion sense as for her musical sensibilities, led the field with 13 nominations. In each of her three trips to the stage -- the other awards were announced off-camera -- she wore a different costume, including what looked like a large black trash bag.
The only other multiple winner was eight-time nominee
Eminem
, who won a pair of awards for his "Not Afraid." The rapper opened the show with a medley of songs, but hastily exited the Nokia Theater before accepting his statuettes.
Taylor Swift
, who received a single nomination, went home empty-handed, brushed aside by the Lady Gaga juggernaut. But the country-pop starlet provided one of the show's more provocative moments, debuting a song that recounted her on-stage controversy with Kanye West during last year's ceremony.
Teen pop idol Justin Bieber was named best new artist for his "Baby," featuring rapper Ludacris.
"I come from a little town in Canada, I never thought I'd be in this position," said the 16-year-old native of Stratford, Ontario.
Other winners included actor Jared Leto's rock band 30 Seconds to Mars for best rock video ("Kings and Queens"). Muse, the Black Keys, Jay Z + Alicia Keys, and Florence + the Machine won in technical categories.
Lady Gaga Previews New Album
Lady Gaga
, whose real name is Stefani Germanotta, announced that the follow-up to her breakthrough album "The Fame" would be called "Born This Way," and serenaded the crowd with a tidbit: "I'm beautiful in my way because God makes no mistakes. I'm on the right track baby. I was born this way."
In addition to winning video of the year for "Bad Romance," Lady Gaga took home the prizes for female video, pop video, dance video, choreography, direction and editing. Moreover, her raunchy lesbian prison-themed video for "Telephone" featuring Beyonce won for best collaboration.
Swift's plaintive ballad appeared to offer an olive branch of sorts to West.
The embattled hip-hop star was criticized following last year's ceremony in which he stormed the stage during Swift's acceptance of an award, grabbed the microphone from her and praised Beyonce, who was competing for the same award.
President Barack Obama was among those who criticized him.
Swift sang that West was "32 and still growing up. ... Lost your balance on the tightrope, it's never too late to get back."
MTV, owned by Viacom, was possibly the night's other big winner. Last year's ceremony drew 9 million viewers, a 6 percent increase over 2008 and the largest turnout since 2004. The Swift-West drama was expected to boost viewership this year as well.
(Editing by Will Dunham)
---
COPYRIGHT: (c) Reuters 2010. All rights reserved. Republication or redistribution of Reuters content, including by caching, framing or similar means, is expressly prohibited without the prior written consent of Reuters. Reuters and the Reuters sphere logo are registered trademarks and trademarks of the Reuters group of companies around the world.