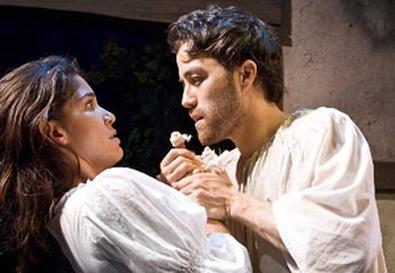 Playwright Christopher Fry was hailed as a breath of fresh air on the London stage in the late '40s and early '50s for his intellectual verse dramas on subjects spiritual and philosophical. But then Fry was suddenly old-fashioned when John Osborne and his angry kitchen sink came along. Parenthesis, a new theater company devoted to producing plays "that collect and connect us," begs to differ. It has dusted off Fry's biggest hit, "The Lady's Not for Burning," a darkly comic tale about nothing less than the meaning and purpose of life, in a scrappy production Off-Off-Broadway at Walkerspace. While the talented company doesn't quite reach the level of stylishness necessary to fully float Fry's sophisticated japery, director Bryan Close and his actors make a case for this fanciful tale.
Set in rural England in 1400, the action unfolds in the home of a market town's mayor. Rough-edged but silver-tongued Thomas Mandip, an embittered ex-soldier who complains that whenever he tries to get drunk "the sight of the damned world sober[s] me up again," arrives to confess to murder, demanding to be hanged. Unfortunately for him, the fussy mayor and his exasperated wife are about to host a welcome banquet for their elder son Humphrey's betrothed, Alizon, who has been plucked from a convent sight unseen. The mayor has no time to listen to Thomas, nor does he believe him. However, when the lovely rationalist Jennet Jourdemayne arrives seeking shelter from a howling mob accusing her of turning a man into a dog, the expedient mayor sides with the mob. Jennet tries to talk her way out of death while Thomas tries to talk his way into it. Humphrey and his younger brother, Nicholas, decide they prefer Jennet to Alizon, to the delight of the mayor's callow young clerk, Richard. Of course, Thomas and Jennet are drawn to each other. She gives him a reason to live, and when the man he claims to have murdered shows up alive, Thomas gives in and spirits Jennet out of death's reach as the curtain falls.
Fry's voice is original and eloquent, and the 10-person cast handles the blank verse with confidence. If Close and his actors are better at mining the play's irony and wit than its romance and emotion, that's probably because Fry is more interested in what he has to say than in the characters saying it. Isaac Woofter's Thomas is a handsome scalawag with a bristling mind but could use a bit more bravura. Anna Olivia Moore gives Jennet an appealing equanimity in desperate circumstances that emphasizes her intelligence. Matthew Baldiga, as Humphrey, and Jared Thompson, as Nicholas, make an entertaining pair of comically contrasting, competitive brothers. Jean Tafler's mayor's wife is an amusing picture of a woman determined to hold together no matter what is thrown at her, while Danny Makali'i Mittermeyer dithers and fumes successfully as her husband. Jefferson Slinkard is appropriately stolid and practical as a local judge, and Rob Skolits doubles effectively as a hapless chaplain and a seriously inebriated purported corpse. Outstanding are Gwen Ellis, as Alizon, and Nick Fesette, as Richard. She has a lovely centeredness and emotional transparency that recall a young Laura Linney. He finds a depth of feeling that makes Richard the most human character on stage and is especially compelling when simply observing or listening. Watch in Act 3 as Fesette delivers the simple line "We have come back." That mixture of flair and purpose is exactly the level at which "Lady" should be played.
Though the show clocks in at three hours, it never drags. Fry won't be everyone's cup of tea, but those with an affinity for wordsmithery and philosophizing should find much to enjoy.
Presented by Parenthesis at Walkerspace, 46 Walker St., NYC. May 25–June 11. Thu.–Sat., 8 p.m.; Sun., 3 p.m. (Additional performance Wed., June 1, 8 p.m.) (212) 868-4444 or www.smarttix.com. Casting by Anne Teutschel.