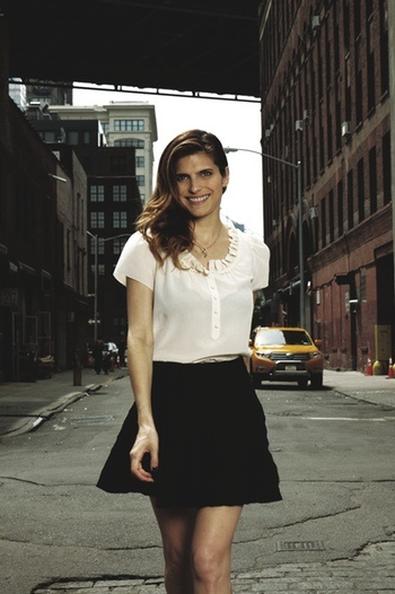 Maybe you know Lake Bell from her time as "sexy movie girl," as she puts it. You know, the supporting actor in that movie about people? Where she's questionable because she's young and pretty? Like the one where she's dating Meryl Streep's ex ("It's Complicated") or being Cameron Diaz's best friend ("What Happens in Vegas").
If you know Lake Bell from her work on cult faves such as Adult Swim's "Childrens Hospital" or "Newsreaders," congratulations, you are keeping up with pop culture admirably. But soon you'll know Bell as a writer-director with a singular vision via the feature film "In a World...," which screened at Sundance this year and is in theaters Aug. 9.
"It suits me," Bell says of directing. "It's multifaceted, multidimensional, and requires so much focus and energy, but it is intense creativity. It's like exercising every muscle of creativity at all times."
Some of that exercise comes from starring in the feature film she wrote and directed, but the role was too good to pass up. Bell stars as struggling vocal coach Carol, whose father—played by voiceover favorite Fred Melamed—is a titan of the voiceover industry. When her own trailer voiceover career abruptly takes off and puts her in direct competition with her father and his self-appointed successor, Gustav (Ken Marino), the result is something akin to the climax of a feel-good sports movie, just with more stop consonants than athletics.
Melamed isn't surprised that Bell has taken a liking to directing. "Certain people you see in their element and you think they're just born to do something," he says. "That's the way she is as a director. I was already impressed with her as a writer, and the more we worked together the more impressed I was with her work as a director. I have great expectations for her."
Melamed's character is a source not only of the comedy but of the driving narrative conflict, both between fathers and daughters and between men and women in the industry. Carol's uphill battle in the trailer world is due to the ingrained sexism; when was the last time you heard a woman's voice during the upcoming features? But Bell was intent on not preaching to the audience.
"I had these things I wanted to discuss with myself about challenging feminist or sexist questions I had, or just cultural questions about the vocal trends," Bell says of the impetus for sitting down and drafting the screenplay. "I used this script to knead out a lot of ideas and thoughts and conversations and discussions."
Among those conversations is the question of why few women are involved in trailer narration. Bell has theories regarding it—a man's voice can cut through the noise of an action film; it all stems from the omniscient male God in the Bible—but for her the bottom line is this: "If a man is doing a car commercial, you hear a deep booming voice instructing you, 'If you buy this car, you'll be like me. This will be you. You will have my life,' " Bell says. "And when it's a woman doing a voiceover for a car commercial, the instruction there is 'If you buy this car, you'll get me.' It's seductive. And that's perhaps controversial but an interesting discussion."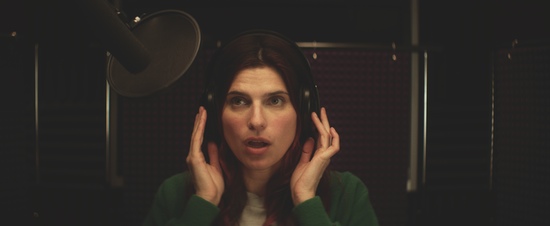 Less controversial is what Bell refers to as the "pandemic" of young women speaking in a baby voice (something memorably skewered in an episode of "30 Rock"). Though Carol practically demands that a young woman stop squeak speaking in "In a World...," Bell refrains from chastising women on the street.
"I was here earlier," she says, sipping lemonade in a Brooklyn café after a photo shoot, "and there was a girl who walked in, and I knew she was going to have the voice. She looked lovely, but there was something in her body language where I just knew I was dealing with a live one. And sure enough, she spoke like a 12-year-old girl." Bell attributes some of the voice's popularity to the rise of reality TV shows, where women eagerly participate in their own objectification and speak in baby voices to be more feminine and desirable, and bemoans the lack of voices that she grew up considering sexy.
"When I grew up, to be sexual and to be profoundly feminine you would sound like Lauren Bacall or Faye Dunaway. Lauren Bacall was fucking sexy, and she had a normal, big-girl voice," Bell says. "Sexy baby is an affectation. It's a dialect. It's something you put on."
Bell's own voice is clear, resonant, and low-timbred, though she admits to speaking below her natural voice "because I'm always trying to sound cool." That ear for (and interest in) voices is a thread that runs throughout "In a World...," partly because Bell is so enthused about the possibilities voiceover affords.
"Voiceover is amazing because you can be anyone," she says. "I can be a guy; I can be any ethnicity. No one sees what you look like, and that is liberating. I do some uncredited work in the movie. Gustav's agent, the old fat Jewish guy? It's me. I love that so much. It's sneaky!"
Not that civilians won't enjoy "In a World...": Though knowledge of the industry can be helpful for the viewing experience, Bell says that no one will sit in the theater feeling left out.
"The voiceover industry is an umbrella to tell the story, but overall the movie is about interpersonal relationships," Bell says, pointing to the competition between Carol and her father for a plum voiceover gig as a driving force of the film, one that prompts Carol's career to stall out until she is able to find her voice.
A woman switching paths because she's found her voice? That sounds awfully familiar.
"There are a lot of harmonious themes running through this movie," Bell says with a sly smile. "The path to finding your voice is a long one, but at least I've taken the first step."