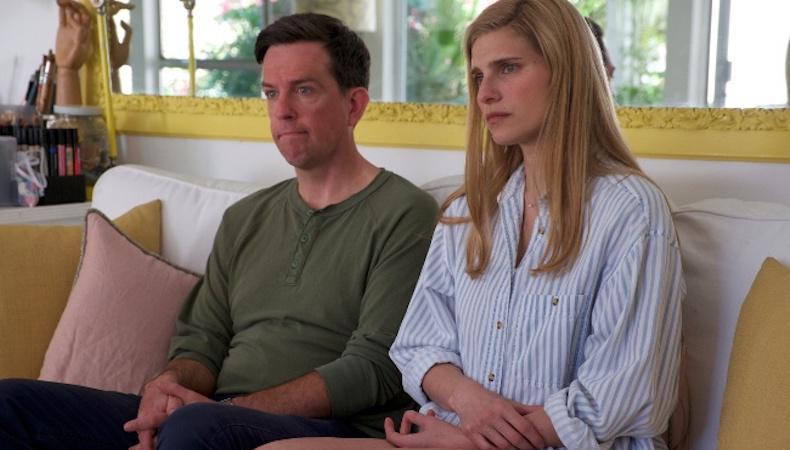 If you like chasing multiple dreams at the same time, chances are Lake Bell is your role model. And if she's not already, she should be. Bell is known for her work as an actor, director, producer, and screenwriter, and she works best when juggling all four titles simultaneously. Such is the case with her latest film, "I Do... Until I Don't," in which a jaded documentarian (Dolly Wells) believes marriage is an outdated tradition, and she follows three couples (Lake Bell and Ed Helms, Mary Steenburgen and Paul Reiser, and Amber Heard and Wyatt Cenac) to prove that theory.
Are you interested in becoming a multihat-wearing creator? According to Bell, the secret to writing, directing, producing, and starring in the same film comes down to grade-A organization.
READ: Lake Bell Finds Her Voice
"I'm not somebody who shoots from the hip and sees what happens. I've always been someone who relishes in the preparation process," she says. "That is, for me, the key to an enjoyable creative experience: a copious amount of organization and respecting that part of the process. There's nothing easy about directing, writing, producing, and starring in a film. I can't lie and pretend it comes effortlessly. It comes with great effort and it's intensely challenging. That's part of what makes it so exciting."
It all begins with casting. Bell wants an acting team that's deeply dedicated and has a good sense of humor—and no self-proclaimed divas allowed. ("I don't care who they are. It's just unproductive," she says.) Once casting is in place, however, it's important to trust those you've hired to put their spin on your work. For Bell, that means getting what's scripted on camera, and then doing a "trumble take" where actors can play around with the words. "There will be one moment [of improvisation] that's a little magic, and that's really all you need," she says. "In general, I like to have actors who don't traditionally do drama take on dramatic situations, and actors who are inherently dramatic actors take on comedic roles. Amber [Heard] isn't known for comedy, but she complemented Wyatt [Cenac] so well. There has to be that trust."
"I Do… Until I Don't" stretched Bell to new creative limits. She found herself darting from behind the camera to in front of it. She held her script close. On high-stress days, she meditated for five minutes during lunch breaks. "You have to remember, this isn't for an entire year. It's for this portion of the year, or a single month. It's a mini endurance race," she says. "It's an increment of time that's intense, robust, and fulfilling, and sometimes that means it's overwhelming. But if you quiet your mind, you can attack your creative state with a smile on your face, because the whole point is to have fun."
READ: Why Every Actor Should Write in the Morning + How to Get Started
Looking back, Bell says her ability to juggle multiple titles comes from an inner sense of direction. The best way to find it? Through writing. She suggests throwing judgment by the wayside, cranking out a draft, and editing it. If you don't have time for it, make time for it. That's how a career turns from penniless ideas to greenlit projects.
"You can't do anything if you don't have material," she explains. "You don't need money or representation or an office to write. You don't need anything other than your computer or a pen and paper. All you need is discipline, passion, and motivation. Ideas, too—obviously. But your ideas will come if you show up. If you want to [do this], you have to attempt to write. That's why so few people [do it], because you have to make time."
Ready to star in the next big indie? Check out Backstage's film audition listings!