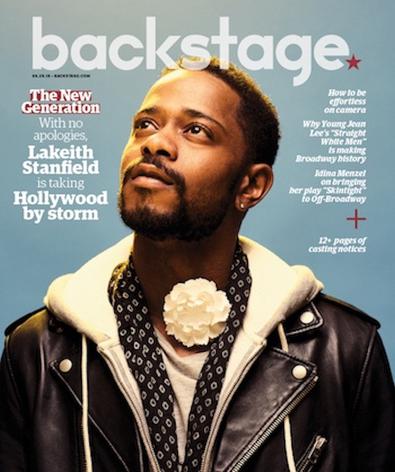 Lakeith Stanfield has a fondness for anchors. They ground you, he says, drawing parallels between water and air. Air is all around us, "like an air aquarium." He says this as he loops his hoodie strings through a prop he's brought for our cover shoot—a metallic belt buckle with an anchor in the middle—and ties them together to create a makeshift necklace.
In his bag of photo shoot goodies, among other things, are flowers—one red, one white—a tiara, a gold half-mask, a long, gold wraparound belt, bamboo rings, and the aforementioned belt buckle, which unfortunately "didn't make the cut," but that he's sure he'll be able to use for something later down the line. He just wanted to have things he likes to work with,
he explains.
Stanfield is better at being himself than most. On camera and off, he's built an enviable career without diluting his personal character for an industry based entirely on toning down or punching up your quirks for whoever happens to be in the room. "My whole existence is about doing whatever I want, and the moment I'm not allowed to do that, I get really antsy." To believe him is to understand the sort of instinct he's had to prove he possesses in order for people to trust him with their creative visions and allow him to do what he wants while still delivering.
And deliver he does, for the likes of Ava DuVernay ("Selma"), Donald Glover ("Atlanta"), Jordan Peele ("Get Out"), F. Gary Gray ("Straight Outta Compton"), and, most recently, rapper-filmmaker Boots Riley in his explosive directorial debut, "Sorry to Bother You."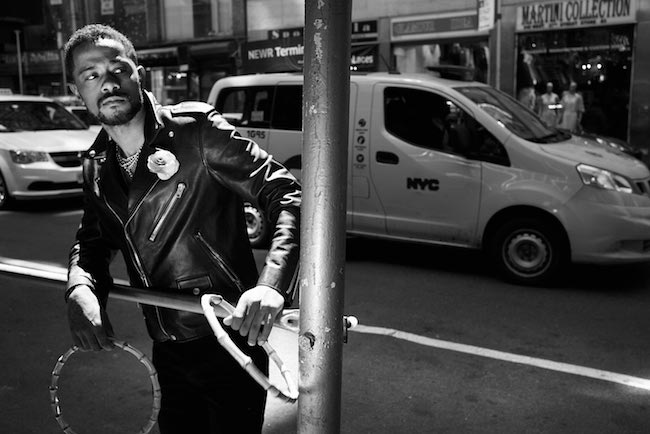 Styling by Adam Ballheim
On the first watch of Stanfield's latest film—much like sitting down for an interview with the actor, whose conversational touchpoints meander from the way babies remind him to not take life too seriously to his desire to play a character like Edward Scissorhands—you're not sure what you'll get next. It's the tonal equivalent of "everything but the kitchen sink," and it works.
Part satire, part sci-fi fantasy, the Sundance Grand Jury Prize nominee is set in an alternate present-day universe of Oakland, California, and plays like trying to follow the stars in your eyes after a cartoon smack in the face. Stanfield leads as Cassius Green, a man so desperate for work he shows up for an interview at a telemarketing agency with a trophy and an employee of the month plaque he made for himself. He's obviously proven he can sell an idea (plus, this place will hire anyone), so he lands a job peddling encyclopedias.
Riley's sense of surrealism kicks in here, with Cassius physically dropping into the homes of people he's calling before getting hung up on. At the suggestion of his cubicle neighbor Langston (Danny Glover), Cassius begins using his "white voice"—which sounds "like you've never been fired, only laid off"—and hits his stride. Soon, he's dubbed a "power caller" and is whisked up in a golden elevator to the building's top floor, where he discovers what the company's really selling. To say any more would ruin a gobsmacking reveal.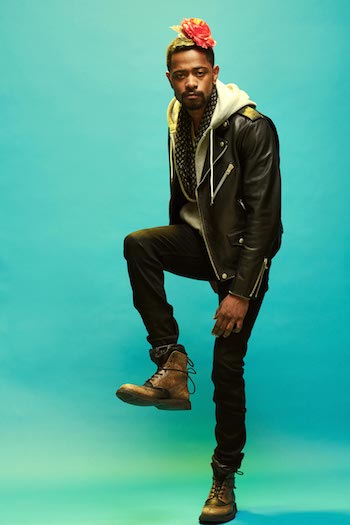 It's radical storytelling with a stellar cast that includes Tessa Thompson, Armie Hammer, Steven Yeun, Jermaine Fowler, and Omari Hardwick—"white voices" provided by David Cross and Patton Oswalt—plus in-your-face criticism of capitalistic greed, all topped with a slew of topical references. (A soda commercial with the catchphrase "Have a Cola and Smile, Bitch" calls back to Kendall Jenner's tone-deaf Black Lives Matter Pepsi commercial, and an art show highlights the devastation happening in the Congo as a result of mineral mining for cellphones.)
When asked to describe his working relationship with Stanfield, Riley says, "[It's] like when you flick a bowl of Jell-O. You can touch it in different ways and it'll wiggle in all kinds of different ways. That's about it—I'm the poker and he's the Jell-O."
Stanfield's particular wiggle did take some getting used to. Weeks out from production, the actor still hadn't gotten off-book, an admittedly nerve-racking situation for a first-time writer-director aiming for perfection. But seeing him work on set, Riley says the process made perfect sense. He chose to attack the role from an emotional and physical place first before ever considering the dialogue. "When he's actually performing it, it comes across much more naturally because you see him figuring out what he's going to say, just the same way we do with life," Riley says.
Mostly, the director's "pokes" came via in-depth conversations with Stanfield about Cassius. The performance had to keep an otherwise outlandish story from drifting into the unbelievable, so the two worked together on naturalistic posture and physicality, and charted it through each scene and theme in the film. "When actors do a role, they break humanity down to its basic compartments and [find] a lot of detail about how we work and how we are; things that we edit out of our brain about ourselves," Riley says. "[Lakeith is] always looking for the poetry in people. And he's not only observant; he's very connected to people. There were a couple of times when he and I were just talking about the role, and talking about stuff that Cassius was going through, where we made each other cry. You wouldn't think for his age—I guess maybe he's been through enough to give him the wisdom that a lot of people don't have at that age."
Stanfield grew up in Victorville, California, and has spoken candidly in past interviews about dealing with violence and poverty in his childhood. He realized in high school that he wanted to become an actor after co-starring as a frog in "Honk!," a musical reimagining of "The Ugly Duckling." "I got to sing in a low register because I have a low voice"—he drops his already deep voice—"and it was super fun. I got to wear a fat suit. I was, like, 90 pounds in high school, so it was great."
He'd failed every class with the exception of drama, so at 16, he paid $60 for some rough headshots (and an even rougher makeup artist: "She made me five times blacker than I was") and started sending them off to casting directors. He Googled how to break into the business, watched hours of interviews with actors, found a modeling agency with acting classes, and saved money to eventually move to Los Angeles. He landed his first commercial agent during a showcase where he jumped up on a chair and yelled what he thought would make him stand out: "Kowabunga, what's up, man?!"
He slept in his car occasionally after moving to L.A., and spent five years auditioning and failing to book commercials before he caught a break in 2008: a role in a student film called "Short Term 12." Five years later, Stanfield was nominated for a Film Independent Spirit Award for the short's feature film adaptation. Since then, he's played civil rights activist Jimmie Lee Jackson, Snoop Dogg, Colin Warner—a Brooklynite who spent 20 years in prison on a false murder conviction—in "Crown Heights," and, of course, Darius, the pseudo-philosopher pothead and comedic anchor of the Emmy-winning "Atlanta." "You show me the door, I'm running straight through," he says.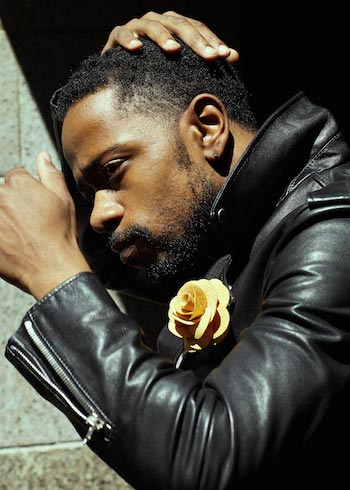 Cassius' story, in particular, resonated with the actor's early days in L.A. "You seen Cassius in the bucket, when he pulled up? That's my fucking story," he says. "He didn't have shit. I came to L.A. with nothing, just my car, but I was so determined to make something happen. I remember that feeling of going through that transition and it not being easy, and having friends call me back from home like, 'Where the fuck you at?' I'm like, 'Oh, I'm in L.A.' Like, 'Get out of there, man, they don't give a fuck about you over there. Come back home. This is where you belong.' But I just couldn't do it anymore.
I couldn't sit—I'd rather die trying."
The emotional sacrifices Cassius makes in the film also felt familiar to Stanfield, who, 10 years on from the student short that would change his career, has experienced the sorts of compromises actors often have to make to be a part of the "machine" he sometimes feels is like a heavy blade looming over him.
"I've always made an effort to try and have integrity in what I do," he explains. "That's part of the guillotine of Hollywood, is the sacrificial integrity—nothing is about [integrity] here. And I'm just kinda big on that. I don't want to sacrifice what I feel and who I am and what I represent.
"All the characters I [play], to some extent, are an extension of me in an alternate universe. Even if it's not real life, I want it to speak to reality. So I couldn't play a character I felt was not real. A lot of the times, I'm in negotiations, I'll have to rewrite stuff and edit characters and try to find the truth in it, and sometimes it's frustrating for people and for me, too, but I can't [not] do that. It doesn't sit well with me."
He makes a concerted effort to get out from under the blade and find other ways to explore creatively: he paints, he sometimes makes music as one-half of the rap duo MOORS, he focuses on being a new father.
"I've been making a conscious decision as of late to try and do things that I would be proud of." And the most undeniably excellent thing about Stanfield is watching those decisions play out wherever and whenever he's given liberty to make them.

---
Me, Myself, and I
"There's a level of competitiveness to this job that I never really understood," says Stanfield, " 'Cause I never thought no one was touching me. Not in the sense of like, 'I'm better than them,' but we're not even in the same lane. I'm me! In these audition rooms, [there are] a million black dudes, everybody's hungry, looking for a piece of steak. And they'll sit in the hallway and not talk to each other and be like, 'Fuck you, fuck you.' "
Coming from a background that didn't include formal training, Stanfield says he sometimes felt like an outsider. "I was poor and uneducated, so it was like, 'Who the fuck is this dude?'.... People who had spent their whole lives felt like it wasn't fair that I just popped up on the scene like that. But I was still working hard, it wasn't like it wasn't effortful. Even the first thing I did, 'Short Term 12,' that was grueling for me. I didn't speak to anyone the whole time on set and that sucked. I like people, but the whole time I was just in a lot of pain. That wasn't an easy thing to do. All of my journeys; there's a beautiful part, but a painful part to it."
Looking to get cast? Apply to casting calls on Backstage.

Photographed on April 23 in NYC by Stephanie Diani; Styled by Adam Ballheim