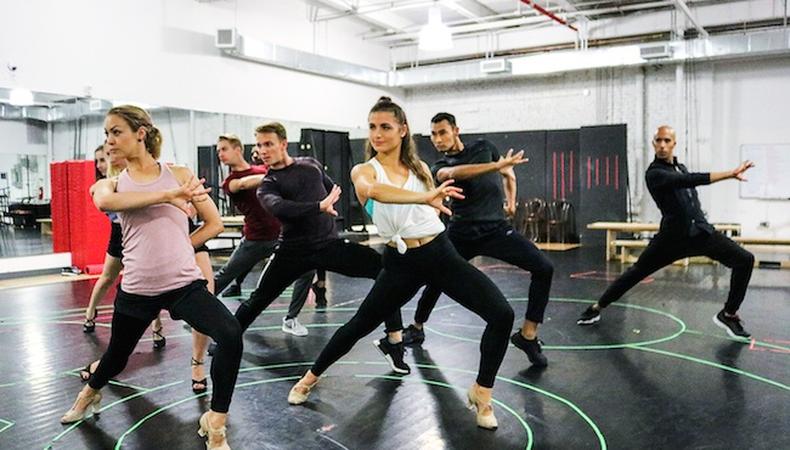 RWS Entertainment Group is an Emmy Award–winning production company that creates custom entertainment, live events, and brand experiences for resorts, cruise lines, theme parks, corporate events, and more.
We spoke to RWS founder and CEO Ryan Stana and Senior Casting Director Franklyn Warfield about one specific aspect of their multifaceted business: producing onboard entertainment for Holland America Line cruise ships. Stana and Warfield cover everything you need to know about working for Holland America via RWS, including what they're looking for from singers and dancers, the rehearsal process, onboard perks and challenges, destinations, contract lengths, and how the cruise entertainment industry is evolving.
UPDATE (9/5/2017): Holland America has lowered the minimum age for performers from 21 to 18.
When did RWS begin working with Holland America?
Ryan Stana: We started our relationship in 2013 with two ships. We'll be up to 12 ships by 2018.
What does RWS Entertainment do for Holland America?
RS: We oversee all show creation and development, from concept to installation on board, and the ongoing management of shows. We choose the songs, directors, and choreographers, scenic designers, video design, costume design, we hold auditions, and we cast all the talent for our production shows. We rehearse and train each cast in advance of boarding the ship, we install each cast onto the ship and into the shows, and we manage the cast in collaboration with Holland America. Essentially, we do everything to make a show a "show" on Holland America Line.
What specifically is the entertainment like on Holland America ships?
RS: The actual shows are higher concept, 30–40 minutes, with varied themes that borrow from a broad catalog of well-known pop and rock material, with a sprinkling of musical theater and jazz standards. Stylistically, we offer an eclectic show package like no other cruise line, from a concert show with no singers that just features our dancers, to a Latin ballroom extravaganza, to an adult-style fairy tale show, to a branded show where we celebrate iconic Billboard chart-toppers throughout the last half century. The shows include advanced video, audio, and lighting technology, and feature a lot of aerial elements as well.
What cruise ship roles does RWS regularly cast for?
Franklyn Warfield: "Singers" and "dancers" are the umbrella categories. For the singers, we're looking for that star vocalist who can park and bark and really get the crowd going, get them on their feet. We're looking for excellent voices. Most of our material is from pop-rock land, so we look for people who excel in that style. We want a bit more mature of a feel, of a look, for our singers.
For the dancers, our shows require what I like to call "dancer schizophrenia"; in one contract they might have a show that's purely ballet, another show that's modern-contemporary, another show that's commercial jazz, and then a Latin ballroom show. We need dancers that excel in a wide variety of styles.
Singer-dancers should be the most multi-talented people on the ship. Not only do they have to sing with the singers, they also have to dance with the dancers.
READ: What You Need to Know About Working on a Cruise Ship
What about acting?
FW: For the singers, you have to bring your acting chops. You don't have the benefit of reading a script as you would in a musical stage book show. You have to come with your own story. Any number of stories could be told in one song. As long as you're able to emotionally connect with the material and captivate the audience, we're on board.
We need acting dancers. As Ryan said before, we have dance concert shows with no singers. So the dancers are out there, front and center. They're telling the story. There's no singer out there using lyrics to get anything across. It's all about the body, the face, the emotion, and everything else the dancer brings to the table.
Do performers have to be union, or nonunion?
FW: We cast for both. As long as you're talented, as long as you fit into a track, we want to work with you.
When and where do auditions happen?
FW: We have different types of auditions. We'll do open calls across the world and we also work with agents to see represented talent. The fact of the matter is, there's never not a cast on board, so the turnover is constant and the need is ongoing. As the casting director, I'll plan out a 54-city international auditioning tour—that's what it is this year. We have anywhere from 300 to 400 positions to fill throughout the calendar year. We're based in NYC, so we do a lot of New York City auditioning, but we're also in L.A., we're in Vegas, we go to London, Toronto, Orlando.... I'm about to fly to Australia to audition in Sydney, Melbourne, and Brisbane. We're constantly looking.
Once a performer books a role, what's the rehearsal process like?
RS: Since there are anywhere from three to six shows to learn over the course of a six-week rehearsal period, the process can be quite rigorous and challenging. There's a lot of material to cover: choreography, staging, music, aerial training, as well as orientation and meetings to prepare the cast for life on a ship.
And for those performers who come to us from outside of New York, the fact that they're able to rehearse in one of the most exciting cities in the world—not to mention the hub of all things Broadway and theater—is an added bonus. We're the only cruise line company that rehearses in New York City.
How long is a typical contract?
RS: Between six and eight months.
Do performers have other jobs on board?
RS: There are no cruise staff duties. You won't see dancers hosting karaoke or sitting in a library checking out books. They can have their meals in guest areas, as opposed to being confined to a crew mess. I know this is going to sound silly, but they're able to travel between decks on guest elevators, which is a major perk.
What are some of the challenges that come with performing on a ship?
FW: We try to address challenges during orientation and rehearsals. However, no matter how much you tell somebody, if it's their first time working on a ship, the challenge is often being in that confined space. You don't have the freedom to get in your car or on the subway and go wherever you want. You're living on that vessel for six to eight months.
RS: I always tell our cast members, "Go out with a goal. Whether you want to have a fierce body by the end of a contract, you want to write your own cabaret, you want to finish a class in college… We want to see you come out a better person."
Has anyone noteworthy gotten their start on Holland America?
RS: You can find RWS and Holland America Line alumni working all throughout the industry: Broadway, film, television, national tours, regional theaters, and dance companies. We always focus on the success of our performers. When they're in rehearsal we offer an Artist Connect series, giving them the opportunity to speak to and learn from top Broadway and industry stars. We also offer a performance incentive program while they're on board, where if they hit a certain guest rating, they have the opportunity post-contract to participate in our industry day. That allows them to be seen by top-level agents and casting directors in New York. They also have an inside connection to Binder Casting, which RWS acquired in 2016.
Where do Holland America ships port out of?
FW: It could be anywhere from Ft. Lauderdale to Juno, Alaska to Sydney, Australia.
What are some of the itineraries?
FW: Holland America repositions their ships throughout the year. So if you board in Ft. Lauderdale as a performer and start out going to the Caribbean, you'll either make the crossing of the Atlantic and then you're in the Mediterranean for the second half of your contract, or you go through the Panama Canal and for that second half you're in Alaska. It offers a lot of variety within one contract.
Do you go out on ships regularly?
RS: Our team tries to visit a cast every three months, on all the ships. I travel at least once a month on a ship to spend some time with the cast. I ask them ways that we can improve as a company, and ways that Holland America Line can improve.
Is there anything else you'd like people to know?
RS: I appreciate Backstage focusing in on this industry! It's amazing and it's very much evolving. In the next five years I think it will become very close to what's happening here in New York. We're going to see new shows tested at sea before they go to Broadway, because what they have from an innovation and technology standpoint is like no other.
Find the latest RWS/Holland America Line auditions at rwsandassociates.com/auditions or check out our cruise line auditions on Backstage!