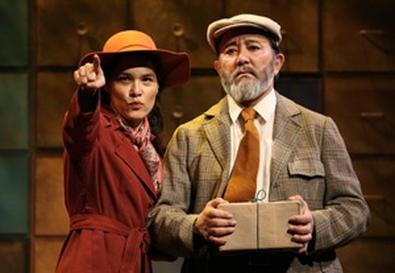 The vocabulary of the intellect vies with the syntax of the heart in Julia Cho's lyrical, populist account of a linguist whose affection for arcane languages upends his marriage. In the work's elegant Los Angeles premiere, director Jessica Kubzansky uses an assured cast and a splendid design scheme to render the quirks all but irrelevant.
For quirks abound, in a narrative that merges magic realism and post-sitcom self-comment, as protagonist George (the adroitly understated Ryun Yu), an expert in moribund languages, reveals himself early on. "It's estimated that every two weeks a language dies," he informs us. "I don't know about you, but this statistic moves me far more than any statistics on how many animals die or people die in a given time, in a given place."
As designer François-Pierre Couture's extraordinary construct of varicolored filing cabinets and Jeremy Pivnick's breathtaking light plot offer their first surprises, deceptively placid wife Mary (Kimiko Gelman, ideally cast) appears. Mary denies leaving oddly poetic notes in even odder places for her clueless spouse to find, each accompanied by a tinkling cue from sound designer–composer Bruno Louchouarn—"Husband or throw pillow?," "Wife or hot-water bottle," "Marriage or an old cardigan?," "Love or explaining how to use the remote control?" Indeed, Mary has her own issues with expressing feelings. Ditto sweetly recalcitrant Emma (Jennifer Chang, atop her game), the archive assistant whose yen for George requires Esperanto lessons to release, setting the stage for an inchoate triangle—love among the passive-aggressive.
Cho pits her skills at sculpting monologues and commingling themes against a parallel couple: Resten and Alta, the last living speakers of a (fictional) dying language, who argue with each other in English and provide the groundwork for Cho's ultimate point. Nelson Mashita and Jeanne Sakata devour these universal Bickersons, drolly costumed by E.B. Brooks, to uproarious and touching effect. Sakata and Mashita also play key functionaries—Emma's aggressively upbeat German Esperanto teacher, and the corresponding men Mary and Emma respectively meet on a train platform—with light-fingered authority.
Kubzansky, who has few peers at keeping the eye involved while revealing the emotional stakes of a piece—the wall-splitting coup that closes Act 1 is only one example—does so again, elevating this oddly calculated yet always engaging parable to company touchstone status.
Presented by East West Players at the David Henry Hwang Theater, Union Center for the Arts, 120 Judge John Aiso St., L.A. Nov. 9-Dec. 4. Wed.-Sat., 8 p.m.; Sun., 2 p.m. (213) 625-7000. www.eastwestplayers.org.