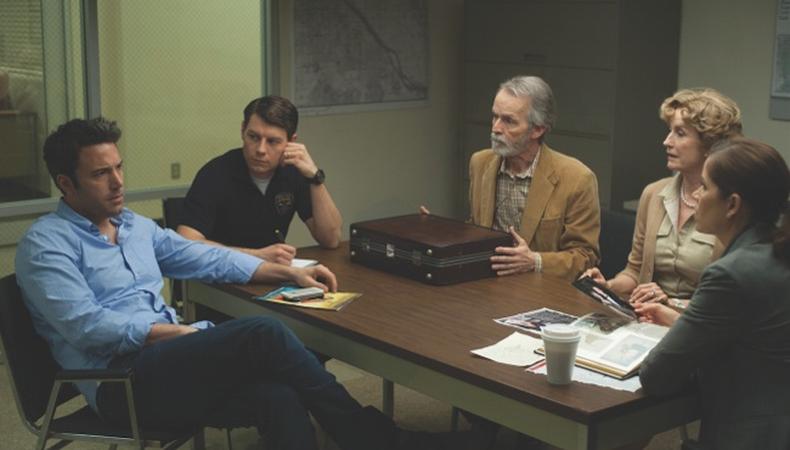 At the center of the first half of "Gone Girl" is a treasure hunt. Exquisitely planned and elaborately plotted, each clue has a twisted double meaning—and it's hard not to draw comparisons between that hunt and the casting process for the film adaptation of Gillian Flynn's 2012 bestseller about a missing wife, her tried-in-the-media husband, and the twists and turns that ensue.
Laray Mayfield, director David Fincher's longtime casting director, hadn't read the novel when Fincher first mentioned his interest in directing the film. But once she did, like the rest of America she was hooked.
Though she doesn't cast a book as she's reading, Mayfield says that both she and Fincher were delighted that some of the actors they had in mind for roles were immediately interested. "People want to work with Dave," she says. "And it's a great job I have, to get to put actors in the room with David. It's super fun and we never take for granted for one second how fortunate we are to have actors who want to work on these projects."
That includes even Tyler Perry, who famously told New York magazine that he wasn't familiar with Fincher's work. "I have no idea what all that was about," Mayfield says with a laugh. "But Tyler Perry is one of the smartest and most successful artists in his own right. I think he might have been making a joke!"
Perry is only one of a handful of familiar faces who play against type in the dark thriller. Also along for the ride are Neil Patrick Harris (tamping down his charisma to chilling results), Casey Wilson as a nosy, pregnant neighbor, Kathleen Rose Perkins ("Episodes") in a memorable cameo, and Missi Pyle as a crusading cable news host. Despite its deep bench of funny actors, "Gone Girl" is far from a comedy.
"There's definitely an irony that runs throughout the book," Mayfield says. "And we were just lucky to put together a group of actors who got that and understood it wasn't to be made into a comedy, but their experience as comedic actors gives them a take [on the material]."
At the center of the film, of course, are Ben Affleck and Rosamund Pike. Pike's role in particular was difficult to cast. Without giving away too much of the plot, Amy Dunne is a complicated woman, and casting an actor to play her turned into a modern-day search for Scarlett O'Hara.
"We got to see a lot of brilliantly talented actresses," Mayfield says about casting Amy. "At the end of the day, Rosamund was the perfect, perfect choice. But those other actresses we did see, not that they weren't perfect in their own right and super, super talented, but Rosamund had, in addition to great talent, she had many characteristics about her and an understanding of the character. And she's a little under the radar."
That willingness to embrace the lesser-known is what helps "Gone Girl" pop (in addition to Pike, Tony nominee Carrie Coon gives a star-making turn as Affleck's character's wry twin sister). All of which reinforces Mayfield's refusal to arrive to casting sessions with preconceived notions.
"I enjoy reading the story and seeing the characters and then sitting with the director to come up with an approach for casting," she says. "I'm just super lucky at the end of the day to work with an amazingly good filmmaker who is also my good friend."
Inspired by this post? Check out our film audition listings!