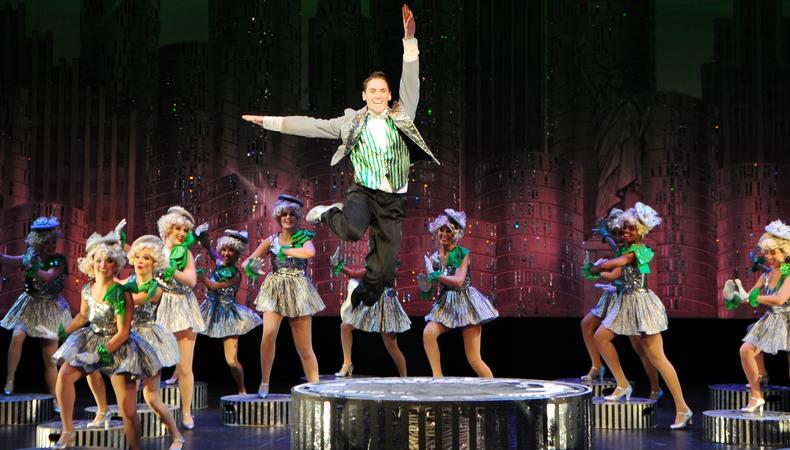 With its tale of an obscure chorus girl being rocketed to Broadway stardom, a score of great Harry Warren–Al Dubin songs, and some incredible Busby Berkeley dance numbers, the 1933 movie tuner "42nd Street" was perfect escapist fare for Depression-era audiences. It also became the mother of all backstage musicals, suiting it well to being refitted for the stage in 1980 by director-choreographer Gower Champion and book writers Michael Stewart and Mark Bramble, with the inclusion of Warren songs from other films the major liberty taken.
Jon Engstrom's direction and choreography and Michael Borth's attentive musical direction help propel Musical Theatre West's revival, which benefits from a large-scale handling of the material; crackerjack song-and-dance scenes from leads, principals, and ensemble; and the use of eye-catching costumes provided by the Theatre Company (Upland, Calif.) and sets and props courtesy of Reagle Music Theatre of Greater Boston. The sizable cast energizes the material, starting with a bang-up, company-wide tap dance number, the first thing we see as the curtain rises.
While many of the characters and plot twists of the film have been recycled so often that they've become clichés, Engstrom and company treat the material as fresh and avoid lapsing into parody. In particular, Borth's mastery of the score goes a long way in powering the production. Under his hand, the pit orchestra belts out Warren's classic numbers with spirit and precision, and the cast responds in kind. The result is a fun-in-a-corny-kind-of-way staging that captures all the hyperbole and ballyhoo of show biz, especially the glitz of the Great White Way as mythologized by Hollywood films of the Depression era. Kinetic and jubilant, the show is Broadway's paean to itself and to all things musical theater.
Atop the cast are Damon Kirsche, Tracy Lore, and Tessa Grady, as legendary Broadway producer Julian Marsh, aging but still viable star Dorothy Brock, and fresh-faced Peggy Sawyer, whose arrival from the backwater of Allentown, Pa., is akin to Dorothy Gale's visit to Oz. Tall, angular Kirsche has a Cagney-like ferocity, his cynical, ill-tempered, no-nonsense Julian amused by Peggy and often dumbstruck, his head cocked, unsure of quite what to make of this raw dynamo. Grady's Peggy is naive, yes, but thankfully not just a Pollyannaish patsy. She's insanely gifted yet self-effacing, savoring every bit of her new life even when rattled by Julian's presence or being driven to exhaustion by him to keep his newest show from closing before it opens. Lore, too, skirts the hackneyed. While a bossy prima donna, her Dorothy genuinely loves and needs ex-beau Pat Denning (Christopher Guilmet), as her regretful singing of "I Know Now" proves, and she's finally able to admit that Peggy is a star in the making.
Glittering production numbers such as "We're In the Money," "Lullaby of Broadway," "Shuffle Off to Buffalo," and the title song are glorious, cementing Warren's place in the firmament of musical theater and this show's score as the stuff of legend.
Presented by Musical Theatre West at the Carpenter Performing Arts Center, 6200 E. Atherton St., Long Beach. Oct. 26–Nov. 11. (562) 856-1999 ext. 4 or www.musical.org.
Critic's Score: A