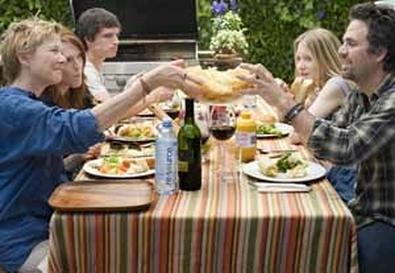 Now in its 16th year, the
Los Angeles Film Festival
strives to be a reflection of its host city: a place where would-be Hollywood blockbusters coexist with niche indie upstarts.
"We are in an industry town, and we are also in a thriving independent community," said festival director Rebecca Yeldham. "The festival very much straddles both ends of the spectrum, from microbudget movies to some of the great summer spectacle movies."
"It's a festival that's trying to appeal to all the different constituencies in Los Angeles," added artistic director David Ansen, noting that the programming ranges from, say, "a challenging art film from Korea" to future megahit "Twilight: Eclipse."
This year the 11-day festival, produced by Film Independent, plants its roots in new territory: downtown L.A., where it will take advantage of such varied venues as the newly opened Regal Cinemas L.A. Live Stadium 14, the Orpheum Theatre, and the Roy and Edna Disney/CalArts Theater. "Downtown is happening in a way that's been predicted for years and years, with all the new restaurants, art walks, and the completion of L.A. Live," said Ansen. "It feels like there really is a downtown now in a way that there hasn't been before."
The films being screened are also a diverse lot, featuring a range of performances. For actors, Ansen and Yeldham recommend a pair of strong ensemble offerings: the opening-night film "The Kids Are All Right"—which features Julianne Moore, Mark Ruffalo, Annette Bening, and newcomer Mia Wasikowska ("Alice in Wonderland")—and the buzzy Australian crime drama "Animal Kingdom." "There's an incredible ensemble of rising Australian actors in this film and an amazing performance by Jacki Weaver, who's sort of the den mother of this crime family," said Ansen of "Animal Kingdom."
If you're looking for something on the lighter side, Yeldham points to "Cyrus," a comedy starring Marisa Tomei and Jonah Hill, as a dysfunctional mother-son duo, and John C. Reilly as the mother's potential paramour. The film was written and directed by Mark and Jay Duplass, the actor-friendly duo behind the indies "The Puffy Chair" and "Baghead." "The three performances are so pitch-perfect," said Yeldham, "and it's wonderful to see Jay and Mark transition from making these microbudget films to a film with a much larger budget and a more notable cast, and to do so seamlessly and still preserving their very distinctive style and their very distinctive brand of humor."
Also of note: thespians showing several different sides of their talent with performances in multiple films. In "Twilight: Eclipse," Kristen Stewart reprises the role that made her a star, but film buffs might also want to check out "Welcome to the Rileys," which features the actor in a grittier part alongside Melissa Leo and James Gandolfini. "I think she'll really show people some stuff that she hasn't shown before," noted Ansen.
Additionally, Yeldham and Ansen suggest you keep an eye on rising talent Trieste Kelly Dunn, who stars in a pair of LAFF offerings: "The New Year" and "Cold Weather." "She could be the next breakthrough indie star," said Ansen. "I think people are really going to take notice of her."
And of course, it's always inspiring to watch actors step behind the camera. In the coming-of-age dramedy "Tiny Furniture," Lena Dunham takes on acting, writing, and directing duties. She said festival-going actors might be interested in observing the strong work of her ensemble cast, which includes professionals (Merritt Wever, David Call), as well as Dunham's mother and sister. "I think my movie's really an example of putting a lot of trust in performers," Dunham said. "Even though it's not improvised, it's a really collaborative experience because I trusted the instincts of the actors I was working with. I hope when actors see it, they'll pick up on the fact that it was a really comfortable environment."
It would be easy to get lost in the festival's mass of cinematic offerings, but Yeldham urges actor attendees to check out some of the other events as well. "We have a very strong actor presence at the festival this year," she said. For instance: a series of candid Q&As with the likes of John Lithgow, Ben Affleck and Jeremy Renner, and Sylvester Stallone. "John Lithgow's going to specifically talk about acting big, acting over the top," noted Ansen, who will moderate the event. "We're showing 'The Adventures of Buckaroo Banzai' and his episode of 'The Twilight Zone.' They're two of his favorite roles because he got to use everything that he used on stage. Instead of doing the minimalist 'less is more,' he's doing 'more is more.' That should be a fun conversation."
Yeldham also recommends the event Coffee Talk: Actors, slated to feature Shohreh Aghdashloo, James Cromwell, and William Mapother, and a pair of screenings presented by LAFF artist-in-residence Paul Reubens: the Frank Capra classic "You Can't Take It With You" and Reubens' own "Pee-wee's Big Adventure."
Finally, for actors who, like Dunham, have the urge to step behind the camera, the festival will host a (DIY)stribution Symposium, focusing on how to get your film out there. "Whereas once upon a time, the main priority for emerging filmmakers was how to get their movies made, now the main conundrum is how to get their films seen once they're made," said Yeldham. "So, rather than have a financing conference at the festival, which we've done in years past, we've decided to focus on 'What are the alternative routes for monetization for films and filmmakers once those films have been completed?' "
Whatever your area of interest—watching movies, making movies, celebrity spotting, or all of the above—Ansen says there is something here for everybody: "L.A. is so diverse, and we try to reflect that diversity in the festival."
The Los Angeles Film Festival takes place June 17–27. For tickets and further information, go to
www.lafilmfest.com
.