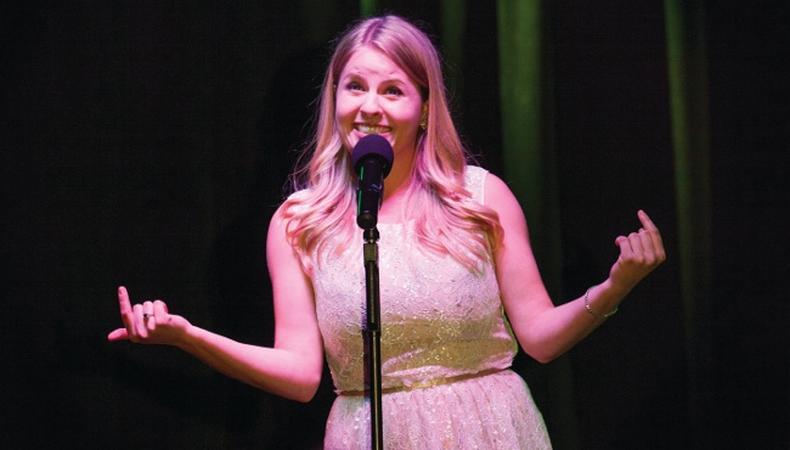 A local college student won Los Angeles' top amateur musical theater competition Sunday, Feb. 16, by dodging a pitfall that snagged her competitors, according to casting directors who judged the competition.
L.A.'s Next Great Stage Star, which was launched eight years ago by producers Michael Sterling and Tony Monsour, has been a steppingstone for local musical theater talent. Derek Klena, a runner-up in 2010, recently played Fiyero in the Broadway production of "Wicked." He called in to the show before the final round of the competition at the North Hollywood supper club Sterling's Upstairs at the Federal.
Showcase competitions provide actors with exposure to industry professionals, but they can also expose flaws that would otherwise go unnoticed or be easily forgiven during an audition.
"When you do this kind of a thing, you're taking a big chance," said casting director Peter Matyas, who judged the finale Sunday. "The pitfall for 99.9 percent of all performers is that they do what they think we want to see versus showing us who they are."
Matyas said many of the performers chose an outdated song or didn't dress appropriately. "At least with an audition you get to give them a redirect, but you do it this way, you've got to be really careful what material you pick," he said.
Casting director and judge Michael Donovan noted the stage time the performers get during the six-week competition, which whittles down 20 competitors to find the winner. "This is substantially longer than we would ever see them at an audition—like, ridiculously longer," said Donovan. "Sometimes, being able to hold our attention reveals what you can and cannot do."
Still, Donovan said it was worthwhile for casting directors and for actors, who have to pay $400 to compete. "It's always good to see new faces, new talent. There's about a half dozen here I'd absolutely invite" to an audition.
Barbara Van Orden, a former performer who sponsors the event, said the competition is a great training ground. "This gives them a chance to show their versatility," she said.
Sterling described it as entering the "real world."
"Anybody who has a good theater program is sending their people here," he said.
USC has been a breeding ground for the competition with this year's winner, Jennifer Kranz, a musical theater major, following in the footsteps of Charlotte Mary Wen, a USC alum who won last year.
"I just wanted to do something that I love, that I really connected with," said Kranz, who won it with a performance of "So Much Better" from "Legally Blonde."
"It felt most like me," she said.
As the top finalist, Kranz won a $1,000 cash prize and a paid headlining engagement at Sterling's Upstairs at Vitello's, in addition to other industry perks.