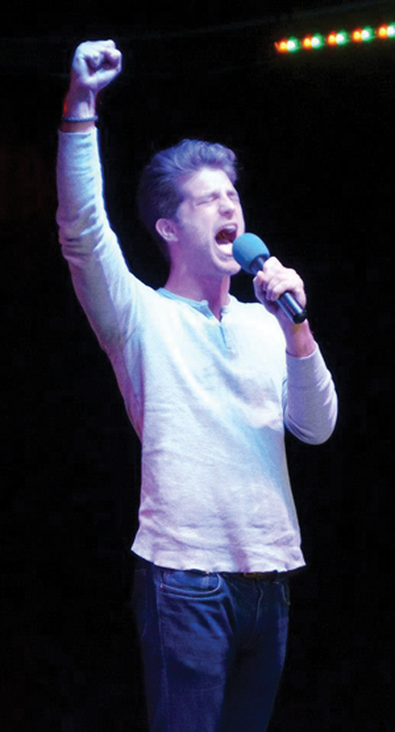 Los Angeles is playing host to a high-stakes singing competition, but its contestants aren't belting out the latest pop hits. Instead, L.A.'s Next Great Stage Star's 20 contenders apply their vocals to Broadway show tunes and the American songbook every Sunday for the next month at North Hollywood supper club Sterling's Upstairs at the Federal.
"We took 'American Idol' as the foundation for this but centered it in a different direction," said Michael Sterling, a jack-of-all-trades theater professional who's been the executive producer of the show since it began seven years ago. Instead of weekly eliminations, all of the contestants remain in the running until the final round, Feb. 10, when the group is whittled down to five finalists and, eventually, one winner. That winner will go home with a $1,000 cash prize, a paid headlining concert, and representation—but for everyone, the weekly feedback from the judges can be just as valuable.
"If we drop people out of this the first week and the second week, it's not as proactive for them," said Sterling. "We wanted to maximize the opportunity for them. That's why we keep them in it."
The Jan. 13 round saw the first full complement of performers take the stage. Among the judges was agent Mark Smith, the Equity theater department head at the Savage Agency.
"I go to a lot of showcases, but there's not a lot of showcases that showcase musical theater actors where they're actually singing musical theater songs, especially in Los Angeles," he told Backstage before curtain. "So this is a great opportunity to actually see people that focus on musical theater instead of just TV and film acting."
Dismissing a common misconception about Southern California's theater scene, Smith said the contestants weren't trying to tap a dry well doing musical theater in Hollywood. Still, he admitted, success on the stage here is always measured against Broadway.
"For me as an agent, even if you're an L.A.-based actor, I get all the New York breakdowns, and I have a relationship with all the casting directors in New York," he said. "Because of all the online stuff, everyone's taking tapes now. So all of my L.A. actors, instead of having to fly to New York for the initial audition, what the casting directors will do now is you can email them an audition, and then if there's interest we get them out to New York to get them in front of the creative team."
Smith said he was likely to sign one of the contestants before the finale. "I'm here to scout."
Catie Marron, a contestant who recently appeared in a production of "Footloose" at the San Diego Musical Theatre, said getting in front of people like Smith was the reason she was competing. "These are real casting directors, agents, directors that can really get you jobs in the industry," she said. "I think that's what makes [the competition] so unique."
Ben Gibson, a University of California, Irvine, student who was about to take the stage to sing "A Room Without Windows," echoed Marron's enthusiasm for the competition. "The exposure is just, at least in this area, incomparable," he said.
But there was also something to be said for the experience of working with a cohort of other talented young performers. "You get to see what other people are doing and learn things about yourself," said Katy Tang, who recently appeared in "A Little Night Music" at East West Players.
Contestants such as Tang, Gibson, and Marron have about a 50-50 shot of getting an agent from the competition, according to Sterling. "What better way could you be seen by these people?"