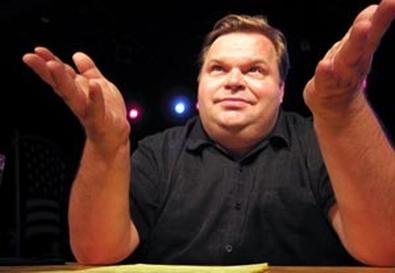 On the island of Tanna in the South Pacific, there is no stock exchange. There are no brokerage firms. In fact, there is no money at all. But for a few days in February, there was Mike Daisey, storyteller from America, who returns to the Public Theater to bring tales of Tanna back to a country trying to emerge from its own financial crisis.
Daisey calls himself a storyteller, but in the first few minutes of his latest monologue, "The Last Cargo Cult," you get the sense that something much more unusual is happening. Maybe it's Daisey's range as a performer. He travels from comic outbursts featuring trademark facial contortions to moments of such quiet sincerity that you can hear a dollar bill drop in the audience. Maybe it's that Daisey moves effortlessly between portions of his Tanna travelogue, personal anecdotes about his relationship with money, and larger points about the abstract (and absurd) policies that govern our country's financial system. Although Daisey performs extemporaneously, his pieces are obviously and painstakingly crafted. When, during a hilarious account of air-travel woes in the early moments of the show, Daisey fleetingly notes that our expression "I don't buy that" means "I don't believe that," he sows the seeds of a premise that grow throughout the evening.
It's difficult to spot these structural hints through all of Daisey's fascinating tangents, but they are no less powerful. When an unexpected participant shouted a question from the audience, Daisey dryly replied that his query would be answered in Scene 3, with "a deeper revelation in Scene 7." And so it was, although someone without the clue could still feel the impact of this underlying structure.
Maybe it's that Daisey's stories subvert your expectations; he knows just how far to take a well-trodden premise before turning it on its head. A seemingly banal bit about backseat driving morphs into an imitation of Kabuki theater. He transforms a tired joke about Ikea furniture names by comparing each Kramfor or Dalselv to a totem animal.
Or maybe it's how Daisey constantly asks us to engage, not just with participatory gimmicks but simply through the story itself. After important points, he asks, "Isn't it?"—forcing you to confront your own feelings about the material à la Brecht. And even if you don't agree with Daisey, the thoughts he churns up will make sure you get your money's worth from "The Last Cargo Cult."
Presented by and at the Public Theater, 425 Lafayette St., NYC. Dec. 7–13. Wed.–Sat.., 7 p.m.; Sun., 2 and 7 p.m. (212) 967-7555 or www.publictheater.org.