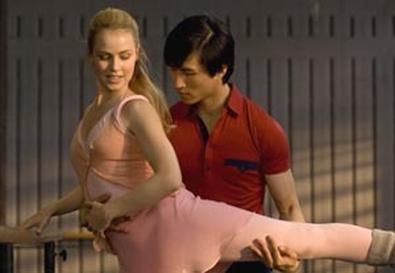 Amanda Schull
, who always had a "secret desire" to act, has started to fulfill her not-so-secret dreams.
The ballerina-turned-actor stars in "
Mao's Last Dancer
," a new movie based on dancer
Li Cunxin's
bestselling autobiography.
The rags-to-riches tale—which was directed by Academy Award nominee
Bruce Beresford
("Tender Mercies," "Driving Miss Daisy")—stars
Chi Cao
(principle dancer with the Birmingham Royal Ballet), Joan Chen ("Lust, Caution), Wang Shuang Bao ("Balzac and the Little Chinese Princess"), Bruce Greenwood ("Star Trek"), and Kyle MacLachlan ("Twin Peaks").
The story follows Li from age 11 when, during Mao's Cultural Revolution, he was selected to study ballet. He leaves his rural village for Beijing, and is eventually selected to be among the first students to study abroad. Schull plays Li's first wife, Elizabeth Mackey.
Once a ballerina at the San Francisco Ballet, Schull retired in 2006 and is now actively pursuing an film and television career. On the big screen, she debuted in 2000's hit dance movie "Center Stage" (which also featured a young Zoë Saldana in her first big role). Her recent TV work includes shows like "One Tree Hill," "Bones," "Pretty Little Liars," and "Ghost Whisperer."
Back Stage recently spoke to Amanda about the casting process, working with Bruce Beresford, and disco dancing.
Did you know anything about Li's story before landing the role?
I knew some people who had danced with him in the past, and I was vaguely familiar with the story, but I didn't know any specifics and I hadn't read the book... I didn't know all of the details until I got cast in the role, and then I allowed myself to read the book. I didn't want to fall in love with it prematurely—just in case.
What was the casting process like?
I went in to read for the role of Elizabeth... and I didn't hear anything back for about two weeks. They called me back in and had me read for the role of Lori. I thought that my opportunity to be Liz was gone. It took another couple of weeks to call and say, "Congratulations, you've booked the role," but I wasn't sure which role I had gotten. It took a little bit of phone conversations to hash that out.
I didn't know for certain what was going on with anything for quite some time, so it was pretty nerve racking. I never actually met Bruce or anybody... until I got to Australia. I read and danced on tape, and then the casting director just turned the camera on and had a 20-30 minute conversation with me just about life. It was just a perfect fit, but I had no idea that it would be such a perfect fit until I set foot in Oz.
What attracted you to Elizabeth's character?
She's so strong, but a lot of that is hidden. You don't realize how tough she is and how important she values herself; that it's not just all for her man...
She is Li's first love and she's the embodiment of first love for him... She realizes what she needs to do for herself, there's a strength and just a beauty to that as well. And it's not selfish; its just knowing what she needs to do to make herself happy.
How did you prepare to portray a real-life character? Did you get to meet Liz?
No, I didn't. I spoke with a lot of people who had danced with the two of them, and I spoke with Li about her. Ultimately, it is Li's story, and I wanted to make sure I portrayed it the way Li remembered it, and the way he intended it... He told me stories and gave me little anecdotes that made me create who she was from his perspective.
What did you learn from working with Bruce Beresford?
God, he's hysterical. I love Bruce Beresford. I've learned so much from him. [Bruce] is just such a joy to be around... He treats everybody very well, and he's very patient, which creates a completely different atmosphere on set. One of the things that I learned is also to be patient with myself, because sometimes I get frustrated.
[Bruce] never tried to force anything, he never demanded anything. He made you feel like there was all the time in the world.
What was your experience like working with Chi Cao?
He's adorable. He takes himself and his art so seriously that he's such a perfectionist... His energy was so focused and controlled, and then having Bruce's energy was the perfect combination because by the time we got to set he would be completely relaxed.
He would wake up at 5 a.m. and give himself two hours of ballet class before even showing up to set at 8 a.m. He was very disciplined, but he is such a sweet guy, such a gentlemen.
How is acting different for you from ballet?
I did musical theater before, and I always had a secret desire to be an actress but I never really allowed myself that opportunity, so I focused on dance. It wasn't until "Center Stage," which was my first paycheck to act.
How do you approach the different disciplines?
Acting for screen is very different from acting on stage, and then obviously when you dance... everything is a physical embodiment. But the discipline is the same approach. You have to take both things seriously; nothing well-crafted is by mistake. Everything that is put onstage or onscreen... is very deliberate, and everything happens from years of hard work. So in that respect, it's the same, but in the other, they're very different ways to portray the emotion.
Do you have a favorite moment making this film?
You know, they cut a lot of the disco dancing out; we had a lot of fun with the disco dancing. We got to work with a really wonderful choreographer. And Chi had never done anything like it before, so he and I had some good laughs over that.
What is your next career ambition?
I'm doing a couple of recurrings on TV right now, and I'm looking for my next project. I can't really narrow it down; I want to do all sorts of things with my future. I would love to do Broadway one day, and I would love to do more film.
Are you still dancing?
I still take class, and I keep in shape because sometimes people do want to see me dance for roles. I try to make sure I can lift my legs up.