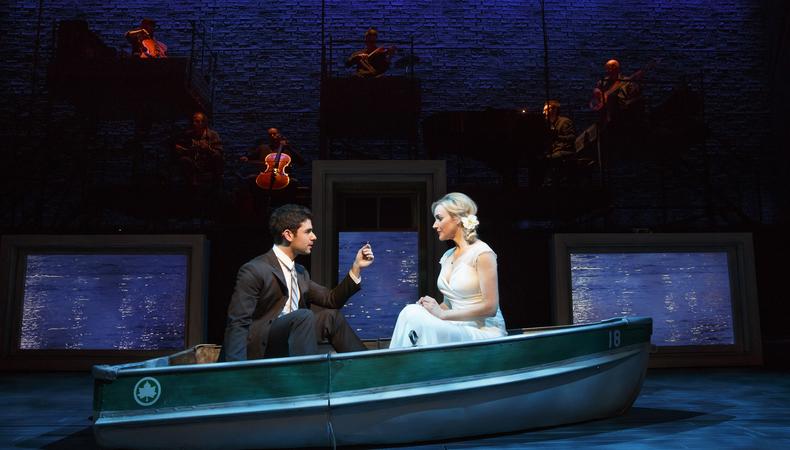 When the title page of a musical bears the credit "written and directed by," a tiny throb of terror slices through me. That kind of hubris—believing that you are equally talented at four demanding and very different theatrical crafts—usually leads to disaster. Not this time. Author Jason Robert Brown has chosen to direct "The Last Five Years," his 2002 two-person musical about a troubled first marriage, for Second Stage Theatre, and the result is enthralling. Perceptive, detailed, and beautifully paced, Brown's direction illuminates the material with striking clarity, and he draws a matched set of marvelous performances out of Adam Kantor and Betsy Wolfe.
The show's structure is unusual. As Jamie's story unfolds from beginning to end, Cathy's is told backward. The tales meet briefly in the middle, but even in that one scene each has a solo. Jewish Jamie is a talented writer of fiction with a driving need for success and a bit of an empathy deficit. Shiksa Cathy is a would-be actor and singer with self-esteem issues and a healthy appetite for attention. Both are smart, funny, rebellious, and genuinely in love. What they are not is right for each other, something love ultimately cannot ameliorate.
As good as Norbert Leo Butz and Sherie Rene Scott were in the show's Off-Broadway debut, Kantor and Wolfe make Jamie and Cathy triumphantly their own. He grounds Jamie in an intense seriousness of purpose. Even a comic song such as "Shiksa Goddess," in which Jamie tells Cathy what forbidden fruit she is, isn't just about the humor; there's a suggestion that he's seeing her because of his determination to rebel. When the lighthearted "The Schmuel Song," a short story Jamie has written Cathy for Christmas, turns into a cautionary tale about her behavior, Kantor locates a veiled threat in Jamie's protestations of belief in his wife's talent.
Wolfe's beauty is no impediment to the delicate shades of wide-ranging emotion that play tellingly across her face. The actor's understatement in Cathy's first song, "Still Hurting," sung as she fingers her husband's wedding ring and rereads his breakup note to her, undercuts the moment's self-pitying melodrama and makes us immediately wonder if Cathy's accusations might carry some truth. Yet Wolfe can also be riotously funny, as in a stream-of-consciousness interior-monologue meltdown during a musical audition.
Derek McLane's spare set, lit with emotional concision by Jeff Croiter, provides the perfect accent in its backdrop of apartment windows and occasional use of small rectangular frames that contain Jeff Sugg's well-chosen projections. Emily Rebholz's costumes reinforce the sense of young people growing into their adulthood. Jon Weston's invisible sound allows us to hear every texture in Brown's excellent six-piece orchestrations and each nuance of Tom Murray's precise musical direction.
Brown wrote "The Last Five Years" during a bitter divorce, and his inescapable lack of distance inadvertently weighted the show somewhat in Jamie's favor. Director Brown has worked hard to redress the imbalance and pretty much succeeded. It's quite the accomplishment.
Presented by and at Second Stage Theatre, 305 W. 43rd St., NYC. April 2–May 18. (212) 246-4422 or www.2st.com. Casting by Telsey + Company.
Critic's Score: A