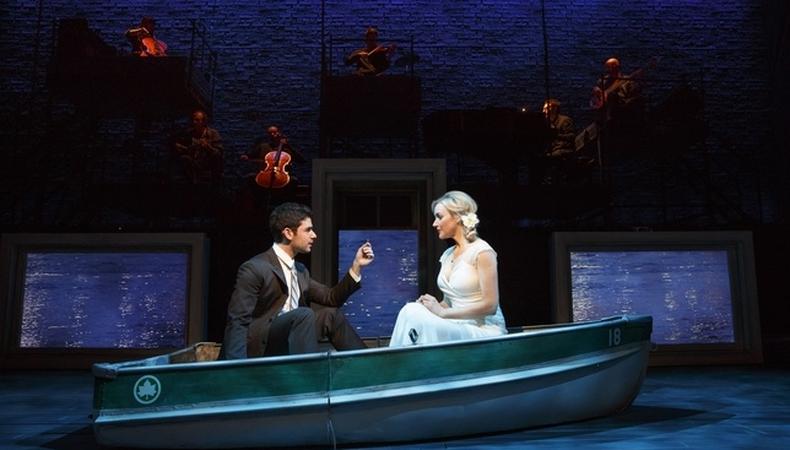 The original "Last Five Years" album, featuring Norbert Leo Butz and Sherie Rene Scott, became an instant cult classic.
But when Betsy Wolfe and Adam Kantor, who starred in the Second Stage Off-Broadway production of the Jason Robert Brown tuner in the spring, set out to record their own version of the show, they didn't want to recreate the original.
"The material is so rich," says Kantor of Brown's music. "It's so actable. It can and should be interpreted and reinterpreted and reinterpreted again hopefully for many, many years. Maybe in another 10 years, there'll be another 'Last Five Years' cast album with two completely new singers. Or we'll revive it again. We'll do a production in 10 years."
The show follows five years in the relationship between Cathy and Jamie. The gimmick? Cathy tells her story backward and Jamie tells his story in chronological order. They meet in the middle on their wedding day.
We chatted with Kantor and Wolfe about making the recording and their upcoming concerts at 54 Below on October 16-19.
Make the character your own.
"I just loved how actor friendly this material was, how accessible it was. Just listening to it is just a joy," Wolfe says of listening to the original album. But she felt lucky that she wasn't too familiar with the original version when she auditioned for this production and when she recorded this album. "I hadn't listened to it in eight or nine years by the time this rolled around, which was such a gift too because I think I was able to completely come in and tell the story my way and what it was for me."
Remember your passion.
Kantor first got the original CD of "The Last Five Years" from his local library. "I put it on in my living room with my parents' speakers, and I remember just being blown away by the specificity in the lyric and in how lush the music was—the orchestrations, the strings," says Kantor. He continued to study Brown's work in college when he did "She Cries" from "Songs for a New World" in his music theater performance class.
Don't be overcritical of yourself.
While Wolfe is thrilled by the album, she says she'll only listen to it once. "I just have to hear it to make sure it's OK. Can I walk outside my building?" she says. "It's hard to listen to yourself. You're so critical. I don't think we ever release that." But she's not alone. "I don't think Sherrie's ever heard it," Wolfe says of Scott, with whom she starred in "Everyday Rapture" on Broadway.
And re-interpret it again.
"We're in no way trying to recreate what we did at Second Stage," Wolfe says of the 54 Below concerts. "It's a new venue. We're going to embrace what this venue is, how beautiful this space is, and how intimate this space is. We definitely worked so hard at putting up a wall at Second Stage and creating our own thing, and I think we're looking forward to embracing this space."
Support your fellow actors.
Due to the nature of the musical, Wolfe and Kantor only shared the stage for one song in the production. At 54 Below, they'll be onstage together for the entire concert. "We'll be able to support each other on stage," says Kantor.
"I'll actually get to watch you!" says Wolfe. "Every time you sang, I was like frantically changing costumes. This will be thrilling to actually get to watch you perform. No pressure."