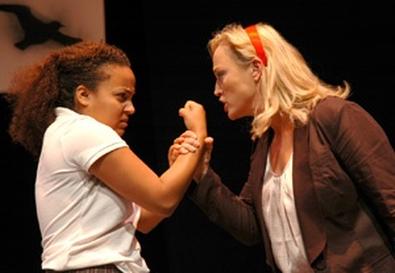 If you think there's no fresh way left to tell a gay coming-out tale, then you haven't seen Harrison David Rivers' exhilarating new play "When Last We Flew." You still have three performances left to catch it in the Fringe Festival. Go!
Seventeen-year-old closeted Paul is an African-American kid marooned in non-multicultural Kansas. Obsessed with the play "Angels in America," he has stolen the library's only copy and read it, locked in the bathroom, more than 100 times. His best friend, Ian, already out, is in love with him, to no avail. Then there's the ferociously smart good-girl Natalie, bounced from Catholic school, where she was the only black student, due to an uncharacteristic foulmouthed meltdown at assembly. Their stories intersect when Natalie is placed in Paul and Ian's high school. Rounding things out are Paul's and Natalie's respective mothers, Paul's divorced father, and NYC transplant student Fresh, who has eyes for Natalie. Oh, yes, and an angel.
Rivers' inventive use of Paul's literary obsession gives him free rein to fashion his own fantasia on Tony Kushner's classic one. I won't tell you how it's done, because that's much of the show's appeal. I will say it's consistently surprising, frequently hilarious, and quirkily, penetratingly human.
The seven-person cast, under Colette Robert's superb direction, could not be bettered. Jon-Michael Reese is an impossibly appealing Paul, Christopher Larkin is dry and delightful as Ian, and Rory Lipede rules the stage as Natalie. Wade Allain-Marcus moves between Fresh, Paul's dad, and a fantasy figure with grace. Karen Pittman and Tamela Aldridge sharply delineate two very different mothers, and Allison Mackie is a thoroughly commanding and chameleonic angel.
This was the last of 14 shows I've reviewed in the Fringe this year. It couldn't have possibly ended on a higher, more thrilling note. Harrison David Rivers—remember that name.
Presented by DRD Theatricals/Anthony Francavilla, Eric Louie, Carreon Productions, Bridge Club Productions, and Early Bird Theatricals as part of the New York International Fringe Festival at the Lucille Lortel Theatre, 121 Christopher St., NYC. Aug. 19–29. Remaining performances: Wed., Aug. 25, 8 p.m.; Fri., Aug. 27, 9:45 p.m.; Sun., Aug. 29, 2:30 p.m. (866) 468-7619 or www.fringenyc.org. Casting by Anika Chapin.