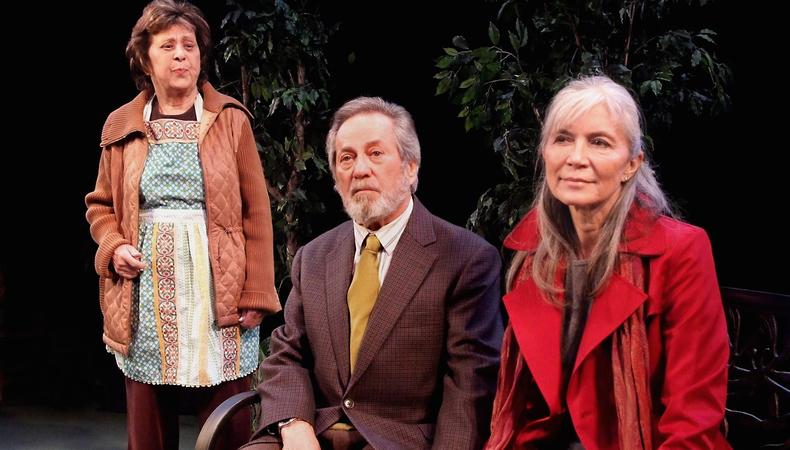 Joe DiPietro's bittersweet romantic comedy "The Last Romance," about love among the over-65 crowd, centers on 80-year-old widower Ralph (Howard Storm), who once had ambitions to be an opera singer but got married instead. He lives with his slightly younger sister Rose (Dorothy Sinclair). Rose is a possessive, relentless nag and manipulator who's determined not to let him out of her sight. She was married once but hasn't seen her husband since he left her for another woman 22 years ago, though as a good Catholic she never divorced him. Rose is nursing a vain hope that her husband will someday come back to her, and his failure to do so has left her angry, bitter, and more determined than ever to hold on to Ralph.
Meanwhile, Ralph has spotted attractive, white-haired Carol (Mariko Van Kampen) at the local dog park, where she has brought her ratlike Chihuahua, Peaches. Ralph flirts, plays teasing games with Carol, and works hard to establish a relationship, despite her resistance. When Peaches runs away Ralph finds her, and Carol begins to melt toward him. Impressed with his love of opera, she invites him to accompany her on a trip to Italy and the fabled La Scala opera house. Rose, threatened by Carol's competition, labors to put the kibosh on the trip, claiming all the while that she only wants to "protect" her brother.
DiPrieto's play is affectionately written and deftly sketches the growing attraction between Ralph and Carol, providing some nicely observed character comedy. But though "The Last Romance" holds obvious appeal for older audiences that identify with the characters, other viewers may find it slight, bland, and predictable.
Director James Paradise stages the piece skillfully, eliciting nuanced performances. Storm's Ralph is an antic figure, mischievous, flirtatious, and incurably romantic. Van Kampen emphasizes Carol's directness, her hard-won independence, and her fear of commitment, which gives way to exuberance and longing for romance once she begins to trust Ralph. Sinclair persuasively suggests Rose's very real love for Ralph even as she reveals the desperation in Rose's efforts to drive away the competition. Matthew Ian Welch lends his considerable vocal gifts to Ralph's opera-singing younger self, performing choice excerpts from Italian operas.
Resident designer Jeff G. Rack provides the handsome minimalist set, which features black velour surround, with potted trees and furniture to suggest the various locales. Sound designer Bill Froggatt employs stereophonic sound to create the yappy ambience of the dog park.
Although DiPietro calls his play "The Last Romance," there's nothing very romantic about a situation in which the willful Rose calls the shots, and the supposedly passionate lovers give up their relationship without a fight.
Presented by and at Theatre 40, 241 Moreno Dr., Beverly Hills. Nov. 23–Dec. 19. (310) 364-0535 or www.theatre40.org.
Critic's Score: C+