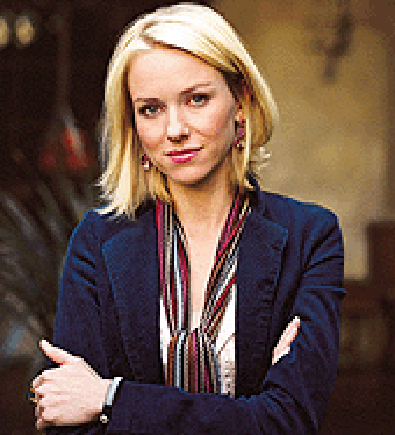 Naomi Watts' childhood friend and fellow Aussie, Nicole Kidman, always gave her the encouraging advice that it only took one special acting gig to change everything, but it seemed inconceivable to Watts. "It didn't make sense to me at the time, because I always thought, How could one thing change your life? I felt like it would be a cumulative effect, but, really, she couldn't have said truer words," the actor recently told BSW over tea in the Chateau Marmont's courtyard. "Getting discovered by David Lynch was life-changing. Everything I'd done had no meaning up until that point."
Watts is by no means an overnight sensation. For years she had many near misses and was even second choice on such films as Meet the Parents, The Postman, and The Devil's Advocate. Before her critically acclaimed tour-de-force dual performance in Lynch's pilot-turned-film Mulholland Drive, she had done 16 films, three TV series, and six MOWs including John Duigan's Flirting, Marshall Herskovitz's Dangerous Beauty, straight-to-video's Children of the Corn IV: The Gathering, and the box office disappointment Tank Girl, based on the cult comic-strip. Clearly, Watts just never had a role to sink her teeth into, because since her success she has impressed and astounded audiences and critics with a fresh crop of intense, complex, and cathartic roles. Glancing at the petite and shy Watts, one would never imagine that she was capable of such range. But the truth is, she is a powerhouse comparable to the likes of Julianne Moore and Meryl Streep.
Watts is also in demand. Her follow-up to Mulholland Drive was the horror-thriller The Ring, which proved so successful that it already has a sequel in the works. Earlier this year she co-starred with Kate Hudson in Merchant Ivory's Le Divorce, and she has already finished two other projects awaiting release in the United States: Plots with a View, starring Brenda Blethyn, Alfred Molina, and Christopher Walken, and Ned Kelley with Heath Ledger, Geoffrey Rush, and Orlando Bloom, due out next March. She also stars in David O. Russell's I Heart Huckabee's alongside Jude Law and Dustin Hoffman; The Assassination of Richard Nixon with Sean Penn and Don Cheadle; Stay with Ewan McGregor and directed by Marc Forster (Monster's Ball), and she produces and stars in We Don't Live Here Anymore with Laura Dern, Peter Krause, and Mark Ruffalo.
In her latest film, Alejandro Gonzalez Inarritu's 21 Grams (see story), Watts is undeniable Oscar bait as Cristina, a former drug addict coping with tremendous loss after a car accident tangles her life with an ex-con (Benicio Del Toro) and a dying man (Sean Penn). A self-proclaimed "late bloomer," Watts has paid her dues and is blissfully reaping the benefits. But, if you ask her, success means never having to audition again.
Back Stage West: Your character Cristina in 21 Grams is dealing with extreme loss, and it's exhausting just watching you in the depths of despair through the bulk of the film. How do you reach those moments? What is your process when you take on a character? Did you do any special preparation?
Naomi Watts: Yeah, I cried every day on the set for, like, a month or so. I have a process obviously, but it's difficult for an actor to talk about it. It's not like I have one technique that I can tell you everything about. It's whatever the scene is, whatever the moment is. Most of the time my instinct is what drives me. Sometimes you lose sight of that, and you need your director to help you rediscover it, but, yeah, I've experienced loss in my life, and it's definitely informed me. I also did a lot of research and met with these grief support groups and listened to their stories--just hugely powerful, the impact that that had on me, the suffering these people had to endure. I also went to a rehab place and sat with a lot of people there for a good part of the day, again listening to their stories, which were hugely informative. I think the only way Cristina knew how to live was to just be stoic and cold and cut off and drink, take drugs, whatever--anything to not feel. The only way to be alive [for her] was to not be in touch with anything real.
BSW: Speaking of those you're working with, you get to go head-to-head with the likes of Sean Penn and Benicio Del Toro in 21 Grams. Tell me about finally getting to work so closely with major stars.
Watts: Not only major stars, but major actors. Listen, if you don't raise your game with the likes of them, then you're never going to get better. We rehearsed a couple of weeks prior. I did a few days with Sean, and then quite a bit with my family. We filmed the rehearsals, which really freaked me out. I just thought, Oh, my God, [Inarritu] offered me the part without auditioning me. So, what if he discovers when he's sitting in bed late at night watching these rehearsals--what if he sees me doing something he doesn't like? Anyway, it was really good, and most of my stuff obviously was with Sean, so there were lots of conversations with him and Alejandro. Everyone had their own way of doing things, but we were all very happy to fit in with each other. It wasn't like, Oh, [Inarritu's] process is the one we have to adhere to. I'd heard Sean Penn didn't like rehearsing, and I thought, Oh, God. But having said that, we rehearsed quite a bit, so whatever I'd heard was either untrue or he was just willing. It was fantastic working with him. You know something's going well when you see that person feeling across from you. That means that you must be telling the truth, so it was encouraging.
BSW: For more than 10 years, you struggled and hit the pavement in three different countries, seeking stardom much like our readers are doing now. What kept you going?
Watts: I know people say, "What are you, a masochist? How did you deal with it?" But there were bites along the way. When I first came here, I said to myself, I've seen other people try and fail, and I'm going to say five years, and that seemed like a good, round number. I would have one job here and one job there with big gaps in between. Honestly, the closest two jobs came were eight months apart, but I managed to support myself, and I never took another job. I was always busy, reading scripts, auditioning like crazy, and I threw myself back into class and did some workshop or another. Sometimes I would get cast in quite good things, but then they didn't turn out as what they'd promised to be.
BSW: Were you ever close to quitting?
Watts: I metaphorically and physically packed my bags many, many times. Listen, you take these meetings and you have your five-minute time slot, and you've spent hours on the material, and you've driven a long way to get there--perhaps even the day before to get the script because they couldn't fax two bits of paper. So you've invested time in the character, and then you go in and you have these meetings, and these people are so cold. I understand they've got 20 people to meet that day, but there was just never any respect for what they are basically expecting these people to come up with. To be good, you have to understand that they've put themselves through a lot of work to do that, so there was never any compassion or respect for that, and sometimes you would barely get eye contact or a handshake, and they would be sitting down looking at your resume, saying, "Can't see anything recognizable, OK, go ahead." And then the wind just goes out of you, so it's impossible to shine in those moments. Or you crack a joke, and it falls on its ass. Or you express some part of yourself, and you can see they are uncomfortable with it. So I found myself after years and years of doing these appointments of just feeling so spiritually broken, thinking, This just isn't going to work--get real, Naomi. Maybe you just don't have what it takes.
BSW: Are there any specific casting nightmares that you want to share?
Watts: Oh, I had one story with a very fancy director who will remain nameless. I flew back from New York because I was lucky to get this meeting for a film. I kept asking, "Can it please not be on this day?" They said, "No, no, it's this day or never." It was quite difficult for me to get back for monetary reasons, and I had all these plans back in New York. I thought, No, I've got to do this--fancy director, great part, great movie. I got there, and I had started to read the scene. Then I realized that I had a question, and I stopped myself and looked up at him and he was [she pretends to nod off to sleep] having a little snooze.
BSW: I noticed that right after Mulholland Drive you produced and starred in a short called Ellie Parker, which sort of vented your frustrations as a struggling actor and got some great feedback at Sundance. You're also producing and acting in We Don't Live Here Anymore. Is producing something you want to do more of?
Watts: That sort of fell into my lap. I shouldn't take credit that I'm a producer in the sense that I found the material and the money, and set the whole thing up. John [Curran], my friend, the director called me and said, "Look, I hear you're free--can you do this now?" I just couldn't imagine working, because it was maybe two or three weeks after 21 Grams, and I said, "John there's just no way. It was pretty emotionally taxing. I need, like, three months in a spa." And he said, "Well, what if you're a producer on it? Would that interest you more?" I thought, Wow, that's an interesting new challenge. Mark [Ruffalo] and I are both producers on it, and we had a lot to do with some of the creative decisions and the casting and stuff like that. Yeah, I do have a huge interest in producing. I don't know about directing. I would love to, but I just think I'm miles away from that yet. I do have a producer-ial mind. That's something I know I can do.
BSW: In Mulholland Drive, you essentially played two roles, both of which reflect the extremes of an L.A. actor's experience. Do you think life in L.A. is only great when things are going your way?
Watts: I've always said that a city or a place cannot define your happiness. It has to be what's going on within yourself. It can be an attack on the system, especially spiritually. You better know what to avoid and what kind of people to be around, but it does take some time. When I moved here, I didn't really know anyone, so whoever befriended me I was, like, happy to join up with that group of friends, and sometimes it was the wrong group of people. Stay away from them. Those people are full of shit. It's a difficult city because it's so spread out. It's not like New York, where you walk out your front door and it's all happening. There's a lot of planning that goes into your lifestyle here. I've learned to love and understand this city a lot better, and not just because things are going well but because I've had a lot more time here. It is difficult when you're so near other people who are obviously achieving the kinds of success and dreams that you have. If I'm going to start giving myself a hard time about why I don't have what they have, I think, There's always somebody that wants to be you. I mean, I've got a SAG card, I've got $2,000 in the bank, and I own a car. That's something.
BSW: Beyond just having talent, a lot of what it takes in this industry is patience and timing. Do you feel like you would have been equipped to handle these hardcore roles 12 years ago?
Watts: [Shakes her head.] It all makes perfect sense to me. I think everyone has to pay their dues at some point in their life in some way. It may not be in your career, but, in some area of your life, there are dues to be paid. Every successful person I've ever met has paid, and if they haven't it's coming. I think I'm a late bloomer. I had a lot to learn about myself. I know what I like now. I can't be talked into anything I don't like. Back then, I would've been able to. But also, yeah, I would hate to think that everything happened really early on for me, and then I finished, and now I'd be paying my dues. It's much better this way, I think, for me. I'm glad it happened liked that.
BSW: You are literally living all of our readers' dreams. Was success worth the wait? Do you feel like a celebrity? Is it everything you dreamed of?
Watts: The only time I get to feel, Wow, how much my life has changed is usually when somebody gets excited for me from their perspective because I'm really just in this world I'm in and I'm functioning. I mean, I still get excited by the people that I'm going to work with, but in terms of celebrity, I'm still me. I do all my things myself. I don't really get stopped or harassed. It always surprises me when I get recognized. I might get a funny look or something. Sometimes somebody comes up to me. Other than that, nothing's really changed.
Then I'll hear other people say, "I'm so sick of this. How did you do it? What should I do?" or "I can't deal with this struggle." If that is your dream, then you follow it, and you go after it. If your dream is about the work and not all the other crap, and you're in touch with that, follow your heart. I'll never discourage anyone away from their dream, because look what happened to me. Obviously you've got to be aware that there is going to be huge amounts of rejection and huge hurdles to leap, but I think it's worth it. You've got to be able to accept the lows with the highs, you know? Because most of the time they're lows when you're building. Right now, for me, there are a lot of highs, but, even still, it's up and down, and nothing lasts forever. Nothing. BSW