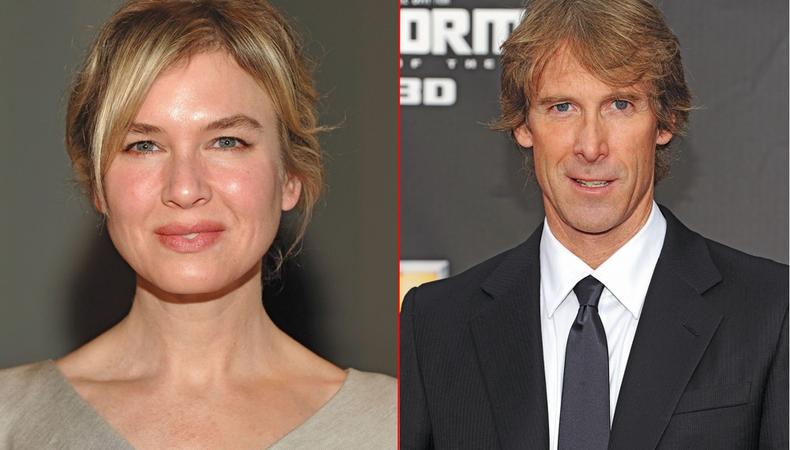 While the major networks devote late summer to promoting their upcoming fall series premieres, their basic cable brethren have been busy scooping up projects to develop for 2013.
Lifetime—which recently snatched Marc Cherry's "Devious Maids" from ABC's trash heap after the Alphabet net declined to pick up the drama to series—ordered four new scripted drama pilots in late July. "Cinnamon Girl," co-created by Renée Zellweger, is a period drama that centers on Hollywood and the Laurel Canyon music scene of the late '60s and early '70s; "HR" revolves around an uptight director of human resources at a large corporation; "The Secret Lives of Wives" (working title) goes behind closed doors in the marriages of four women; and "The Witches of East End" (working title), based on the best-selling novel by Melissa de la Cruz, follows a Long Island mother and her two adult daughters who happen to be witches. (The network is also developing "Whisper of Fear," a two-hour TV movie based on a book by Rhonda Saunders, that is reportedly a backdoor pilot.)
In addition to its previously announced comedy series "Legit," which stars Australian comic Jim Jefferies and is being cast by Wendy O'Brien, FX has ordered a comedy pilot from "Rescue Me" producers Denis Leary and Jim Serpico called "Bronx Warrants," starring standup comics Robert Kelly and Godfrey as detectives in the Bronx. FX also ordered "The Bridge," a drama pilot that follows a police investigation crossing the U.S.-Mexican border, and signed a script development deal with writer Sidney Quashi for a one-hour drama pilot from executive producer Dr. Dre that explores both the music business and the crime business in L.A. The network is reportedly still developing "Powers," a live-action project based on the comic book about detectives who investigate superhero-related crimes, and may recast and reshoot the pilot. And FX's "The Americans," starring Keri Russell and Matthew Rhys as KGB spies posing as a married American couple in 1980s Washington, D.C., begins production in October. The pilot was cast by Cami Patton.
SyFy's spring season featured more original programming than at any time in its history. Now the cable network seems committed to further expanding its roster by giving a put pilot commitment to "Proof," which M. Night Shyamalan and Marti Noxon are co-writing and executive producing, about one man's search for proof of life after death. Shyamalan will direct the pilot. SyFy also gave a pilot order in early August to "High Moon," an adaptation of the novel "The Lotus Caves," about two boys who discover alien life forms when they venture beyond their colony on the moon.
On top of three new animated series and two animated pilots, Nickelodeon has ordered multiple live-action multicamera comedies this summer. "Sam & Cat" and "Gibby" are the working titles for pilots of new spinoffs of Nickelodeon's hit show "iCarly," which ends its run this year. "The Thundermans" is a pilot about a teenage girl from a family of superheroes who just wants to be normal, while the pilot for "The Haunted Hathaways" is described as "the Brady Bunch meets Beetlejuice." And for Nick at Nite, "Instant Mom" is about a party girl who learns responsibility when she marries an older man with kids. Writers and executive producers Warren Bell and Jessica Butler reportedly intend to cast an all-African-American family. Nick at Nite also ordered two new live-action children's series this month: "Wendell and Vinnie" is about a lovable goofball who becomes the guardian to his buttoned-up 12-year-old nephew, and "You Gotta See This" is a half-hour clip show hosted by Nick's "How to Rock" co-stars Chris O'Neal and Noah Crawford.
TNT is going into business with director Michael Bay ("Transformers") on a pilot called "The Last Ship," in which naval destroyer crew members are among the only survivors of a global catastrophe. Denise Chamian is casting the pilot, which begins shooting in October. TNT is also developing a military-themed project titled "React" from "Act of Valor" co-director Scott Waugh.
For TV Land, Jay Mohr, Josh Cooke, and Ellen Woglom are set to co-star in "Brothers-in-Law," a multicamera comedy pilot about a man who struggles to find common ground with the eccentric fiancé of his wife's sister. Marc Hirschfeld cast the pilot. Another TV Land comedy pilot, "I'm Not Dead Yet," stars Ben Falcone as a man who takes a bolder approach to life after he learns he has a rare heart condition that could cause him to drop dead at any moment. Susie Farris cast the project.
AMC is adding aliens to its lineup, developing a '50s-set project based on Annie Jacobsen's bestseller "Area 51: An Uncensored History of America's Top Secret Military Base." The network is also developing an adaptation of the comic book "Thief of Thieves," a football drama titled "The Real All Americans," and a drama from Ridley and Tony Scott.
MTV is developing "The Experiment," an hour-long found-footage mystery project in the style of "Paranormal Activity."