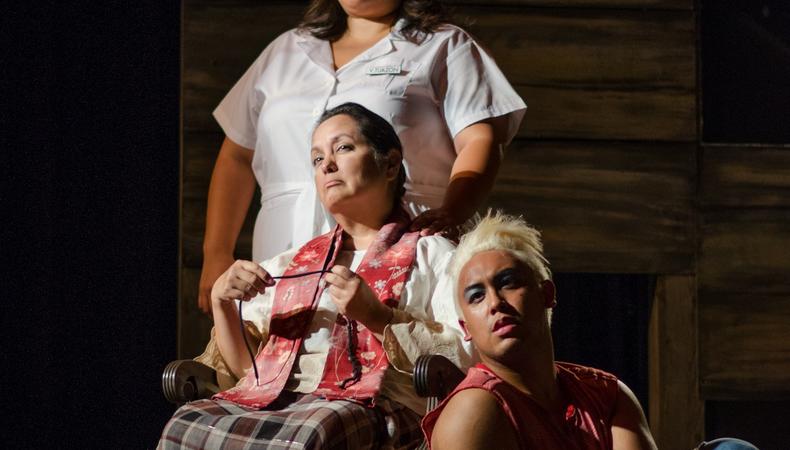 As Americans, many of us—most of us?—will never know the excitement of receiving a package from the U.S. And it probably doesn't occur to us that the stuff in the box, whatever it is, just smells "better." But that's the experience of a young Filipina immigrant, eager for assimilation, in Ralph B. Peña's evocative 1996 play "Flipzoids." It's fascinating to get her perspective, and it's also oddly discomfiting, perhaps because we know that our country is full of appealing sights, sounds, and smells that do a good job of covering up reality. But that reality is pretty darn subjective, and we're not always the best at seeing things the way others do.
"Flipzoids" tells the tale of three Filipino Americans who search for connections and a shared reality inOrangeCounty, a place where "better" is always up for debate. Directed by Jon Lawrence Rivera, this lyrical, highly theatrical work is brought to life by a trio of outstanding performers. Sporting platinum locks and peacock-blue eye shadow, Maxwel S. Corpuz plays Redford, a young man who arrived from thePhilippinesas a child with his parents but now lives very much alone. He primarily inhabits public restrooms, where a friendly chat between bathroom stalls is close enough for comfort—most of the time, anyway. Evangelina (Ellen D. Williams) is a fairly new arrival. She's a young nurse who holds all of American culture in a tight embrace, from the language to the arts to the glamour of upscale shopping malls. Then there's her mother, Aying (Becca Godinez), who's fresh off the boat and not buying any of it. Instead, she tells stories of her homeland and clings to traditions and rituals that make her feel like she belongs someplace. Unfortunately for her daughter, that place is not Anaheim.
We first meet Aying on the beach, where Redford observes her dancing and is drawn to her unexpected, old-world ways. Theirs is a study in absolute contrasts, and it's irresistible. Corpuz uses his character's admitted pretentiousness to handle his often cumbersome dialogue, and the mesmerizing Godinez is earthy and ephemeral, hilarious and heartbreaking. As Evangelina, Williams is a delight, eagerly reaching out to share her discoveries and disappointments with the audience, maintaining her distance from the other characters onstage.
Scenic designer John Binkley's does an amazing job transforming the venue's problematic performance space; Gerry Gregory Linsangan's lighting creates arresting images throughout. But because Rivera's design and staging choices underscore the characters' separateness, the production also highlights the play's sometimes awkward leaps between realities. As a result, we're left with marvelous stuff in "Flipzoids" but also an awareness that we're missing something, however hard we try to look at it.
Presented by PAE Live! and the Latino Theater Company at Los Angeles Theatre Center, 514 S. Spring St., L.A. Oct. 6–28. (866) 811-4111, www.theatermania.com, or www.thelatc.org.
Critic's Score: A-