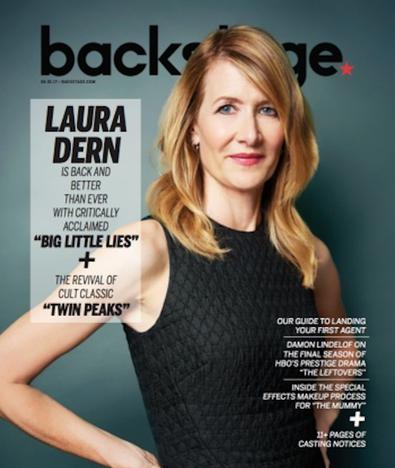 "I am so lucky that I was raised by actors, because what I got used to in childhood was the ebb and flow of career," says Laura Dern. The two-time Oscar nominee has spent her entire life on movie sets; the daughter of actors Bruce Dern and Diane Ladd, she's worked in front of the camera for close to four decades. "There are these moments when you are working like crazy or have the opportunity to do something you've never done. And a time when you're not working and you're trying to figure out what creative passions there are in your life other than being an actor."
Given her take on acting careers, 2017 is shaping up to be quite the tsunami, with Dern appearing in sitcoms, critically acclaimed prestige dramas, Sundance indies, a highly anticipated TV revival, and one of the biggest blockbuster franchises in Hollywood history. But whether Dern is acting in "Star Wars" for director Rian Johnson or sparring with Kristen Wiig on "The Last Man on Earth," she's driven by a desire to use her creative outlook to speak about life's bigger questions. She makes this clear as she surveys her New York City hotel room after having enjoyed, as she puts it, a princess-for-a-night experience at the Met Gala the prior evening. "I feel like the good fortune of careers that are about voice is that we get the privilege of figuring out what we want to say with what we get to do. All of that keeps me going and re-energizes me in new ways depending on what's happening in our culture."
She's thinking specifically about her work on the David E. Kelley–scripted and Jean-Marc Vallée–directed miniseries "Big Little Lies." Like the bestselling Liane Moriarty novel on which it's based, the HBO production follows a group of California moms whose catty bickering sets the stage for a violent murder that rocks their sun-dappled seaside town.
Dern plays Renata Klein, a high-powered CEO (she just joined the PayPal board, she'll have you know) who rightfully goes berserk when she finds out her daughter was choked by one of her classmates on the first day of school. The incident drives a wedge into Monterey's close-knit mommy community when the boy Renata's daughter singles out swears he didn't harm her. Already perceived as cold-hearted by other moms, including Reese Witherspoon's Madeline and Nicole Kidman's Celeste, Renata is painted as a needlessly vilified working mom. And her attempts to punish the small boy she believes is bullying her daughter just make her more unlikable.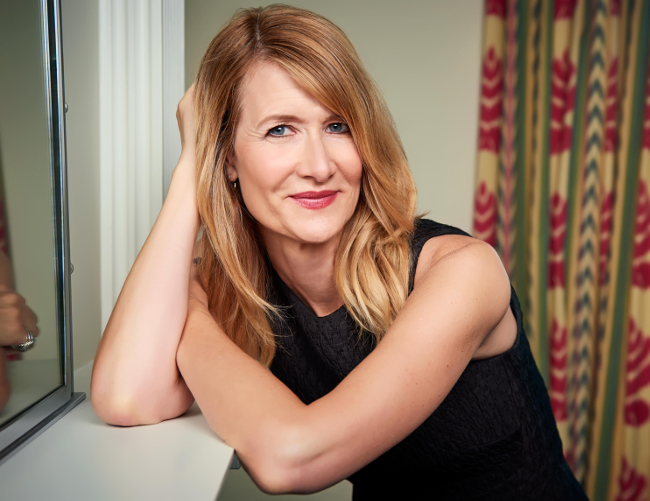 "What I felt was brilliant about Jean-Marc and David's work—and obviously the novel as well—was to make sure that the audience was in the same position as the other moms. And it really worked." Following the airing of the first episode, she had women coming up to her and swooning over Celeste's picture-perfect life. "Ugh, Nicole Kidman. Of course she's married to the gorgeous guy. She's got everything! Her house is my favorite! And her kids are even pretty—ugh, gross! She's so lucky. I'm so jealous!" They weren't so kind to Renata. "Ugh, you're horrible," she was told. "You're such a bitch."
She relished those interactions for the way they fed into the very premise of "Big Little Lies": that we never know what's going on behind closed doors. Here was a successful businesswoman who represented the cultural stigma of women in power, a concept Dern and Vallée were all too eager to mine, especially considering what they were seeing happen on the news. Shooting during the run-up to last year's presidential election made the question of how people perceive ambitious women all the more timely. "It was a very interesting time to be working on that show and go home and watch the debates. I was playing a woman who was perceived—even by women!—as brilliant, as someone who could do the man's job, who was the most powerful person in that space," and thus was slapped with harsh judgment: "She's cutthroat, she can't have a sexualized marriage, she's probably not maternal." And Dern's favorite, which she shares with a smirk: "She's the b-word."
Dern has never shied away from playing prickly characters. She admits she's drawn to misanthropes and misfits, disenfranchised people who don't think they have a voice. It's what made Renata such a dream. The role forced her to find a way to humanize a character type we love to hate.
Vallée, who'd previously directed Dern (and Witherspoon) in "Wild," enjoyed getting a chance to work with her again, especially knowing how willing she was to let loose. "That's the thing with Laura. We know we're making fiction. We have a script and a plan that we follow, but then we have ideas and we become creative," he tells Backstage via phone. "And she's the first one to go outside the boundaries and to say, 'All right, let's try something new!' She's so quick at improvising and ad-libbing."
READ: Director Jean-Marc Vallée on His Organic Approach to 'Wild'
He remembers one particular scene where we witness Renata's unbottled fury flare up as she lashes out at another mom. "That crazy scream that she did? That wasn't written. It was a thing we just tried. I asked her, 'Why don't you scream the shit out of her? We won't tell anyone, let's just see how it goes. Let's see you become this crazy, mad woman, which will be good because then people will think that you're the killer.' And she went for it—she scared the shit out of everyone!"
"Renata was so fun," Dern recalls, "because it was about undoing what the audience felt about her as much as the people around her." Over the course of seven episodes, audiences see Renata and the rest of the Monterey women in unexpected circumstances: as victims of sexual abuse, as aggrieved mothers, as guilt-riddled adulterers, as loving spouses, as devoted friends. Dern loves that the show portrayed a group of women with a welcome and quite rare sense of humanity. She loved the way it upended expectations, initially encouraging its audience to think it'd be a bitchfest only to end as an empowering celebration of female camaraderie.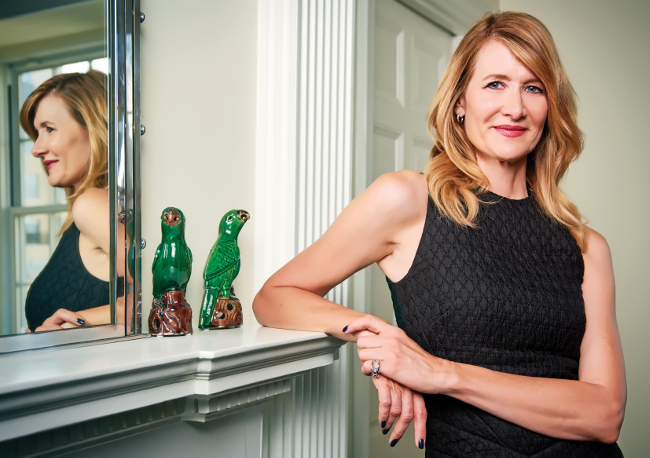 Dern's fruitful collaboration with Vallée is just the latest in a string of strong relationships she's built over her long career. Whether working with Oscar winner Alexander Payne or reuniting with her closest friend to join him in his latest trip to a certain nightmarish Pacific Northwest town, she cherishes the feeling of being in the hands of people she trusts. "You feel that they really know you and really trust you. It's not about ego at all. It's about being brave as an artist. When someone has that much faith in you, you go further, and you try things that don't work. And that's a luxury. I had that with my beloved friend Jonathan Demme, who just passed away; Robert Altman, Paul Thomas Anderson. And I've had that with David Lynch."
After collaborating with Lynch on "Blue Velvet," "Wild at Heart," and "Inland Empire," working on the highly anticipated new season of "Twin Peaks" is a kind of homecoming for Dern. "It definitely feels like home whenever I'm with him," she says. "It's been a lifelong relationship—I started working with him at 17! There is no relationship like it. There's a sense of trust, but it's not just that. Like, he looks at me and I go, 'OK, I know.' He never really has to say much. Or anything. Maybe a word."
In her estimation, the "Mulholland Drive" director is in a league of his own. "No one breaks boundaries like that. There are so few artists in any art form that make their imprint everywhere they look," Dern says. "David is building a lamp, painting a backdrop, rewriting something, setting up a shot, and mixing up a color that he thinks is the lip color he wants because it doesn't exist—that's David in an hour on a set."
Being around that sense of unbridled creativity energizes the actor. "She's always curious and generous and looking to try and to experiment like it's the first time," Vallée notes. "That's very nice and precious. She's always listening. And she's so intelligent and brilliant, even just in the way she talks and expresses herself, trying to find the words and the language to explain an idea or a feeling. She's a special one."
Looking to challenge yourself with a "prickly" character? Check out Backstage's TV audition listings!
Styling by Cristina Ehrlich