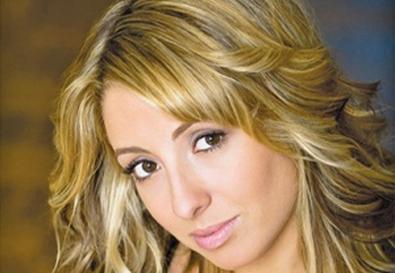 "When you're an actor, I feel like you're always putting yourself out there, and you're doing everything to become that person or that character," actor-model Lauren Francesca says of her approach to onscreen comedy. "So it's really not about 'Are people going to make fun of me?' It's more 'Am I going to make people laugh? Is it going to be a funny video that people are going to enjoy?' "

When Francesca saw a casting notice for "The Daily Show With Jon Stewart" at BackStage.com, she applied immediately to be a backup dancer for the show's parody hip-hop music video. "It's 'The Daily Show,' and I was pretty confident that it was going to be a great video," she says. "It was really cool. I got books thrown on my head."

Francesca was cast as a dancer in the video "Still a Boss," the second half of a two-part series in which "Daily Show" correspondent Wyatt Cenac examined the effects of the recession on the hip-hop community. Cenac helped write and direct the video with rapper Slim Thug "to raise awareness about a community in trouble," he says. When the nation's economic collapse leads to less bling, smaller posses, and clipping coupons, it's a sad day in rap.

Francesca was chosen for her dance skills and her comedic talents. Plus, as the show's Matt Polidoro says, "She had the right look for a music-video shoot, and she expressed a willingness to wear whatever the hell we provided for wardrobe." In addition to her acting training at T. Schreiber Studio in New York, Francesca studies improv at the Upright Citizens Brigade Theatre and performs in videos for the popular YouTube channel "Barely Political." Her dance background includes five years in the Alvin Ailey American Dance Theater's Junior Division and 12 years at the Robert Joffrey Ballet School. She also studied dance as a student at New York's Professional Performing Arts High School.

Francesca's parents are dancers who have appeared on Broadway, and she quickly realized that the life of a dancer was not for her. "You've got to do what you have a passion for," she says. "The main thing that I loved about dancing was being on stage. I loved the acting part of it. I really love that, since I can dance, I had the opportunity to be on a show like 'The Daily Show.' "

"It's rare that we hire actors," Polidoro says, "since we essentially act as a news show and are usually interviewing real people for real stories. But once in a while you have something that breaks the mold, like the Slim Thug video. Back Stage made casting that very easy. And we were happy to have had Lauren respond to our call. We wanted it to look like a real music video, so…grabbing 'Daily Show' interns and staffers and throwing them in silly outfits just wouldn't cut it."

Francesca has been cast in several projects as a direct result of her appearance on "The Daily Show" in October. Recent gigs have included an AT&T commercial, a guest role on the new series "Lenox Avenue," and a music video for the band Los Campesinos!.

Polidoro, who ran the "Daily Show" casting notice on BackStage.com, also revealed that Tationna Bosier, Christina Calph, Tamala De Jesus, Ashley Johnson, and Martese Mason—all of whom responded to the Back Stage notice—were cast as the remaining backup dancers in the video.

Watch the "Still a Boss' music video online at Blog Stage.

Has Back Stage helped you get cast in the past year? We'd love to tell your story. Be in the weekly column by emailing [email protected] for New York or [email protected] for Los Angeles with "I Got the Part" in the subject line.