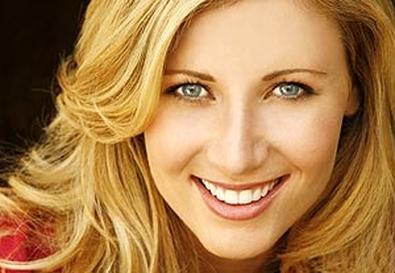 "Clumsy may be just an adjective for some, but it's a lifestyle for me," says Lauren Gilmore. While she may bump into walls or take the occasional spill, she has a knack for making the right move when it matters.
Lauren just landed her first network role as Petra the "game agent" on NBC's new game show "Minute To Win It," in which contestants compete in a variety of one-minute games in an attempt to win a million dollars.
Born and raised near Chicago, Lauren retains her Midwest roots: She still talks to her dad almost every day. She first moved to L.A. to work in sales for 3M, but soon realized her future didn't lie in sandpaper and adhesives. She is now pursuing her dream of acting and hosting. Lauren has a very dry and offbeat sense of humor—like a Coen brother, only nearly six feet tall with long blond hair.
Chosen as this week's Girl2Watch, Lauren will be featured in a series or articles, fun facts, and social media tweets through this week for subscribers of
Girl2Watch.com
.
Actor2Watch
: What was your first real break as an actress?
Lauren Gilmore
: I think the upcoming NBC show is my real break. Playing Petra the game agent will probably be the first role people other than my parents will see.
The first hosting job I booked was a correspondent for the DFL League. It's like football chess. "Coaches" arrange these miniature men on a mock field—it's basically a football field for ants, and the ball is a piece of rice.
It may sound ridiculous, but the game was taken very seriously. The coaches painted their own teams, wore headsets, and verbally abused their plastic players who weren't giving it their all.
A2W
: Can you tell us your most memorable audition story?
LG
: I had an audition for a shaving cream commercial and, of course, they want to see you in bathing suit. So I do what any Irish girl does: spray tan, grab my highest heels, and lather myself in shimmering lotion. However, in the midst of making myself rainbow bright and finding the place, I lost a shoe. I walked into the audition with one shoe on, and the casting directors had a field day. Get in a fight in the parking lot? Well aren't you a 'shoe-in'?


A2W
: How proactive are you as an actress?
LG
: Hollywood is a numbers game; it's a thousand 'no's' before one 'yes.' So I submit myself for everything, and look at auditioning as my job. I prepare for auditions, continue to go to classes, as well as venture into new areas of entertainment. I don't want to be a one-trick pony. Lately I've been doing stand-up comedy, and that has made my Midwestern skin a little bit thicker.
A2W
: What was the audition like for "Minute To Win It," and how did you get it?
LG
: I have no freaking idea! And considering that the executive producer continues to ask me what I'm doing on set, I'm not sure they do either!
The audition was intimidating. Here I am sitting in a room full of models. Now, flawless wouldn't be the word I would use to describe my appearance. I had rug indentations on my leg from getting ready on the floor that morning, and they weren't going anywhere.
So I walk in and they ask me questions—like occupation, what celebrity do people tell you look like, etc. Then they had me hold a broom with a toilet paper roll while someone wrapped themselves as a mummy. Weird, I know, but after the show debuts it'll make more sense.
Maybe they gave it to me because I stated 'jockey' as my occupation, or my dead-arm swinging trick. Whatever the reason, I'm glad this was my 'yes' after a lot of 'no's.'
A2W
: What kind of training did you get? Who do you study with?
LG
: For acting, Howard Fine. He's amazingly insightful and helped me develop as an actress. Maureen Browne for hosting and, well, everything in life really. She is the reason I've have done so well. I've worked with Marki Costello in hosting as well. I take voice-over classes at Kalmenson & Kalmenson, and Pretty Funny Stand-Up Classes with Lisa Sunstedt.
A2W
: Do you have any tips for novices?
LG
: Authenticity. The more authentic you are the more people are interested, and the more satisfied you feel. I think that comes when
you
define you and you don't let Hollywood define you.