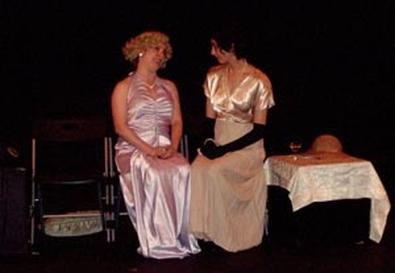 The Great Depression hasn't affected Harrison Anderson's ownership of a four-story New York townhouse or Daphane March's social standing in playwright Lawson Caldwell's maudlin and clichéd period dramedy "Lavender Shore." Contemporary financial angst, however, has clearly taken its toll on this barebones production in the Midtown International Theatre Festival, judging from the beaten-up black folding chairs that substitute for a chaise and the table of booze that looks more like a frat-party offering than a classy mini-bar. With Lenny Leibowitz's direction coming across as raw and unrehearsed, and some actors fumbling over the banal dialogue, the show fails to achieve its intended shock.
The year is 1936, and socialite March (a loud and poorly wigged Katie Yamulla) is married to two men. Her first husband, Harrison Anderson (a dapper Markus Potter), has been marooned at sea with his butler, Gerald Tyler (Colin Pritchard), for five years. Unsure of her husband's whereabouts, Daphane marries Thomas Darrow (Patrick James Lynch), a businessman looking to climb the social ladder. On the day of her wedding to Thomas, Daphane learns too late that Harrison has been found and will be returning home. Little does Daphane know, however, that Harrison and Gerald became more than just chums on the island. Meanwhile, Aunt Charlotte (a semi-robotic and neurotic Colleen Kennedy) is doing everything she can to prevent a scandal. With a little help from Gwendolyn Langsford (a period-appropriate Rachel Claire), an unattached and therefore somewhat scandalous friend of Daphane, the members of this romantic quadrant attempt to find true love.
Most of the performances are unremarkable, though some of the male actors add levity and entertainment value to the production. Phillip Timmons, the family's physician, has some of Caldwell's funniest lines, of which there are few, and Marc Geller delivers them with the right amount of sarcasm. Phillip, a lifelong bachelor, is keen on Gerald and Harrison's closeted romance, and Geller gives Phillip's amusing public prods at it a snarky joy. As Harrison's butler, island companion, and lover, Pritchard is the heart of the show, turning in a subtle and emotional performance.
The only production elements reminiscent of the 1930s are Susan Nester's passable costumes and the period recordings of popular songs heard between scenes. Caldwell attempts to add depth to the script with backstory, but it doesn't fit into the plot. Gwendolyn was briefly engaged to Thomas, and Harrison told Gwendolyn of his return before informing Daphane. At first, this second point appears to be so that Gwendolyn can control the arrival of Daphane's telegram from Harrison and ensure that bigamy is committed. Ultimately, though, Gwendolyn's motivation remains murky, and her past relationship with Thomas has no any effect on the storyline.
There's little to like in this production. I'd recommend homemade martinis and a Fred Astaire or Katharine Hepburn flick if you want a 1930s throwback.
Presented by Lawson Caldwell as part of the Midtown International Theatre Festival at the WorkShop Theatre, 312 W. 36th St.,4th floor, NYC. July 27–31. Remaining performances: Fri., July 29, 8:30 p.m.; Sat., July 30, 2 p.m.; Sun., July 31, 4:30 p.m. (212) 352-3101, (866) 811-4111, or www.midtownfestival.org.