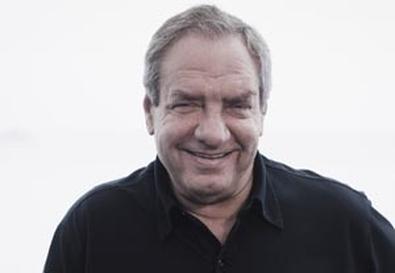 Son of an advertising executive, Dick Wolf began his career writing commercials and producing them. He transitioned into TV crime dramas, writing for "Hill Street Blues" and "Miami Vice," and went on to create the "
Law & Order
" franchise that now spans the globe.
From the original "Law & Order" with Jerry Orbach, S Epatha Merkerson, and Sam Waterston, Wolf developed "Law & Order: Special Victims Unit," with Mariska Hargitay and Christopher Meloni, the short-lived "Law & Order: Trial by Jury" with Bebe Neuwirth and Kirk Acevedo, and "Law & Order: Criminal Intent" with Vincent D'Onofrio. When the original "Law & Order" went off the air after 20 seasons, "Law & Order: LA" starring Alfred Molina, Skeet Ulrich and Terrence Howard replaced it for a season.
Twenty-two years after the original series debuted, its spin-off "Law & Order: SVU" and the international versions including "Law & Order: UK" continue to thrive. His work has won him two Emmy Awards, as well as a Grammy for "When You're Strange," a documentary on the Doors. Wolf has been involved in the casting process from the early days of his career, and the Casting Society of America is honoring him with a 2011 Career Achievement Artios Award.
As a producer and creator, how involved are you in the casting process?
Dick Wolf: I am very involved in all principal casting for my shows. I work very closely with [casting director]
Lynn Kressel
and her team, as well as the network and studio executives. I consider principal casting to be extremely important. The proper casting can make or break a show.
What do you expect from actors at the audition? Besides coming in prepared and knowing their lines, are there other things they should do?
Wolf: I want actors to understand the character they are playing and to show some depth in their reading, and of course to be prepared.
When you do casting calls, are you set with something in mind or are you open to someone completely the opposite of what you had in mind?
Wolf: I try to keep an open mind when casting, and there are many factors in the decision. Sometimes it's physical appearance—do you believe that this person could be the character. Sometimes we will look at people more than once, or we feel the actor might have been nervous or not 100 percent, and we give them another shot. So the short answer, is we are as open as possible. Sometimes the person you least expect [to] is the one that nails the audition.
Do celebrities come to you because your shows give them the opportunity to do things they normally wouldn't—for example, Martin Short and Jennifer Love Hewitt? Do you create roles specifically for them?
Wolf: Sometimes we have actors playing against type. "SVU" tends to attract incredible guest talent because the roles are so intense. And we have been very lucky: For six years in a row, "SVU" has won the Outstanding Guest Actress in a Drama Series Emmy. And for many of those actors, they were definitely playing against type.
Does your advertising background influence your casting choices?
Wolf: My advertising background was a terrific foundation, and it gave me the ability to cast under pressure. When you have a client looking over your shoulder, you need to deliver an actor who can perform exactly the way the client wants. When you are casting a television series, you want that perfect fit, too.
The Casting Society of America will honor its own when the 27th Annual Artios Awards for excellence in casting are presented on Sept. 26. The awards will be held simultaneously at the Beverly Hilton in Los Angeles and at District 36 in New York City.