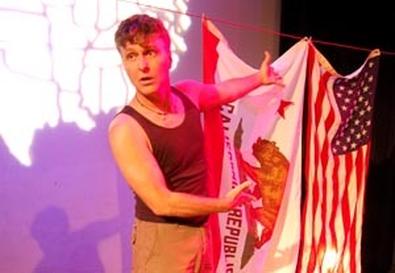 When Tim Miller started his entrance down the short aisle of the tiny black-box theater at Performance Space 122, I got worried.
Wielding a flashlight and stumbling about while pretending to look for a lost item seemed awfully corny. When he began apologizing for not making his planned spectacular flying entrance, the transparent impossibility of it made the joke thud loudly. Fortunately, once he arrived at center stage and launched into this performance-art piece inspired by California's passage of Proposition 8, which took away the right to same-sex marriage in the state, the cuteness subsided.
Passionate, witty, endearing, furious, and fabulous, "Lay of the Land" witheringly assesses America's shortcomings on gay (and other) issues while somehow still inspiring hope. Though it largely preaches to the choir, there are times when the choir needs bucking up. I, for one, was thoroughly grateful for the opportunity.
Miller uses past incidents from his life, both personal and political, as springboards for musings on the contemporary body politic. These include trying, as a 7-year-old yoga devotee, to see if he can get the sun to shine where they say it doesn't; an incident at age 10 when his then-homophobic father almost had to perform a tracheotomy to free a piece of meat stuck in his throat; and hitting the streets to protest Prop 8's victory. He excels at baroque, symbol-laden fantasy sequences that build to dizzying emotional force, particularly the one in which he ends up performing the Heimlich maneuver on the Statue of Liberty only to expel four of the current Supreme Court justices, one of whom decimates Bayonne, N.J. He then segues from that belly-shaking laugh to an intensely moving queer rewrite of Emma Lazarus' poem welcoming immigrants.
Miller's creative way with language (his father "pan-tortures" a chuck steak; California Gov. Arnold Schwarzenegger's hair is dyed a "champagne poodle fantasy") blends artfully with his unique persona: equal parts sweet gay boy, contemporary neurotic, fierce activist, and starry-eyed idealist. His 30 years of political activism and artistic innovation anchor "Lay of the Land" in seriousness. He's been in the trenches, and the scars are there for all to see.
Most impressive is his ability to combine a clear-eyed view of the myriad injustices still being committed with a determination to continue to fight bigotry while remaining hopeful. It reminded me of something Alan Jay Lerner penned for one of several finales to "1600 Pennsylvania Avenue," his political musical about America written with Leonard Bernstein: "Let rage be fearless/And faith be loud/This land needs love/To make us proud."
Miller's love for and rage about America are inspiring. He makes for one great "Lay."
Presented by and at Performance Space 122, 150 First Ave., NYC. Dec. 1–11. Wed.–Sat., 7:30 p.m. (212) 352-3101, (866) 811-4111, www.theatermania.com, or www.ps122.org.