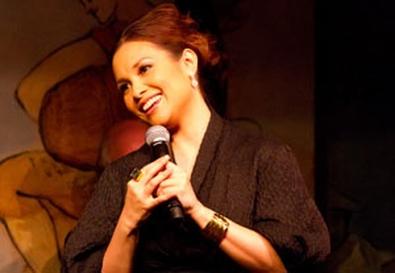 Lea Salonga is much more than a Disney princess, as she proves in her smashing set at the Carlyle, "New York in June." Though she's a Tony winner for "Miss Saigon" and an international concert artist, the elegant Salonga is probably best known to the general public as the voice of the animated heroines of "Mulan" and "Aladdin." She kids her ingénue image with a clever pairing of "I Enjoy Being a Girl" (Richard Rodgers–Oscar Hammerstein II), from "Flower Drum Song"—she starred in the 2002 revival—and "Femininity" (Richard M. Sherman–Robert B. Sherman). In the former, she mocks the stereotypical references to womanly whims, such as talking on the telephone and drooling over lacey dresses, by delivering the sentiments like a hardened hooker. Then, in the latter tune, switches to a simpering belle delivering instructions on how to catch a man. The whole show is filled with the same self-deprecating wit. During her witty patter, Salonga makes several good-natured jabs at clichés about her Asian heritage, even reading a Facebook quiz called "How Filipino are you?" ("Do you think of every Filipino as your cousin, aunt, or uncle?" runs one of the questions.) She peppers a travel medley built around Johnny Cash's "I've Been Everywhere" with snappy anecdotes about her around-the-world engagements and which concert hall has the best dressing rooms (a performing arts center in Seoul, South Korea).
But the core of Salonga's act is her soulful rendering of numerous evergreens. Hers is probably one of the clearest and most expressive voices in cabaret and theater today, and it's a crime that we don't see her more often on our stages. When she told the audience she was not seen for a major Broadway role because she is Asian, even after winning her Tony, there were understandable gasps.
She opens with a warm and welcoming triple play of "Orange Colored Sky" (Milton DeLugg–Willie Stein), "The More I See You" (Harry Warren–Mack Gordon), and "How About You?" (Burton Lane–Ralph Freed), unexpectedly blending the first and third "up" tunes with the ballad in the middle. I particularly enjoyed her lush, easy delivery of the Gershwins' "Nice Work If You Can Get It," accompanied by Jack Cavari's silky guitar. She finds the bittersweet irony of lovers being in different places in their relationship in "Just Not Now" (Joshua Salzman–Ryan Cunningham) and the sweet joy in discovering love in "A Quiet Thing" (John Kander–Fred Ebb).
But the highlight of the show is Salonga's passionate performance of the Filipino song "Ikaw" (George Canseco–Louie Ocampo). Even though she sings the lyric in a foreign language, the meaning behind every word is clearly understood. In addition to Cavari, musical director–pianist Larry Yurman and bassist John Miller provide jazzy, mellow support.
Presented by and at Café Carlyle, 35 E. 76th St., NYC. June 7–25. Tue.–Fri., 8:45 p.m.; Sat., 8:45 and 10:45 p.m. (212) 744-1600.