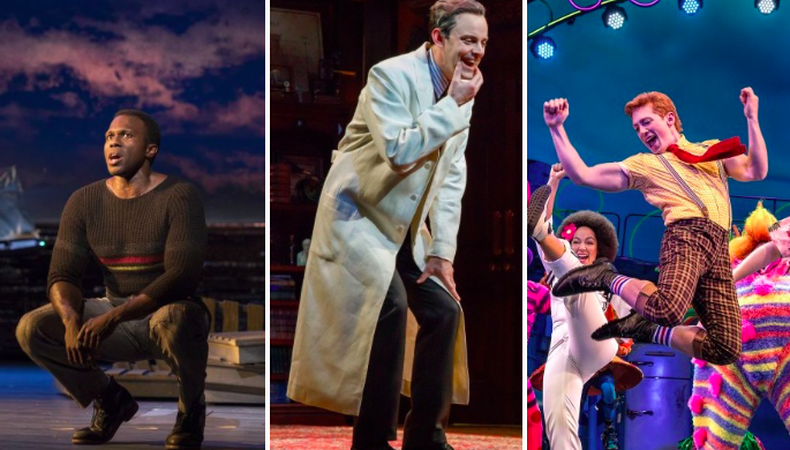 Most facets of the entertainment industry have some form of awards season, which entail a number of extraneous obligations including appearances, ceremonies, interviews, and the like. The unfathomable difference in theater is, in addition to these many events, actors are also doing eight shows a week. It sounds nearly insurmountable, but if anyone could make the impossible possible, it's creatures of the theater.
At the 2018 Drama Desk Awards June 3, one week to the day before this year's Tony Awards, Backstage got firsthand insight from 2018 leading actor in a musical Tony nominees Ethan Slater ("SpongeBob SquarePants"), Joshua Henry ("Carousel"), and Harry Hadden-Paton ("My Fair Lady") on how they are surviving this awards season, and their advice for future contenders to do the same.
Harry Hadden-Paton:
"I'm eating a lot! I'm trying to sleep at every possible moment; naps are the key. It's naps and food: it's about survival, really. That's all it is. I think your body, in a way, evolves into a musical theater animal. I feel like it's getting easier. There are elements when we started that weren't sustainable in terms of the voice and maybe I've adjusted in places. It's a long process, but we're finding ways of doing it easier."
Joshua Henry:
"It's a lot of sleep and a lot of focusing on my breath. It's taking moments for me, either when I'm at the theater or events like these, it's doing things to think about self-care. The gym helps a lot, and meditation helps a lot. I would say, my advice [for others] is breathe. And I'd say that three times: breathe, breathe, breathe. You can't say that enough, because it's so exciting and you can forget that you really need to take it all in. The second thing is: pace yourself. Take care of your voice, especially in a musical. Whisper when you can. You have to stretch it out over eight shows a week and the only way to do that is by pacing yourself."
Ethan Slater:
"It's a little hard, to be honest. There's a lot going on. I will say one of the great things about the awards season is that each event is sort of cooler than the last. There's meeting amazing people and celebrating this amazing community and celebrating theater in all these different forms, celebrating the entirety of the New York theater community. So I look forward to each of these things and I really look forward to being in the theater each night and getting to do the show. It's an embarrassment of riches. Look towards your castmates and your family in that theater and outside of it for support and for love. At the end of the day, no one is here without them. The show doesn't happen without the whole group. I've been really lucky; I have an amazing family at the Palace Theatre and everyone is super supportive on a day like this, but I get to be supportive for their big days, too. We're all there for each other."
Book your own stage gig! Check out Backstage's theater audition listings!