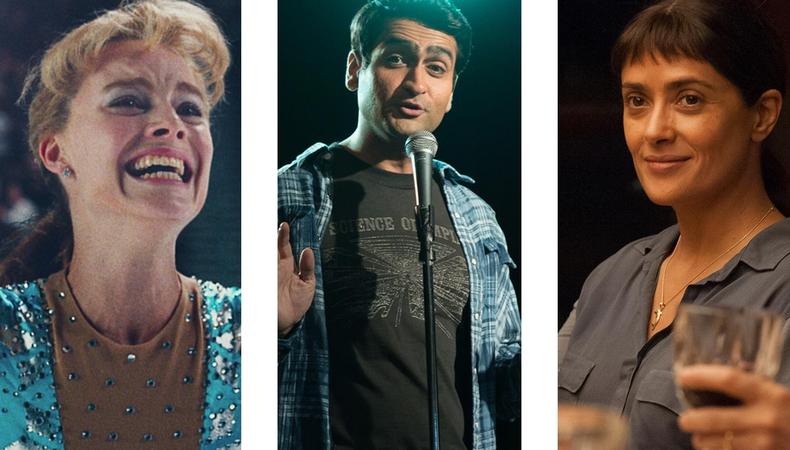 It's that time of year again! The nominations process for this year's Screen Actors Guild Awards is well underway, meaning guild members across the country are considering the very best acting on the big and small screens. As Backstage waits with baited breath for the Dec. 13 announcement, we're breaking down some of the most exciting, groundbreaking, and award-worthy 2017 contenders.
With nuanced portrayals of characters ranging from a mute lab cleaner, to a lovesick comedian, to a fastidious queen, here are 28 leading actor SAG Award contenders exceeding and subverting all our expectations on the big screen this year. They all belong on your radar—and on your voting ballot. (Here also are our supporting actor picks!)
OUTSTANDING 
PERFORMANCE BY A FEMALE ACTOR IN A LEADING ROLE
Jessica Chastain, "Molly's Game"
Chastain has always had a certain unavoidable quality, like you can't blink during any onscreen moment for fear of missing something important. But never before has she practically crackled with energy as she does in Aaron Sorkin's telling of the historically exclusive high-stakes poker game run—no, conjured, with sheer force of will—by former skier Molly Bloom. In nearly every frame of this film, Chastain dominates.
Judi Dench, "Victoria & Abdul"
The pomp and circumstance of the British crown is well documented, but few have conveyed its weight quite like Dame Dench. She's entertaining, of course, as the lonesome widow monarch who befriends a young Indian man (Ali Fazal). But she proves downright hypnotizing when she invokes her power—as both onscreen queen and offscreen acting royalty.
Gal Gadot, "Wonder Woman"
Gadot wouldn't be this year's biggest breakout star without true on-camera bona fides. The Israeli actor, along with director Patty Jenkins, gave us the big-screen superheroine flick we've been craving for far too long, playing the newly iconic Diana with equal parts flashy glamour and tenderhearted grace.
Sally Hawkins, "The Shape of Water"
Considering the heightened reality of Guillermo del Toro's latest film universe, a lesser actor might have opted for a physical grandiloquence in playing a mute laboratory maintenance woman. But Hawkins crafts the inner complexities of an irrepressibly romantic character with increasingly fine-pointed strokes, making us believe Elisa's desperate love for a half-fish, half-man specimen (just one of the many challenges this fearless leading lady faced).
Salma Hayek, "Beatriz at Dinner"
Miguel Arteta's dramedy serves as both a boldly contemporary debate in the Trump era and a reminder of Hayek's acting chops. The former is fleshed out by the latter; as the titular holistic healer, Hayek spouts liberal ideology with quiet righteousness bordering on menace. Opposite John Lithgow's bigoted mogul, she slowly cranks up the tension, leaving her audience both impressed and supremely uncomfortable.
Vicky Krieps, "Phantom Thread"
It can't be easy to steal scenes from Daniel Day-Lewis, but from the moment the mesmerizing Krieps locks eyes with her character's "hungry boy," we're hooked. It's a role that combines hearty, galumphing schoolchild with more sinister depths; Krieps is both gauche and ungainly, and nothing less than riveting.
Jennifer Lawrence, "Mother!"
Few other actors of Lawrence's generation could hold an audience rapt for every single frame of an allegorical thriller. But with Darren Aronofsky, she does just that; it's a hell of a challenge to go from doting housewife to a woman plunging into a mental breakdown. Her hysteria is downright contagious.
Frances McDormand, "Three Billboards Outside Ebbing, Missouri"
In Martin McDonagh's portrait of a sleepy Missouri town, McDormand gives the year's most heartbreaking (and most foul-mouthed) performance as the grieving mother of a girl whose killer has yet to be found. Disrupting the status quo by calling out the inadequacy of Ebbing's police in those titular billboards, her Mildred is single-minded in her need for justice, a volcano forever on the verge of erupting.
Aubrey Plaza, "Ingrid Goes West"
Like this darkly satiric comedy itself, Plaza skillfully peels back layers of superficiality in the social media era; is Ingrid an obsessive sociopath for stalking Elizabeth Olsen's Instagram star, or just a lonely clown in mourning? For someone who yearns to be so shallow, we could study her depths forever.
Brooklynn Prince, 
"The Florida Project"
The 7-year-old Prince, playing an exceedingly charming rascal named Moonee, the innocent eyes through which we view Sean Baker's very adult world, behaves in every scene as though no camera is present—save one devastating final note. Prince isn't just a great find; she has managed to set a new bar for child film actors everywhere.
Margot Robbie, "I, Tonya"
Robbie has already proven herself as one of our strongest and most compelling working actors, but her portrayal of Tonya Harding in "I, Tonya" is both physically and emotionally muscular, undoubtedly her most triumphant work yet. It's such a bold performance, we'll never see the notorious Olympic skater in the same way.
Saoirse Ronan, "Lady Bird"
Ronan, as the titular high school senior coming of age, solidifies her reputation as one of Hollywood's most versatile and empathetic performers, channeling Greta Gerwig's quasi-autobiographical whimsy into a darkly funny rebellion without a cause. (And that pink arm cast and mediocre dye job remain the year's most memorable look.)
Emma Stone, "Battle of the Sexes"
Stone's remarkable follow-up to her "La La Land" awards sweep is, again, the thing Oscar dreams of. Her spin on tennis legend Billie Jean King astounds with its physicality as much as with its emotional heft. Stone's intense focus on the court opposite Steve Carell's Bobby Riggs ups the film's stakes, but her most impressive scenes involve King's tentative, gorgeously detailed sexual awakening.
Meryl Streep, "The Post"
We can't wait to see the latest example of psychologically committed, full-bodied transformation from Hollywood's favorite awards magnet as she takes on the fascinating newspaper publisher Kay Graham. Streep could keep breaking her own record for most acting Oscar nods, but this year pundits are eyeing a bigger question: Could she tie the record for most acting Oscar wins?
Daniela Vega, "A Fantastic Woman"
Although Sebastián Lelio's character study plays out in Chile, there's a universal quality to Vega's Marina. A trans woman grieving the loss of her older boyfriend whose family seeks to alienate and demonize her, she's alternately bullheaded, chilling, and serenely composed. Vega carries the entire movie, delivering one of the year's most thought-provoking and sympathetic performances; it lingers in your head and heart.
Kate Winslet, "Wonder Wheel"
Winslet has made a career, in part, of playing women who want more out of life ("Little Children," "Revolutionary Road"). Her first collaboration with Woody Allen has her flexing those muscles; as an unhappily married Coney Islander with a troublesome son and growing fantasies for a local lifeguard, the actor uses her transparent vulnerability to devastating effect.
OUTSTANDING 
PERFORMANCE BY A MALE ACTOR IN A LEADING ROLE
Christian Bale, "Hostiles"
Bale's reputation as one of the industry's hardest-working and most versatile actors is officially undeniable. As Joseph J. Blocker, an 1892 Army captain traversing the forests and deserts of the Midwest to deliver home a Cheyenne chief—who, by the way, he loathes—Bale does wonders both in wrenching close-ups and graphically violent sequences. He plays cold-blooded menace, in particular, remarkably well.
Chadwick Boseman, "Marshall"
Almost regal in his approach to Thurgood Marshall, the lawyer who would go on to push Brown v. Board of Education through the courts, Boseman here is a gentleman who nevertheless takes no shit. Between this compelling turn and his portrayals of Jackie Robinson, James Brown, and, of course, Black Panther, we can't wait to keep watching Boseman astound.
Timothée Chalamet, 
"Call Me by Your Name"
What a breakthrough year it's been for this screen wunderkind. Small roles in "Lady Bird" and "Hostiles" aside, Chalamet's name will be on everyone's lips for his stunning turn in Luca Guadagnino's symphony of a gay romance. Carrying the film by channeling all its sophistication, warmth, and slow-burning confusion, Chalamet has given us a coming-of-age story for the ages.
Daniel Day-Lewis, "Phantom Thread"
In what is rumored to be his final film role, Day-Lewis proves exquisite once again under Paul Thomas Anderson's direction (after "There Will Be Blood"). His dressmaking virtuoso Reynolds Woodcock zooms around the screen like an animate knife; the actor delves deep into a character who, from the twitch of a hem with his work-roughened fingers to the petulant chomp of an asparagus spear, is essentially a giant man-baby—albeit an endearing one.
Colin Farrell, "The Killing 
of a Sacred Deer"
Just as he did with last year's "The Lobster," his first collaboration with writer-director Yorgos Lanthimos, Farrell finds his footing in the absurd and causes as much cringeworthy laughter as he does genuine heartache. As a father faced with an impossible, stomach-churning choice, he mutes his existential dread to the point that his audience must squint to see the dark humor embedded in his choices.
James Franco, "The Disaster Artist"
Taking metafiction to thrilling new places, Franco's "The Disaster Artist" depicts the creation of one of the most notoriously bad films in Hollywood history. Franco excels as both director and star here, portraying the wholly unclassifiable Tommy Wiseau and his singular quest to turn "The Room" into a classic. (Also, apparently, as both director and star, Franco stayed in character throughout filming!)
Andrew Garfield, "Breathe"
In this Andy Serkis–directed biopic, sprawling shots of the English countryside contrast achingly with close-ups of ticking machinery and gadgets, emphasizing the confinement of polio-stricken and wheelchair-bound Robin Cavendish, portrayed with resilient tenderness by Garfield. His performance, along with Claire Foy's as the indignantly loyal wife, will rank among the year's most tenacious.
Jake Gyllenhaal, "Stronger"
The reliably excellent Gyllenhaal does this Boston bombing retelling right by not flinching away from showing a local hero's flaws. Digging deep into the litany of Jeff Bauman's struggles, physically, emotionally, and psychologically, Gyllenhaal perhaps deserves the most credit for doing what great actors accomplish: avoiding saccharine cliché.
Daniel Kaluuya, "Get Out"
Watching Kaluuya's Chris observe and finally piece together what's going on in this delightfully daring horror-comedy remains one of the dramatic highlights of the year. The craftsman executes horror tropes with aplomb, all while tapping into Jordan Peele's shrewd social commentary. Genre filmmakers will study this instant classic for years to come, while horror actors will look to Kaluuya's undeniable skill.
Kumail Nanjiani, "The Big Sick"
Nanjiani took the industry by storm this summer with "The Big Sick," a semi-autobiographical rom-com that proved as poignant as it was hysterical. Anyone familiar with the comedian's work knows how naturally funny he can be on camera, but his dramatic chops shine through in a fully realized, honest-from-head-to-toe performance.
Gary Oldman, "Darkest Hour"
Oldman has always been a transformative actor, but playing Winston Churchill is a next-level master class in how to present real figures of history in new and unexpected ways. Joe Wright's film charts the best speeches that Churchill gave leading to the U.K.'s foray into World War II (some of the best speeches ever given, period), and Oldman bites into them and chews forcibly.
Denzel Washington, 
"Roman J. Israel, Esq."
An old-school activist attorney, likely with savant syndrome, in the midst of an existential crisis reconciling real-world practicality with far-reaching legal philosophy? Sounds like a character only Washington could capably wrangle. Roman J. Israel, with his goofy suits and headphones and that insisted-upon title of respect, is Washington's least likely leading role. That's exactly why it's one of his best.
Check out Backstage's film audition listings!