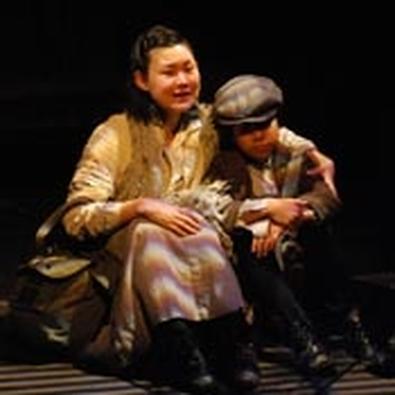 Time seems to stop on a train, says Hannah, the 50-year-old woman at the center of Leah's Train, playwright Karen Hartman's saga of a Jewish family haunted and inspired by the migration of a matriarch, who traveled from Russia to San Francisco in 1913 as a 12-year-old girl. The stories of Hannah; her mother, Leah; her daughter, Ruth; and Leah's two brothers, Ben and Joseph, overlap and intertwine as each rides a train in search of a new life. Stories of today and stories of 100 years ago happen concurrently, but through Hartman's artful writing and Jean Randich's equally artful direction, all is clear.
Questions of cultural and familial identity are given an intriguing twist when taken on by a cast of Asian-American actors, the drama becoming more universal. While the occasional Yiddish word can feel incongruous, most of the time the powerful characterizations and the cast's committed performances transcend expectations.
Hartman places the search for roots in the hands of contemporary characters. Ruth (Jennifer Ikeda) is a doctor in her 20s who cares for geriatric patients but has known her own grandmother Leah only in mythic terms -- as a hero. Her mother, Hannah, is a bulldozing Jewish mother full of vulnerabilities who's breaking free of an unhappy marriage and a negative outlook. In this role, Mia Katigbak -- also artistic producing director of the National Asian American Theatre Company, whose fine production this is -- is especially convincing. She and Ikeda handle Hartman's semilikable characters with finesse.
Caught up in their journey are golden-tongued fiction student Ben (Louis Ozawa Changchien, who doubles as a soldier) and Sammy (Raphael Aranas, who also appears as Joseph), a young boy who takes a valuable heirloom. Leah herself (Kristine Haruna Lee) appears at the age at which she made her trip, and her humanity and fear become just as clear as her legendary courage.
Presented by the National Asian American Theatre Companyat TBG Theatre, 312 W. 36th St., 3rd floor, NYC.Feb. 10–28 Mon.–Fri., 7 p.m.; Sat., 3 and 8 p.m. (212) 868-4444 or Smart Tix.