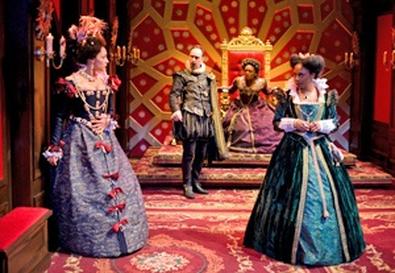 For playwright-director Young Jean Lee, Shakespeare's "King Lear" obviously isn't the intimidating canonical pillar that it might be to others. In her own "Lear," Lee fearlessly pillages the Bard's sacred text, borrowing only the characters Goneril, Regan, Cordelia, Edgar, and Edmund and winding them into a punchy, kaleidoscopic narrative about ailing parents and the adult children who abandon them. In most cases, Lee's assertive absurdity reaches its usual sublimity, but, unfortunately, it sometimes leaves one as baffled as a bitter fool.
Lee's thesislike project begins with the quick excision of Lear and Gloucester, the two aging parents, from the original narrative. Her "Lear" picks up approximately where the mad old king and his friend have been put out into a storm by their unsympathetic children. A new story, about Lear's famous daughters (played by April Matthis, Okwui Okpokwasili, and Amelia Workman), Gloucester's two boys (Paul Lazar and Pete Simpson), and their collective guilt, veers off into near abstraction. Suffice it to say that by the end of the evening, Simpson, the sharp actor portraying the nihilistic Edmund, also ends up playing Big Bird from "Sesame Street."
Lee's able staging presents these detached children within the opulent confines of David Evans Morris and Roxana Ramseur's traditional Elizabethan scenic and costume design. Content to submerge themselves in the excellent fopperies of their lives (who looks fat, who looks old, who's not feminine enough anymore—any signs of age or decline that might one day get them thrown out into the storm), they come across with hilarious catty nastiness. But soon Lee's Shakespearean proxies dissolve, as though she has tired of the exercise, leaving the actors to play themselves in direct address to the audience. Though the cast members acquit themselves with sincerity in this transition, it proves too jarring a maneuver even for Lee, and the overall weight of her material feels diminished.

Presented by Soho Rep and Young Jean Lee's Theater Company at Soho Rep, 46 Walker St., NYC. Jan. 14–Feb. 14. Tue.–Sun., 7:30 p.m. (Additional performance Sat., Jan. 16, 3 p.m.) (212) 352-3101, (866) 811-4111, www.theatermania.org, or www.sohorep.org.