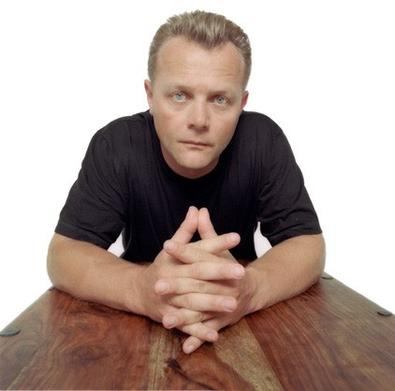 One of the most interesting things about working on STOMP is that once we created and launched the show, it began to have a life of its own. The changes that have been made to the show have come about in an organic way as times change and as new cast members bring new energies to the show. In fact, sometimes it seems that the show itself calls out for the changes. All of this keeps Steve McNicholas (my STOMP co-creator) and myself energized, involved and engaged in the show.
STOMP is celebrating its 20th anniversary, and we are lucky in that for the last 15 of those years, there have been four ongoing companies of STOMP, each of which has its own character: Off-Broadway New York, North American Tour, London, and European Tour (and sometimes a fifth company that we put together when there is additional need). The New York Company is very New York, as the London Company is very London—and the North American and European tours both pick up aspects of the regions they perform in.
There are a lot of scenarios of how change comes about. Sometimes we see something somewhere and we think that would be something that would be fit into STOMP. Sometimes we are looking at the show and something doesn't seem relevant anymore, or a cast member may be outgrowing a routine. The show is 20 years old and some cast members are just that age now!
The bottom line is that it needs to be something that inspires us and inspires the performers, and then comes to inspire the audience.
For example, we always wanted to do something with shopping trolleys (called shopping carts in the United States), which went into the show in the last year. For two years, we've played with the idea of adding them, as an item that we all know, even in some intimate way.
We thought about it for two years—but we also understood that they are different (including a different name) in different countries.
So first, we procured some. In Britain there is a tradition of people stealing them. So we first nicked five of them—borrowing them might be a polite way to say how we got them—and began to work out a routine with them. We bought a theater in Brighton, and while we do rent it out for others to use, we think of it as a place where we can develop new pieces of STOMP. So we began to develop a piece with these nicked trolleys.
Once we had gone down the path of creating this new piece, we went to buy new trolleys that we could use in the show. Of course this became quite a difficult task since we'd fallen in love with the old ones that we had, which were worn and already had lots of character. Eventually we went on the internet to find them—which turned into a hunt all on its own. (We saw a photo of a perfect one, bought it, only to open the package and find that it was a miniature one!)
The piece started by my spending time working with the trolleys myself, and then bringing in colleagues to help work out the number, and then a workshop. This process went on for two to three weeks, until there was enough of a routine to stage on a company.
In my mind, pieces in STOMP are never really finished, but once they can stand up for three to four minutes, we can put them into the show. And then an organic process begins. The work can change as performers get used to—and learn about—working with their new props. And once the performers grow with them, they can play with them more. The trolley routine is now longer and more complex—five minutes—and has added character and complexity as the performers have customized it with their own stamp.
So much of our show is about found objects, and the people we have found and cast, who can help us extend the creativity of our show. The first thing we learned is that when we are referred to potential cast members that are described as "just perfect for STOMP," we find it is usually the opposite. The best way we have had of finding new cast members to have an open call.
One of my favorites is a guy who was a porter (orderly) in a hospital who brought his girlfriend to an open audition. While he was waiting we saw something, and then, in the end, he got the job and the girlfriend didn't! Some of our cast members started as drummers, some as dancers, and some have done nothing at all on stage!
We have a lot of mavericks—people who don't fit in a rock band or a dance company, or in a play. We have many souls that don't quite have a place else to go—and they have a welcome spot in a STOMP company.
The best advice to people who want to be cast is to keep an open mind. Learn and train as much as you can, but don't stick to one particular style. If you can bring lots of different experience to the table, if you have different background, or have different ideas than others we already know, that is what is most attractive to us. We don't want eight of any one kind of performer in a STOMP company!
STOMP, over 20 years, has changed so much for me because I started as a performer, and now think of myself as a director. At the beginning all I thought about was being inside the show: Was the audience horrible, or wonderful, or let's figure out how to get this crowd. Now, as a director, I think a lot more about the balance of the show, and how to make sure that any given cast member or element isn't completely running away with it. I think a lot about how the audience is responding to the entirety of it. All of this changes the more that I grow up.
I'd like to think I'm a better director than I was before. And I don't shout as much as I used to…but I still do shout!