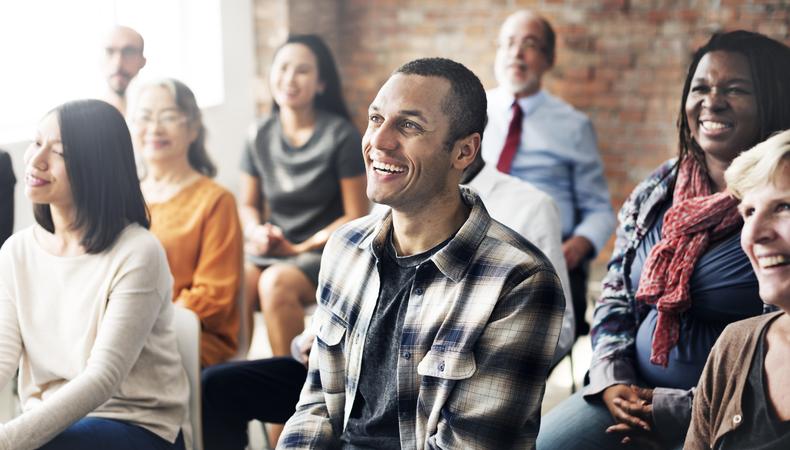 All those wanting their funny bones tickled should wait no further: one of comedy's biggest weekends is on the horizon. The Del Close Marathon, taking place June 29 through July 1, ushers in the summer with performers and spectators alike crowding theaters across New York City, sometimes waiting in lines overnight and in all kinds of weather conditions.
Once a year, improvisers, comedians, and fanatics from across the globe descend onto New York to perform and celebrate their craft at the annual event (colloquially referred to as DCM) created by the Upright Citizens Brigade. Now in its 20th year, the annual improv-a-thon has flourished into a three-day festival that runs through all hours of the day and night, taking place at multiple theaters throughout the city.
"Seeing a lot of improv at once is exciting," says Jessica Morgan, a current member of UCB house team Bucky, as well as a frequent DCM performer. "It's a really exciting opportunity to have everything at your fingertips for one weekend." Morgan got her foot in the door at DCM by performing with her indie team, "Wicked City." That was six years ago. Now, Morgan is a DCM veteran, basking in what she's dubbed her "post-DCM glow."
"You're just so excited by [it]," Morgan says of the festival's effect. "People are trekking around the city and going to as many shows as possible. For the rest of the summer, everybody's just in this romantic haze."
There's more to DCM than just watching, however—if you're in attendance, it's likely that you can pick up a few improv skills to stick in your toolbelt.
"[I've] gotten so much from performing with people who are absolutely not like me," says Dan Lee, a performer on Captain, another one of UCB's house teams. Lee also performs with "Asian AF," a variety show at UCB in both New York and Los Angeles, comprised solely of Asian-American performers. "[One of my favorite parts] is seeing other types of styles and how other people approach the art form from other parts of the world. I think that's exciting."
READ: 7 Reasons Improv Can Make You a Better Actor
The detail about folks flocking from around the world to perform is no joke, either. Bridget Holmes, who performs on her house team, Moose, says one of her favorite memories from her years at DCM as both a performer and spectator is seeing a Finnish team perform—in Finnish.
"[They] revealed later on that they could speak English," Holmes admits, "but it was so fun to watch the first ten minutes of that because it was still so funny. There was this language barrier, but they were bringing so much charisma. [You] could still understand it. It was like [improv] was universal in that moment."
If picking up another language isn't your speed, there are still valuable lessons to be learned from simply watching performances during the marathon.
"I really love seeing everyone find their different ways to connect to the audience," says Curtis Retherford, performer on UCB house team Sleuth and active DCM participant. With multiple stages that can fit big, boisterous audiences or smaller, more intimate crowds, Retherford says watching how improvisers decide how to perform can be fun and educational.
"With the big shows, it's obvious: full body and voice. But when you're in the small basement shows, it's eye contact. It's like communicating with each other, where it just feels more intimate."
The biggest takeaway from attending the marathon is similar to what an actor can gain from attending any improv show—just on a larger scale.
"So much of the Del Close Marathon is about not being precious," says Morgan. "It teaches you that so much of an improviser's craftsmanship is being able to be very capable of operating on the fly. [It's] such a good lesson, I think, for performers that are so used to having a script, [that] some really incredible theater can happen with little to no preparation as long as you're present and trusting the people you're on stage with."
If you're planning on attending the Del Close Marathon, make sure to stay hydrated, prepare to wait in plenty of lines, and open yourself to the smorgasbord of improv acts that span over the three-day period. If you're new to DCM and would like to jump in feet first, check out the original Upright Citizens Brigade—Matt Besser, Amy Poehler ("Parks and Recreation"), Ian Roberts, and Matt Walsh ("Veep")—as they play Carnegie Hall on June 28 to kick-off the weekend of festivities.
Check out Backstage's comedy audition listings!