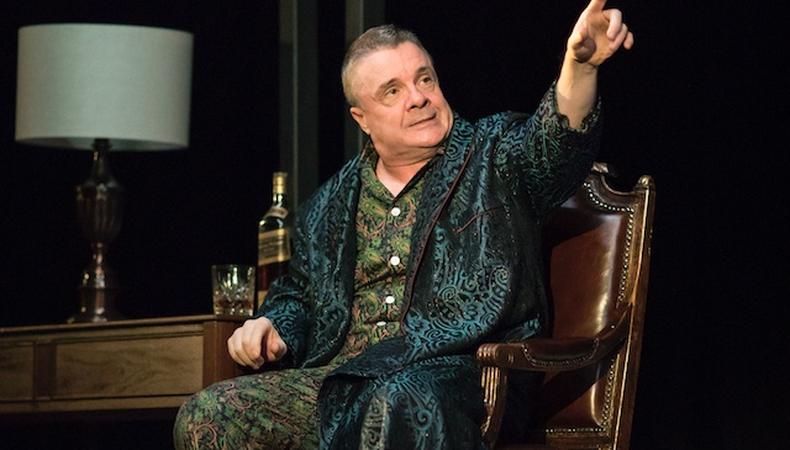 Just in time for the Broadway revival of Tony Kushner's epic "Angels in America," starring Andrew Garfield and Nathan Lane fresh off their National Theatre run in London, "The World Only Spins Forward" hits stands today. An expansive, 400-page oral history on the creation of "Angels in America" and all its major incarnations since hitting Broadway in 1993 (authors Isaac Butler and Dan Kois spoke with over 200 creatives involved, including Kushner and actors like Garfield, Lane, Meryl Streep, Jeffrey Wright, and Marcia Gay Harden), the Bloomsbury Publishing release is a must-read historical account for theater lovers, history buffs, and actors alike. Backstage spoke with Butler and Kois to learn more about how they went about compiling their days' worth of material, what actors can learn from the text, and why Kushner's "gay fantasia on national themes" remains relevant for today's audiences.
As fans of "Angels in America," what was it like to really sit down with the people behind this piece and to pick their brains on how they made it happen?
DK: It was really great. And it was clear from the get-go in talking to people that pretty much everyone who was involved in the birthing of this play viewed it as formative artistically to their life. Everyone passionately wanted to talk about their experience with "Angels in America" and had a lot of thoughts about what it had to do with our current world.
IB: And that's one of the reasons why we wound up imagining it as a book. Very early on, Dan interviewed [original cast member] Kathleen Chalfant and I interviewed [original cast member] Ellen McLaughlin, and both of those interviews, I think, were much longer than we anticipated. [They] are both geniuses so they had this kind of incredible thematic weight. And in both of our experiences in both of those interviews they said to us, "Actually, I think you might not know this yet, but you're working on a book." And we quickly realized that, as is often the case with Kathy and Ellen, that they were right.
Was it a daunting task to have such hours' worth of conversation and interviews and to break that down into an oral history?
DK: Yeah, but it was also joyful. It was not hard to have those conversations. It was not hard to reread those conversations. Of all the sort of daunting creative tasks I could imagine taking on, I can't really think of one that would've been more sort of life-affirming and enjoyable on the day-to-day basis.
Because the play is contextualized within Reagan's America and during the AIDS crisis, it is a bit of a time capsule of sorts. What about it for you makes it such a timeless piece of theater?
IB: I came of age through the height of the AIDS crisis. I've lost friends to AIDS. I lost a friend to AIDS last year…. The AIDS crisis is different—it's not over, it's different. [And] AIDS within the play is sort of this thing that carries all of these other themes and debates and ideas in with it, and those things are constant and have not changed at all. I mean, if you read the "Democracy in America" scene, it reads like every single debate on Twitter, ever. And that takes place in 1986 and was written in the late '80s. Those debates are still very present with us.
In speaking with the actors who have brought this material to the stage or brought it to the screen, was there ever a through-line where you found them speaking to a particular challenge in the material?
IB: We have a whole series of interludes throughout the book—one for each character—where we interview whoever played that character to talk about doing it. So in a weird way, there's 150 pages of answer to this question in the book itself in which they talk about it. And each character, you know, it's like Shakespeare: There are consistent questions and problems and interpretational grey areas and pitfalls and challenges and joys to each character that actually do remain fairly constant. As the actor playing Louis, how do you get through "Democracy in America"? How do you get through that monologue? And then also, for the actor playing Belize, how do you sit there onstage having this terrible liberal racism flung at you for 10 minutes before you get to talk? Or the actor playing Joe, how do you deal with the fact that the audience is going to hate you?
DK: It was so clarifying to see these questions repeat, to hear Harry Waters [who did the play in San Francisco] worry about how Belize handles "Democracy in America," and then to hear Nathan Stewart-Jarrett, who's opening it on Broadway, have the exact same problems and issues and to realize these are not problems that the text solves. These are not problems that the play solves just in and of its existence. These are problems that every actor solves in their own way throughout the process.
That must make for great insight on how to really analyze a text and dive into the character's intention, or how to tackle a monologue like "Democracy in America."
IB: One of the things about theater is that when you're approaching a text, particularly when it's not a new text and you can't browbeat the writer into changing it, the things that you initially think of as problems are actually the artistic opportunities within the role or the play.
DK: I would also add that one lesson of this book is that it's never too late to try and get Tony Kushner to change "Angels in America." [laughs] The other thing I'd note about the lessons that this book has for working actors is that these are not just artistic stories, these are career stories for many of these actors. "Angels" launched a huge number of great acting careers into motion, and hearing, for example, Joe Mantello and Stephen Spinella and Marcia Gay Harden talk through not only the joy of bringing this play to life, but also the struggle of contract negotiations and salary negotiations when they suddenly find themselves in the midst of a big money-making hit and they don't feel they're making enough money. Hearing actors who were cut from various versions and workshops of this play talk about how that process worked, how it made them feel, the special place that "Angels" still holds for them even despite their sorrow that they weren't able to go further with it. I think any early career actor can take out of this a real sense of the lightning bolt that can strike you if you are lucky enough to run into sort of a great work of art early in your career, and the joys and sorrows that can be associated with that kind of experience.
IB: I'm going to add one more thing, which is there are probably a half a dozen people over the course of the book who left being an actor after doing "Angels in America," not because being in "Angels" was traumatic, but actually because they just found it so life-changing that they were changed in such a way that they weren't really actors anymore once it was over. And as someone [myself] who envisioned that my life was going to be as a director when I was in my 20s and was a professional child actor in my teens and is now really much more focused on writing, seeing those experiences was really important and valuable.
Is it valuable to know that those creative pivots are OK when you're struck by lightning?
IB: [It is valuable] to know that they're OK, to know that they're actually common, to know that if you actually are transformed by something, the way you are transformed by it is not predictable and is not controllable by you, necessarily—which is actually one of the themes of the play, as well. That the play sort of did to these people what is happening to the characters, I find it deeply moving. But it's also just, like, deeply mystifying.
DK: Change will come whether you want it or not, and for a lot of these actors, change came in ways they never expected.
Want to act on Broadway? Check out Backstage's theater audition listings!