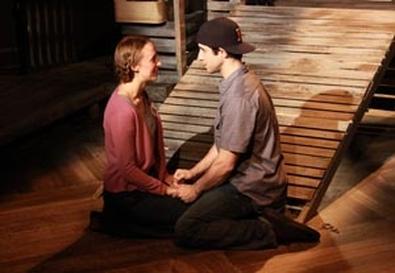 Unveiling its first Off-Broadway production, the Stella Adler Studio of Acting scores a knockout with its riveting revival of Israel Horovitz's 1996 drama "Lebensraum." The show is being produced by the 62-year-old school's Harold Clurman Laboratory Theater Company, a professional group formed about a decade ago. Until now, the unit's productions have been seen only internally.

"Lebensraum" calls for three actors to portray dozens of characters, and the performers—Adam Gerber, Mickey Ryan, and Aidan Koehler—take them all on with breathtaking skill and conviction. They transform instantaneously from one persona to another, often going in nanoseconds from an objective narrator to a character caught up in high-voltage emotion. As per the script's demands, there are both comic caricatures and fully dimensional portraits.

Horovitz imagines a cataclysmic event in Germany circa 2000. In a spasm of nightmarish guilt over the Holocaust, the country's chancellor invites 6 million Jews to come live in Germany with a promise of "citizenship and full benefits." The response ranges from violence to hopeful anticipation, and "the new citizens," as they are dubbed, begin to arrive. The script eventually centers on two of them: Mike Linsky, an out-of-work dockworker from Gloucester, Mass., who moves to the port city of Bremerhaven with his non-Jewish wife and their teenage son, and Maximillian Zylberstein, an aged survivor of Buchenwald who returns from Australia to his native Berlin to confront the woman, Uta Krebs, who betrayed his family to the Nazis. Exemplifying the breadth of the acting, Ryan plays both the energized Linsky and the debilitated Zylberstein; Gerber is both Linsky's charmingly guileless son and Zylberstein's near-catatonic betrayer; and Koehler portrays Linsky's wife, deeply rooted in her New England ways, and Krebs' unsuspecting daughter.

Don K. Williams' fine direction imbues the production with numerous bracingly theatrical touches, enhanced by the evocative set design of Amanda Embry (a labyrinth of raw wooden structures suggestive of concentration camps), Heather Smaha's lighting, and Katja Adreiev's versatile costumes.

Horovitz's script bristles with irony and depth of feeling. Displaying the sure hand of a masterful dramatist, his brief scenes come instantly to life with conflict and emotional truthfulness. The script emphasizes its theatricality: A stage manager is heard at the start giving the actors their call, and the show ends with the actors as actors expressing the playwright's prayer for reconciliation and the hope that the past will be remembered but never repeated. However, the political and psychological acuity ingrained in the play's dominant, quasi-documentary style—along with the compelling performances—may well make you believe you're watching actual contemporary history re-enacted.

Presented by the Stella Adler Studio of Acting and the Harold Clurman Laboratory Theater Company at the Abingdon Theatre Arts Complex's June Havoc Theatre, 312 W. 36th St., 2nd floor, NYC. Oct. 29–Nov. 20. Tue.–Sat., 7:30 p.m.; Sun., 3 p.m. (212) 868-4444 or www.smarttix.com.