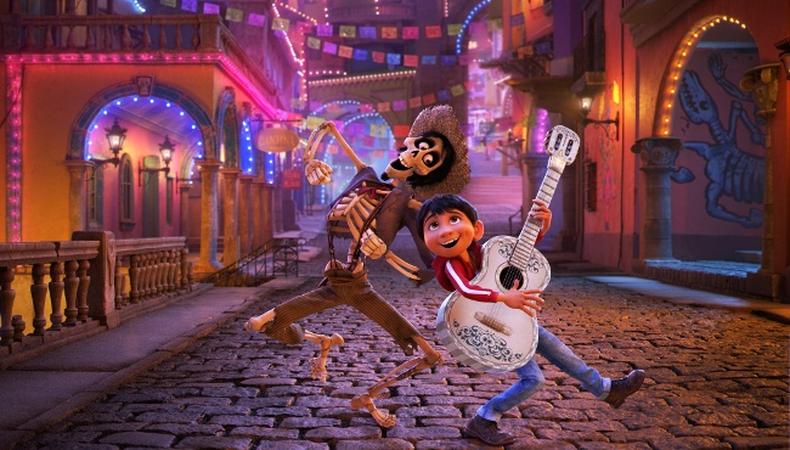 The inspiration behind Disney Pixar's upcoming film "Coco" is not hard to discern. Set mostly in the Land of the Dead, the animated tale of Miguel, a young boy eager to become a musician like his idol, despite his family's peculiar aversion to music, is a love letter to Día de los Muertos. When writer-director Lee Unkrich first pitched his idea for the film to Pixar's own John Lasseter, all he had was the vague idea of setting a film during the famed Mexican holiday.
But, as he tells Backstage, "the more that I learned how family-centric the celebration is and just the core tenets of the holiday—about this obligation to remember loved ones that have passed on, remembering them every year in a joyous way, putting things out that they loved in life and passing their stories to a new generation—it just seemed full of potential to tell a unique but very deep and emotional, funny, colorful, musical story."
READ: This Disney TV Animation Exec Wants Voice Actors to Read Between the Lines
Aware that he'd have to work hard to tell the kind of story he'd feel proud of ("I wanted to make a film that people in Mexico could watch and feel like it had been made for them"), Unkrich knew authenticity would need to be key. That meant not just recruiting Mexican-American director Adrian Molina to join him at the helm, but committing to fill the film's cast with an all-Latino roster of actors. And while the likes of Edward James Olmos, Benjamin Bratt, Jaime Camil, and Gael García Bernal round out the supporting cast, the film is anchored by newcomer Anthony Gonzalez as Miguel. That role, as Unkrich shared, was the hardest to cast.
"From our experience, it's really hard to find children who can act well," Unkrich says, "but we had to thread a needle because I needed a Latino boy, I needed him to be a certain age—but since our movies take a long time to make, I couldn't have his voice change on me!—and ideally I needed a kid who could sing. It was just kind of a tall order." With the help of casting director Carla Hool, who worked on "East Los High" and "Narcos," the "Coco" team saw hundreds of boys in the United States and Mexico. As it turns out, they found Gonzalez while auditioning young actors to lay down the scratch voice for Miguel, the track they use to mock up the film with crude storyboards and temp soundtracks before they finalize its script and overall treatment. They fell in love with him and knew they'd found their Miguel.
READ: 4 Ways to Get (And Keep Getting) Voiceover Work
Asked whether there is anything in particular actors should keep in mind when doing voice work, Unkrich has to admit he's finally come around to treating voice performances the same way he would those in a live-action film. A few years ago, he'd have said—and has, indeed, encouraged some of his actors—to play things a bit more broadly than they felt comfortable with. "What I used to say, and what my experience was, is that a lot of actors I worked with who hadn't done a lot of voice work before, I found [they] tended to give—especially if they were film actors—understated performances." Unkrich's job in the recording studio was to get them to really embrace going bigger and bolder. Then came Michael Keaton.
On "Toy Story 3," the actor insisted on playing his character (Barbie's Ken) in an intentionally restrained manner. "In the room, I was convinced that it wasn't gonna work," Unkrich remembers, "that he was playing it too small. And it wasn't until we got back and I started listening to it that I recognized how genius it was. It was perfect."
Since that experience, he no longer pushes actors to play things differently than what feels right for them. "And that's worked out well. I would say at this point, there's not much difference when it comes to voice acting: a performance is a performance."
Want to get started in voiceover? Check out Backstage's voiceover audition listings!