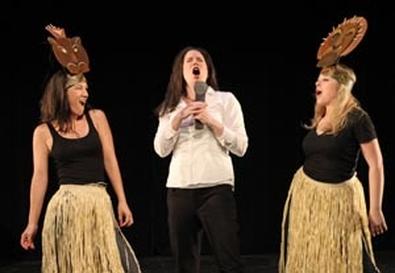 This extended parody of the backstage brouhaha surrounding "Spider-Man: Turn Off the Dark" and Julie Taymor, its controversial original director, is good for some nasty insider laughs.
Travis Ferguson's book manages to cram in all the details on the epic efforts to bring the comic-book hero to the stage, from the numerous onstage accidents to the endless preview period. The real-life material is so crazy that Ferguson didn't even need to exaggerate much to garner chuckles. Unfortunately, at 105 minutes, the web of the plot is stretched too thin. Like its target, "Taymor" could use some cutting.
In addition, the lyrics, by Ferguson and Dave Ogrin, who also composed the pastiche music, lack the stinging wit of the satiric barbs employed by Gerard Alessandrini in his "Forbidden Broadway" series. "Every show's phony/'Memphis' wins a Tony," runs a typically kinda-funny but uninspired example. A fast number about theater geeks obsessively tweeting is the highlight.
Fortunately, director-choreographer Joe Barros keeps the able cast moving at an accelerated rate. Jennifer Barnhart is a maniacally driven Taymor (here called Julie Paymore), and Christopher Davis Carlisle plays the smarmy theater columnist Lionel Weasel (read Michael Riedel) with a nicely snide edge.
Presented by Myra Wong as part of the New York International Fringe Festival at the Bleecker Theatre, 45 Bleecker St., NYC. Aug. 12–24. Remaining performances: Thu., Aug. 18, 8:30 p.m.; Sun., Aug.21, 3 p.m.; Wed., Aug. 24,, 7 p.m. (866) 468-7619 or www.fringenyc.org. Casting by Danielle M. Falls/Daryl Eisenberg Casting.