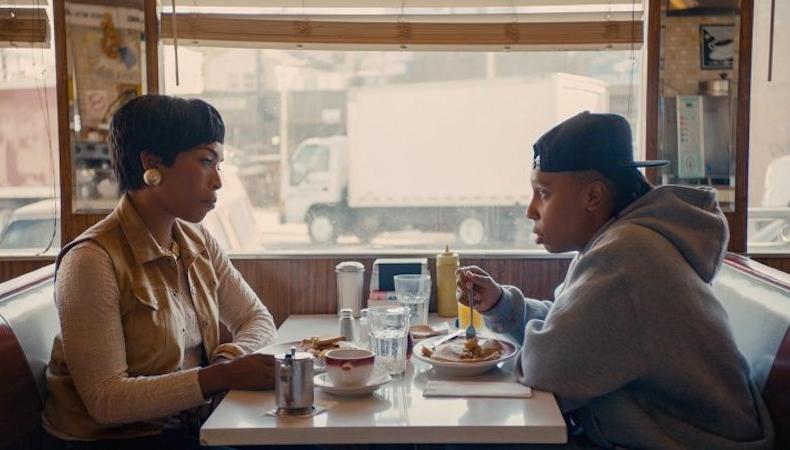 As one of the core cast members of Netflix's "Master of None," Lena Waithe wears many hats—both literally and figuratively. Not only does her character Denise routinely rock dope headwear but for Season 2 of the hit series, Waithe moved behind the camera as co-writer, a position she's very comfortable taking, having started her career as a TV writer. The actor chatted with Backstage about the pressure to get that Thanksgiving episode right, what made her a theater fan, and her thoughts on working behind the camera.
Tell us what you're working on now.
I'm working on a show I created that Showtime wanted to do, right now we're calling it "The Chi." It's a multi-protagonist story set in the southside of Chicago. I'm very excited about that. I'm [also] excited about "Master of None," that it's out now finally. Season 2 is poppin', people are really digging that. And I hope to do a feature soon at some point in my future that, you know, sort of in the gist of a black romance.
Most of your previous work was behind the scenes as a writer and producer before "Master of None." Is there anything you wish had known about acting as a writer and producer, or anything you wish actors knew about what things were like as a writer and producer?
I mean, it's interesting having played all those different roles. The truth is that when I'm acting, I kind of feel like I get to have the most fun because I'm just worried about making sure I get my stuff right. What I think a lot of actors don't realize—or maybe some do—is the utter chaos happening behind the scenes. In terms of the writer doing redrafts or the producer freaking out about an actor who didn't get their visa. There's so much [stuff] happening that actors are sort of like kept away from. So that's something I know, as a writer, I'm thinking of a billion different things: punching things up or figuring out the best way to write that scene. If I'm a producer, I make sure the writer and director are fine. When you're an actor, you're there to perform. It is a lot of pressure—hit your mark, you gotta make sure you get it right. Every role has pressure, but having done the writing, I feel like the least pressure is when I just get to go and have fun and play and bring the character to life.
When you're both writer and actor, as in the Thanksgiving episode of Season 2 of "Master of None," what's the pressure like there?
Well, that's a little different. I felt pressure through and through doing that because I was like, 'I have to get it right.' I was telling a very personal story and so I wanted to get it right. When you're making it, it's nerve-wracking. I don't think there are that many queer characters of color on television—I'm one of the few—and I was telling a very personal story from my life and you don't really see people come out on TV either, so there was actually a lot of pressure to make sure we got it right. So I was sort of feeling pressure as a writer, as an actor, as all those things. Normally when I play [Denise], it's just fun and we're fine-tuning things. But for that [episode], I felt pressure for sure to make sure we hit the right notes. So that was a unique scenario.
Your audition for "Master of None" was a little unconventional...
It's funny because the only part of it that was different was just the first part. After I met with [Aziz] and we had a conversation, I came in and read with him twice and tested. So it was conventional post the meeting. But I think what was so cool about it was that he met with people first because auditions can be so weird and not authentic. I love the idea of meeting with an actor first....There was something really chill about meeting him and just talking about myself and my life and where I was and what was going on in my work at the time. And then auditioning with him, there was a level of comfort I had with him because I'd already talked with him before. I can't tell everybody to go do that but there was something really cool about chatting with him first and not auditioning and just vibing. You know, I don't know if all actors dig that but I gotta say, the fact that they were inspired to alter the character based on the person they met is kind of cool. And there's maybe a chance that if more people did that, you wouldn't have all these characters out of Central Casting because you may meet a person and go 'wow, what if we went this way with the cop, what if we went this way with the love interest, what if she's deaf, what if the person comes from a military background,' all because you had a conversation with an actual person. I know every show can't work like that…. But I do think it was really beneficial because I got to go be myself and then I got to kind of embody the character and it became a conversation. And I think it's a testament to them, how they do things.
Your character on "Master of None" is a theater critic. Is that something you're into personally? Have you seen anything recently that you loved?
I'm actually a big Broadway head, even before I'd ever been to New York. I was always obsessed with it. So my first trip to New York was actually to see a play, "The Motherfucker with the Hat" and that was the Broadway show that popped my cherry and I've been obsessed with it ever since. The most recent thing I've seen—because I saw it again in L.A.—was "Fun Home," which I really love. There was another play I saw a while back which was a Tarrell McCraney play called "Choir Boy" at the Geffen [Playhouse in L.A.] that was phenomenal. It is hard to find great theater in Los Angeles but I think if you really dig, you can absolutely find cool things. I really want to see "A Doll's House Part 2." I'm always reading about [Broadway]. I'm an L.A.-based girl but every time I go to New York I'm always trying to find tickets because I'm just obsessed with it. It feeds a different part of my soul that TV and movies can't.
And also maybe I always wanted to be a playwright? I've never done it and I don't know if I will, but I just love seeing things on stage and being in a room with actors. It's just unlike anything on the planet.
You live in LA but the show shoots in New York. Do you notice any major differences between the cities as far as the industry goes?
Here's the truth: there are few things shooting in L.A. anymore just because it's so expensive. Even "The Chi"—we're shooting that in Chicago writer's room is here. The biggest thing about L.A. is that it's where a lot of production companies and studios are so to me the difference is you're taking more meetings. There's more meetings and more deals being done and finalized, you're in writer's rooms here. A couple of things shot here, "Dear White People" shot here so I would go visit set and the writer's room. In New York, when I'm filming there, it's also very chill. People don't give us a hard time when we're filming, they're very kind and they wave but it's super chill because I think so much stuff shoots in New York. So you're usually filming things in New York but I think the writing and that kind of stuff happens [in L.A.]. There are a few writer's rooms in New York, but that's the biggest different: a lot of the writing happens in L.A.
What advice would you give your younger self?
Oh Jesus. To be patient. To play the long game. To put your head down and keep doing the work and you'll get there.
Check out Backstage's Los Angeles audition listings!