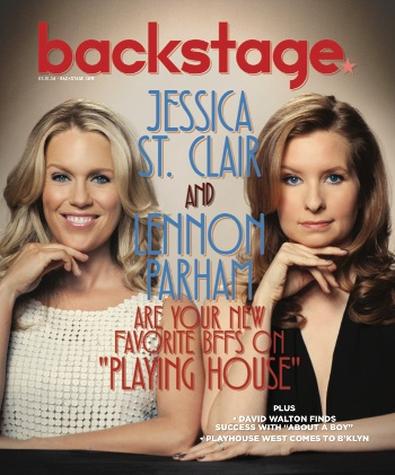 Lennon Parham and Jessica St. Clair grace our cover this week, and they chat with Backstage about their new series "Playing House" on USA as well as their long work partnership. Read the full story now!
---
Lennon Parham & Jessica St. Clair on Being Funny
The most important rule for a comedian is also the scariest: Don't be afraid to fail.
"I can't tell you how many bizarre shows at UCB I was a part of," says Jessica St. Clair, who, with best friend and collaborator Lennon Parham, created USA's new sitcom "Playing House."
"Go for broke with what you believe and what you think is funny and what you're good at," Parham adds. "Put your version of 'Playing House' out in the world. 'Playing House' works because we're being supremely honest to what we think is funny and not what we think other people think is funny."
"Probably to a fault," St. Clair chimes in.
The other big piece of advice the duo has for young comedians? Landing a manageable day job.
"Find a job that doesn't overtax you," St. Clair says. "We all had jobs that were just fronts. I felt like I was in the mob. I had a job, but that wasn't my real job. My real job was to be an actor. I always knew that and never forgot that."
"But you couldn't tell your family that. You had to live a secret life," Parham interjects.
"Exactly. I had to live a secret life, so I had a job at CNN. And that was terrible, because I was making lots of horrible mistakes that were affecting people."
Parham shrugs. "I just waited tables three nights a week to cover the bases."