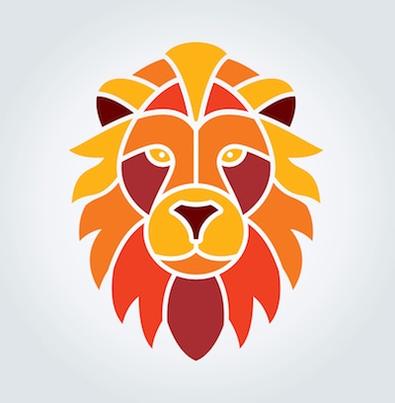 LEO (July 23 – August 22)
Leos and (Leo Risings) may feel like the world has offered them a free course in depth pyschology lately. A cluster of planets in your 8th House of Transformation has been drawing your attention inward, and helped you come to terms and purge any sticky emotions and patterns that may have been hanging on for dear life (and it's likely intimate partnerships have offered a stomping ground for such insights).
The North Node in practical Virgo and your 2nd House of finances has been your lighthouse, silently coaching you to get your sh*t together where your budget is concerned. This balance of the tumultuous world of feeling with managing the nuts and bolts of mundane life has been quite a balancing act. You may have had to employ the fake-it-till-you-make it mentality that happy go lucky Leos are great at. While the cosmic weather continues to kick up the unexpected, you're slowing but surely coming out from under that intense Eight House and into the more adventurous terrain of the 9th House of Adventure, Higher Education, and Life Experience.
On March 9, Mars enters grounded Taurus and your 10th House of career, promising more action and a public platform where your work goals are concerned. Get yourself out there and into the ring. The Full Moon which follows on March 12 in Virgo and your 2nd House offers culmination and clarity where pragmatic money matters are concerned. You'll get a pretty clear sense of what needs to be done, if anything, to plug any leaks in your financial boat and keep your earning on the rise.
And with Mars in that career house, you'll have the energy and verve to go after things and make sure you're being generously compensated whether that's in money or some other form of currency. The New Moon in Aries on March 27 lights up your adventurous 9th House, asking that you step out of your comfortable groove and take a leap of faith.
Kelly Chambers is a writer, actor, and astrologer living in Los Angeles. She can be reached for private astrology readings through her website theastrologersdaughter.com. You can also check her out in the web series "Break Hollywood with Nice & Fargo," a comedy by actors for actors. Follow the latest in cosmic news on her Instagram and Twitter. She welcomes your comments and insights.
Ready to see what else March has in store for you? Check out our film audition listings!
The views expressed in this article are solely that of the individual(s) providing them,
and do not necessarily reflect the opinions of Backstage or its staff.