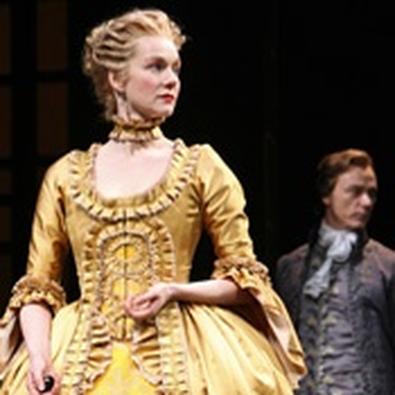 Though it is more overtly sexual, Roundabout Theatre Company's revival of Christopher Hampton's Les Liaisons Dangereuses is not as sexy as the original production, which played London and Broadway in the late 1980s. That staging featured the incomparably subtle pairing of Alan Rickman and Lindsay Duncan as players in a deadly game of carnal one-upmanship among the upper crust of pre-Revolutionary Paris. They never removed a stitch of clothing and barely touched each other, yet they electrified the theatre with the sizzling current running between them.
In Rufus Norris' more explicit remounting — pun intended — there is more obvious eroticism. Two male leads bare all their assets — literally. Paul Arditti's hyped-up sound design features heavy female breathing and ominously heavy chords. There's a good deal of crotch grabbing, simulated intercourse, and even a fart joke. The result is about as arousing as a Benny Hill sketch. Norris pushes all the subtext right to the top and drains the play of its concealed sensuality.
Fortunately, in the Rickman role of Le Vicomte de Valmont, there is Ben Daniels, a British actor with a satyr's smile that can be equally charming and lascivious. Though Norris has him blatantly chase servants of both sexes and generally behave like an American frat boy, Daniels retains a smooth aristocratic bearing. He also exposes Valmont's struggle toward decency as he reluctantly falls in love with the woman whose reputation he has decided to ruin, the highly moral Madame de Tourvel. As his scheming playmate, the Marquise de Merteuil, Laura Linney is not as deliciously evil as Duncan, but she commands the stage with unquestioned authority, particularly during an entrancing monologue in which she explains how she has conquered the male sex.
As Valmont's virtuous victim, Jessica Collins seems to have wandered in from Wisteria Lane. This desperate housewife is totally out of place in aristocratic 18th-century Europe. The normally admirable Mamie Gummer overplays the ingénue Cécile's stupidity to an almost sitcom level. As Cécile's mother, Kristine Nielsen just manages to keep her loony antics — employed to such brilliant effect in Christopher Durang's plays — within bounds of credibility. Siân Phillips has an effective scene as a wise observer of the bedroom wars.
Norris does have some striking staging ideas, cleverly using Donald Holder's gorgeous lighting and Scott Pask's elegant set, which combines a blatant stage atmosphere with what appears to be a ruined chateau. As Valmont seduces Madame de Tourvel, the scheming Marquise slowly walks across the stage behind a row of glass doors, displaying her influence over the events. It's a subtle stage picture in an otherwise too obvious production.
Presented by Roundabout Theatre Company
at the American Airlines Theatre, 227 W. 42nd St., NYC.
May 1-July 6. Tue.-Sat., 8 p.m.; Wed., Sat., and Sun., 2 p.m.
(212) 719-1300 or www.roundabouttheatre.org.
Casting by Jim Carnahan and Carrie Gardner.