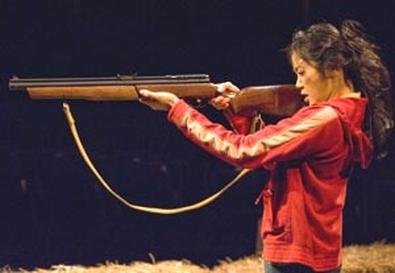 Though the economic downturn is showing signs of abating, it's still affecting regional theaters. At the 35th annual Humana Festival of New American Plays at the Actors Theatre of Louisville in Kentucky, which runs through April 17, none of the full-length works featured more than six actors. Only "The End," a program of one-acts featuring ATL's apprentice company, sported a cast in the double digits—22. Despite the budget-tightening, almost all the plays are insightfully written, passionately acted, and strongly directed.
The standout was "Edith Can Shoot Things and Hit Them," A. Rey Pamatmat's tender comedy-drama about three latchkey kids forming an improvised family when their parents in effect abandon them. Casting adult actors as children can be problematic, but these young performers intensely portray the pain of adolescence and the joy of achieving maturity without acquiring a case of the cutes. Teresa Avia Lim is a pint-sized fireball as the 12-year-old Edith. She powerfully conveys Edith's fierce independence and spiky intelligence. One minute she's shooting at an unknown intruder with a BB rifle, the next she's cuddling her stuffed frog. Lim manages to make both moments and many others truthful and compelling. Equally affecting are Jon Norman Schneider as her elder brother Kenny, who is just discovering his gay sexuality, and Cory Michael Smith as his best friend Benji, who is making similar explorations. The premise had the potential of turning into a syrupy Afterschool Special, but Pamatmat wisely keeps the sentiment to a minimum. With only three characters, "Edith" is a prime candidate for future productions across the country.
Another show with possible legs is Molly Smith Metzler's "Elemeno Pea." This is a modern-day equivalent of the drawing-room comedies of Philip Barry, whose 1930s works such as "The Philadelphia Story" and "Holiday" placed median-income Americans amid the superrich and drew surprising conclusions about both. This wildly funny play takes place on a post–Labor Day weekend as the formerly blue-collar, Buffalo-bred Simone, executive assistant to the trophy wife of a billionaire, brings her sister Devon, a cook at a chain restaurant, to vacation at her employer's estate on Martha's Vineyard. You might expect familiar working-class-good-guys-versus-snooty-rich-folks gags, but Metzler goes beyond sitcom depth. Yes, there are plenty of jokes on the shallow excesses of Michaela, Simone's Prada-wearing devil of a boss, and the vapidity of Ethan, Simone's narcissistic wealthy boyfriend, but the punch lines reveal the characters' vulnerabilities and complexities. By the play's end, none of the characters are who we thought they were at the beginning. Davis McCallum's razor-sharp direction perfectly balances the riotous sequences with the quieter ones. Cassie Beck skillfully reveals the soft center underneath Devon's tough exterior, while Sara Surrey finds the compassionate woman behind Michaela's icy Anna Wintour–like façade.
Culture Clash
Cultures also clash in Jordan Harrison's "Maple and Vine," which, like Metzler's play, sports a deceptive, gimmicky plot and insightful characterizations. Harried couple Katha and Ryu are recovering from a miscarriage and hate their respective jobs as editor and plastic surgeon. They decide to chuck Starbucks, the Internet, and artisan cheeses to join a community of 1950s re-enactors operated by a cultish organization called the Society of Dynamic Obsolescence. Both are seeking a simpler way of life but encounter prejudice because of Ryu's Asian heritage and dark secrets among their Ozzie-and-Harriet neighbors. Harrison makes pointed observations on the shifting of American values and perceptions between 1955 and 2011. Just like Metzler, he has a witty way with dialogue that also reveals character and motivation. Kate Turnbull and Peter Kim capture Katha and Ryu's desperate need to find relief from 21st-century blues yet maintain the characters' wit. Paul Niebanck and Jeanine Serralles give simultaneously satiric and sympathetic portrayals of Dean and Ellen, two of the retro residents, particularly when explaining their regressive way of life to the audience. Jesse Pennington ably completes the cast as a sneaky foreman carrying on a secret gay affair with Dean.
Peter Sinn Nachtrieb's "BOB" examines American values from a different perspective. This rambling road trip of a play is a kind of American-pop-culture "Candide," following the title character as he journeys from his birth in the restroom of a fast-food franchise to turning a highway rest stop into a place of beauty to taking over a casino named for Martin Luther King Jr. ("What's your dream?" reads the establishment's slogan). Though the script could use trimming, Nachtrieb offers several wacky and wicked vignettes, cleverly staged by Sean Daniels on Michael B. Raiford's crazy-carnival set. Jeffrey Binder finds inventive shadings for the everyman title character and is particularly endearing when playing Bob as a baby. Aysan Celik, Polly Lee, Danny Scheie, and Lou Sumrall shine in multiple roles.
Playwright-director Adam Rapp takes the minimalist route to its extreme with his "The Edge of Our Bodies," whose sole character is Bernadette, a pregnant teenager who seeks comfort from older men including her boyfriend's dying father and a stranger in a Greenwich Village bar. Catherine Combs commands the intimate Victor Jory Theatre, subtly making the transition from insecure sophomore to adult temptress. Rapp makes strange choices that seem off-putting at first, such as having Combs read from Bernadette's diary for the first 30 minutes or so and interpolating scenes from Jean Genet's "The Maids," which the girl is auditioning for at her school. (That's some progressive school.) But they pay off. The readings and the scenes are barriers between the audience and character, which Rapp slowly tears down to expose Bernadette's aching loneliness.
The only disappointing full-length piece was Anne Washburn's otherwordly "A Devil at Noon." Inspired by the life and work of cult sci-fi author Philip K. Dick, the play treads a fine line between evoking Dick's paranoid, hallucination-filled fantasies and retreading "The Twilight Zone." Chet, a PKD-like author, finds his fiction blurring with reality when his characters begin showing up at his Berkeley apartment. Despite the familiar basic premise, Dick and Washburn create intriguing scenes, especially those involving Chet and Lois, a young woman he meets at a 12-step meeting, and Tom and Dennis, two government agents clandestinely searching Chet's apartment. Unfortunately, Washburn leaves too many loose ends dangling, which blunts much of "Devil's" trippy impact.
Shorter Works and ATCA Prizes
"The End," the show performed by ATL's 22-member apprentice company, is equally trippy and just as uneven. Every year, a group of playwrights is commissioned to write a series of short plays around a central theme for the apprentices. This year, the common link was the cheerful subject of Armageddon, and the results varied wildly. "This Is How It Ends" (the Four Horsemen sharing an apartment) and Jennifer Haley's "La Reina de los Angeles" (zombies on the loose in soulless Hollywood) start out strong with funny premises but peter out. Marco Ramirez's "La Muerte," a post-Apocalypse variation on "Of Mice and Men," provides eerie sci-fi chills, and Allison Moore's "Apocalypse Apartments" gives glimpses into the lives of ordinary people about to be obliterated, but the looks are too fleeting. The only piece that totally succeeds is Dan Dietz's "Promageddon," an on-target playlet centering on a quartet of high schoolers trapped in a basement on prom night while the world burns.
Shorter works also included the winners of the National Ten-Minute Play Contest, which were a mixed bag. Gregory Hischak's "Hygiene" is a slight sketch featuring one visual joke: A little girl has a minimalist composer stuck in her hair as if he were a tick. Marc Bamuthi Joseph skillfully combines dance and drama by performing his one-person play "Chicago, Sudan." Laura Eason's "Mr. Smitten" provides laughs as two animal lovers meet cute as they commiserate over the demise of their pets; actors should definitely take a look at this one for scene study class.
Even more new plays were celebrated when the one-acts were preceded by the presentation of the American Theatre Critics Awards for premiere works presented in regional theater. The M. Elizabeth Osborn Award, for an emerging playwright, which is accompanied by a $1,000 check, went to Cori Thomas, whose "When January Feels Like Summer," a comedy about a diverse group of urban dwellers making unexpected connections, played Pittsburgh's City Theatre in March 2010. The winner of the $25,000 Harold and Mimi Steinberg/ATCA New Play Award for the best script first presented outside of New York City was Bill Cain's "Nine Circles," which was presented at Marin Theatre Company in October. The play is a grim examination of an American soldier's descent into a Dante-like hell after committing an atrocity in Iraq. Cain is also the author of last year's top work, "Equivocation," making him the first two-time consecutive winner of the Steinberg award. The Steinberg grant also provides for two runners-up who each receive $7,500. These awards went to David Bar Katz's "The History of Invulnerability," a fantasy drama about Jerry Siegel, the co-creator of Superman, which played the Cincinnati Playhouse in the Park in April 2010, and Kathryn Grant's "The Good Counselor," which focuses on an African-American public defender representing a white racist accused of killing her baby, and played Premiere Stages, based at Keene University, Union, N.J. The awards were chosen by a committee of 13 ATCA members.
The Humana Festival's plays are published annually by Playscripts. Actors may send pix and résumés, along with a cover letter, to Casting, Actors Theatre of Louisville, 316 W. Main St., Louisville, KY 40202, or email

[email protected]

.